Our winner is Jennifer. Congratulations.
TGIF!   I can feel Spring coming and am excited to finally get outside into the garden and to set up my outdoor reading spots.  I love to sit outside and read.  Sitting by a fireplace (don't have one) is a romantic idea, but nothing beats hanging outside with a good book.  Who is with me?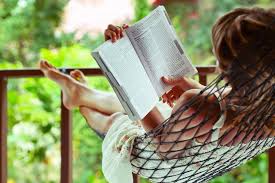 Strap on your shoulder holster, we are going with a double dose of excitement this week.  I have a copy of the upcoming KGI book, Brighter than the Sun by Maya Banks and a bonus of Katie Reus's A Covert Affair from her Deadly Ops series.
Do you have a favorite place to read?
Giveaway Ends Thursday, March 2nd.  Open to U.S. residents, 18 years and older.
Thank you to Berkley for this week's giveaway.