Our winners are Joanne B (Dragon Bound) and Linda (Oracle's Moon)
TGIF! Friday Giveaway is back to Friday this week. Sorry for slacking off last week. I have been trying to keep ahead of my reading list so I was a little distracted. We will have some great books and some not so great books to talk about next week.
We have a special treat for this week's giveaway. Thea Harrison sent out a note to bloggers which said she found a bunch of printed books while going through her things if we wanted to request some for giveaways…and we were sent some paperbacks. Yay!
I have a copy of Dragon Bound, which is the first book in the Elder Races series featuring Dragos and Pia, as well as a copy of Oracle's Moon which is Book 4 and features Grace and Khalil. These are two of my favorite stories from the series. I received a second copy of Oracle's Moon, but I am keeping that one for myself.
Just let me know if you are interested in the copy of Dragon Bound, Oracle's Moon or either.
Giveaway Open to U.S. residents, 18 years and older. Giveaway ends Thursday, May 4th.
Thank you to Thea Harrison for this week's giveaway.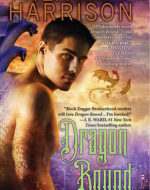 Half-human and half-Wyr, Pia Giovanni spent her life keeping a low profile among the Wyrkind and avoiding the continuing conflict between them and their Dark Fae enemies. But after being blackmailed into stealing a coin from the hoard of a dragon, Pia finds herself targeted by one of the most powerful—and passionate—of the Elder Races.

As the most feared and respected of the Wyrkind, Dragos Cuelebre cannot believe someone had the audacity to steal from him, much less succeed. And when he catches the thief, Dragos spares her life, claiming her as his own to further explore the desire they've ignited in each other.

Pia knows she must repay Dragos for her trespass, but refuses to become his slave—although she cannot
deny wanting him, body and soul.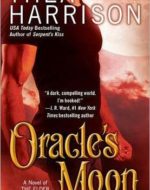 When Grace Andreas's sister, Petra, and her husband are both killed, Grace inherits the Power and responsibilities of the Oracle of Louisville, as well as her sister's two young children–neither of which she is prepared for. Then Khalil, Demonkind and Djinn Prince of House Marid, decides to make himself a part of the household both as guardian and counterpoint to Grace's impudence towards the Elder Races.