Our winner is…Texas Book Lover. Congratulations
Hello all. Last Saturday my buddy Christine and I headed up to The Yale Bookstore in Connecticut to catch author Kevin Hearne of the The Iron Druid Chronicle series, and Luke Daniels, the narrator of the audiobook. It was so exciting to meet and talk with both of them.
Kevin Hearne talked about writing the last book of the The Iron Druid series, how fun it is to throw in things to screw with his narrator such as a page worth of poetry in Polish, as well as his upcoming projects.  His new book series beginning with A Plague of Giants comes out later this year.  He is also co-writing a trilogy with Delilah Dawson which sounds like fun.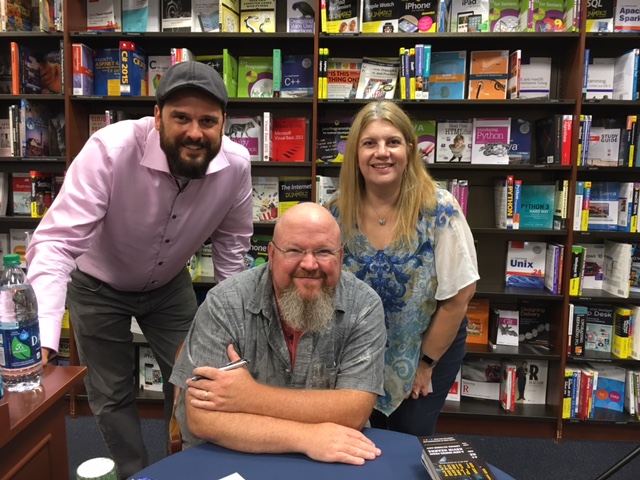 One of my friends who couldn't attend the signing is a big fan of Owen and after a moment's hesitation, I was able to get Kevin to sign a copy of Besieged for him with his favorite quote from Owen.    Keith laughed and laughed when I gave it to him.
Kevin also has a short story in the upcoming Anthology, Urban Enemies, where several Urban Fantasy/Fantasy authors have written a story featuring their series' main antagonist.  From the Iron Druid Chronicles, that would be Loki, the escaped Norse God of Mischief.   I don't know any of the other authors in this anthology, but I am hoping that one or two of these characters will stand out and entice me to start a new series.  To have a great hero, you need a great villain.
So for this week's giveaway, if you were going to recommend a series based on the most memorable villain, which would it be?
Giveaway ends Thursday, August 3rd.  Open to U.S. residents, 18 years and older.
Thank you to Gallery Books for this week's giveaway.
All's fair in love and work. The first standalone romance by New York Times and #1 international bestselling author Christina Lauren (Beautiful Bastard) is a sexy, compulsively readable romantic comedy that dives headlong into the thrill and doubt of modern love.

Despite the odds against them from an embarrassing meet-awkward at a mutual friend's Halloween party, Carter and Evie immediately hit it off. Even the realization that they're both high-powered agents at competing firms in Hollywood isn't enough to squash the fire.

But when their two agencies merge—causing the pair to vie for the same position—all bets are off. What could have been a beautiful, blossoming romance turns into an all-out war of sabotage. Carter and Evie are both thirtysomething professionals—so why can't they act like it?

Can Carter stop trying to please everyone and see how their mutual boss is really playing the game? Can Evie put aside her competitive nature long enough to figure out what she really wants in life? Can their actor clients just be something close to human? Whether these two Hollywood love/hatebirds get the storybook Hollywood ending or just a dramedy of epic proportions, you will get to enjoy Christina Lauren's heartfelt, raucous, and hilarious romance style at its finest.