[box style="rounded" border="full"]Our winner is…Mary C. Congratulations. [/box]
Friday's finally here!  So happy.  Summer is winding down and we have finally managed to get some family time in with our trip to the NY Renaisance Faire and yesterday's trip to the Jersey Shore.  Lucky for us the weather on both days was perfect.
Did anyone get to check out the eclipse?  I can't believe how many people were unprepared to watch this.  I had eclipse glasses which I shared with everyone around, and yes, people were trying to look up without any and check it out.   We didn't get a complete eclipse here in NY, but my husband did get this great shot with his real SLR camera (cell phones were useless).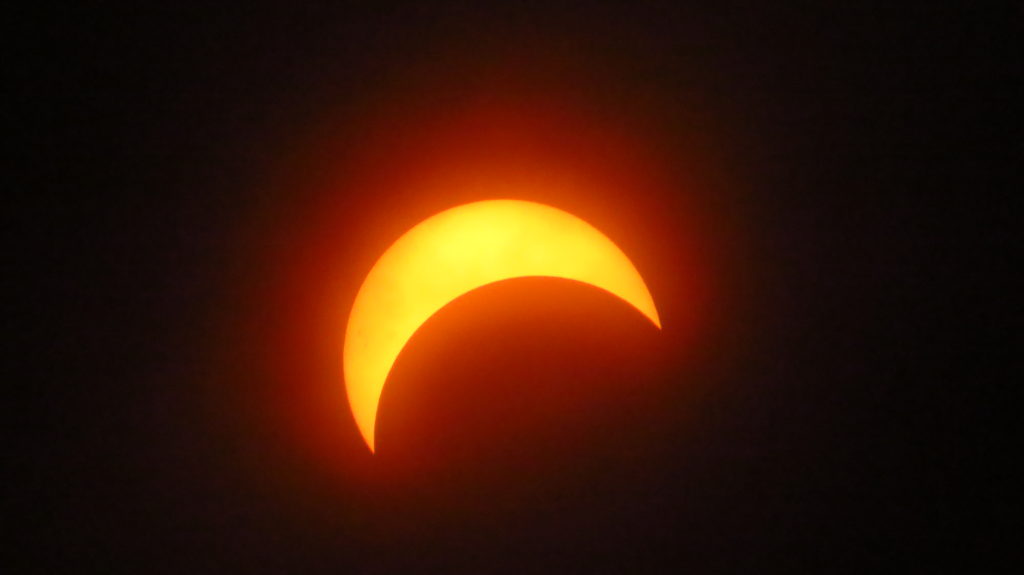 Fall is coming and while I love the colors, I hate the leaf clean up.  (Boo!)  Especially when my reading list is kicking up into high gear with so many great books coming out in September and I want to read them all at once.  Anybody got anything exciting coming?
This week's giveaway is an exciting new thriller by Karen Rose, Monster in the Closet.  Oooo!
Just leave a comment to be entered.
Giveaway ends Thursday, August 31st.  Open to U.S. residents. 18 years and older.
Thank you to Berkley for this week's giveaway.
A mother is dead, and now her killer hunts the child that witnessed the brutal crime…

Private Investigator Clay Maynard locates missing children for clients, but has nearly given up hope of finding his own daughter, cruelly stolen from him by his ex-wife twenty-three years ago.

Equine therapist Taylor Dawson has chosen to intern at Daphne Montgomery-Carter's stables so that she can observe the program's security director – her father, Clay Maynard. Trying to reconcile the wonderful man she's getting to know with the monster her mother always described, Taylor never expects to become the target of a real monster, the man who murdered the mother of the little girls she works with at the stable. Neither does she expect to fall for Ford Elkhart, Daphne's handsome son, who is dealing with his own demons. As family and friends gather for a wedding, Taylor starts to imagine a permanent life in Baltimore.