[box style="rounded"]Our winner is…Viki S. Congratulations![/box]
Happy Friday!  You might find my book review blog lacking in book reviews for a bit.  My backlog is being caused by a  little white fluffball by the name of Ghost.  Ghost is an American Eskimo pup who just joined our family this week.  While I feared his acclimation to our family would take a bit, I should have been worried about the other dogs I already have.  Ghost walked into my house, looked around and determined that everything was his.  The other two currently aren't speaking to me.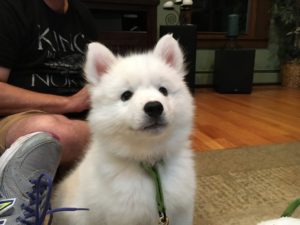 Having a puppy is like definitely like having babies all over again.   You need to constantly watch him and if he falls asleep, we try to tiptoe around so as not to wake him.  I took a day off to stay home with him for his first day and managed to squeeze in only two chapters while he napped.   Maybe once he is housebroken, I will be able to take my eyes off him for a few minutes.  Probably not.  He is sleeping through the night and learning quickly.  So far we are getting sits, down and paws and he comes running when I make kissy noises at him.
Since I am going to be distracted for a while by a cute little dog, I thought dog stories would be a good distraction for you as well.  I have copies of the first two books in Jen McKinlay's Bluff Point Romance, About a Dog and Barking up the Wrong Tree.
As most of the people I have told about my new pup simply say "You got another dog?"   My question to you this week:  Who has pets?  Leave a comment below to be entered.
Giveaway ends Thursday, how'd it get to be October 5th. Open to U.S. residents, 18 years and older.
Thank you to Berkley Romance for this week's giveaway.