Our winner is…Linda. Congratulations.
I can't say TGI…Monday, even if it is hopefully a short week for all. Sorry about missing Friday Giveaway. I took Mom to a booksigning on Thursday to meet Priscilla Presley. She was promoting her children's book and she was very nice and spent time talking and taking pictures with everyone. Because of that, we got home very late and I haven't stopped since.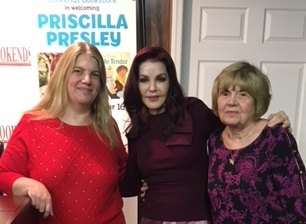 The benefit of having your summer vacation plans scrapped is that you have vacations days stored up at the end of the year. I have taken the balance of this week off and I am trying very hard to do nothing. Do you know how hard it is to do absolutely nothing? For example, here I am blogging instead of reading. I also got an email this morning about a one day sale so now I am going to have to run over and get things for the kids because I might has well save 50% as long as I will buy it anyway. So you can see it more than just trying to force myself not to vacuum or pick up or file that stack of papers in my office. Trying to do absolutely nothing is almost impossible but I will try my best.
So I thought maybe we will do eBook giveaways for the remainder of the year so that you can load up those new eReaders that everyone is putting on their holiday wishlists, and so I don't have to go anywhere near a post office during the holiday season. Win-win. 🙂
This week's giveaway is a copy of Lethal Lies by Rebecca Zanetti. This is part of her Blood Brothers series.
Just leave a comment to be entered.
Since I am running late this week, we will run this giveaway until Thursday, November 30th. This giveaway is open to anyone who can open my gift copy of a Kindle. (I make no guarantees. Sorry.)
Revenge. It's the only thing that will help Anya Best sleep at night. The serial killer who murdered her sister is on the loose, and Anya will stop at nothing to put him behind bars—even use herself as bait to lure him out of hiding. But she can't do this alone.

Private investigator Heath Jones's job is to bring bastards to justice. This time it's personal. He knew the Copper Killer's latest victim so when her sister asks for his help, he's all in. But when Anya uses the media to taunt the killer, she exposes Heath's identity, putting them both in jeopardy. Now, secrets buried long ago are coming to light and the forces determined to destroy him are watching Heath's every move, waiting to exact their own revenge. And they'll use anything and anyone to get to Heath.