Winners: Joanne B – 1st Grave on the Right. Tamitra – Magic Bites. BN100 – Hounded
Happy Friday!  This is it, the last weekend of chaos before Christmas.  This will also be our last giveaway for 2017.
Yesterday I mentioned three series that will be taking a final bow in 2018 but there is still time to do a binge read on any, or even all of them, before those final books come out.  So I am going to give you a chance to start at the beginning.  While I still recommend audiobooks on each of these series, I know that I haven't been able to convince all of you that audiobooks are amazing.
So for this giveaway I will be offering your choice of a Kindle copy of Magic Bites, Book 1 of the Kate Daniels series by Ilona Andrews; Hounded, Book 1 of The Iron Druid Chronicles (with comes with bonus stories) by Kevin Hearne and First Grave on the Right, Book 1 of the Charley Davidson series by Darynda Jones. I have one copy of each book.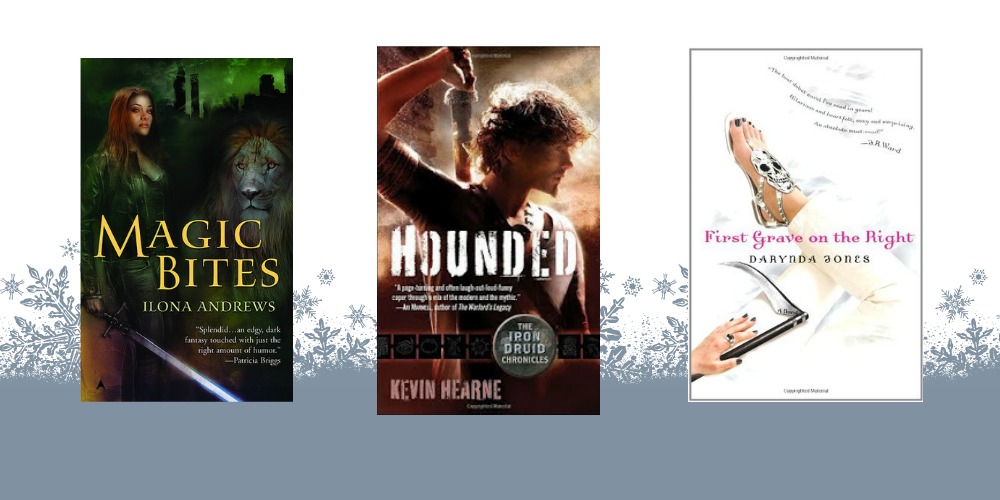 To enter, just tell me which books you want to enter to win. Yes, you can enter for one, two or all three.
Giveaway ends, Thursday, January 4, 2018.  Open to anyone with a Kindle account (I make no guarantees). 18 years and older.
Magic Bites:When the magic is up, rogue mages cast their spells and monsters appear, while guns refuse to fire and cars fail to start. But then technology returns, and the magic recedes as unpredictably as it arose, leaving all kinds of paranormal problems in its wake.

Kate Daniels is a down-on-her-luck mercenary who makes her living cleaning up these magical problems. But when Kate's guardian is murdered, her quest for justice draws her into a power struggle between two strong factions within Atlanta's magic circles.

The Masters of the Dead, necromancers who can control vampires, and the Pack, a paramilitary clan of shapechangers, blame each other for a series of bizarre killings—and the death of Kate's guardian may be part of the same mystery. Pressured by both sides to find the killer, Kate realizes she's way out of her league—but she wouldn't have it any other way.

Hounded: Atticus O'Sullivan, last of the Druids, lives peacefully in Arizona, running an occult bookshop and shape-shifting in his spare time to hunt with his Irish wolfhound. His neighbors and customers think that this handsome, tattooed Irish dude is about twenty-one years old—when in actuality, he's twenty-one centuries old. Not to mention: He draws his power from the earth, possesses a sharp wit, and wields an even sharper magical sword known as Fragarach, the Answerer.

Unfortunately, a very angry Celtic god wants that sword, and he's hounded Atticus for centuries. Now the determined deity has tracked him down, and Atticus will need all his power—plus the help of a seductive goddess of death, his vampire and werewolf team of attorneys, a bartender possessed by a Hindu witch, and some good old-fashioned luck of the Irish—to kick some Celtic arse and deliver himself from evil.

First Grave on the Right: Charley Davidson is a part-time private investigator and full-time grim reaper. Meaning, she sees dead people. Really. And it's her job to convince them to "go into the light." But when these very dead people have died under less than ideal circumstances (like murder), sometimes they want Charley to bring the bad guys to justice. Complicating matters are the intensely hot dreams she's been having about an entity who has been following her all her life…and it turns out he might not be dead after all. In fact, he might be something else entirely. But what does he want with Charley? And why can't she seem to resist him? And what does she have to lose by giving in?