Blog Archives
---
Sorry for the delay.  Rafflecopter gave me the finger this morning and told me to come back later.  Our winner of the ARC copy is Joanne B.
Congratulations and thank you to everyone who entered!
---
ORDER A COPY: Calculated in Death
Publisher: Putnam Adult
Publishing Date: February 26, 2013
Paperback: 416 pages
Rating: 4 stars
---
On Manhattan's Upper East Side a woman lies dead at the bottom of the stairs, stripped of all her valuables. Most cops might call it a mugging gone wrong, but Lieutenant Eve Dallas knows better.

A well-off accountant and a beloved wife and mother, Marta Dickenson doesn't seem the type to be on anyone's hit list. But when Eve and her partner, Peabody, find blood inside the building, the lieutenant knows Marta's murder was the work of a killer who's trained, but not professional or smart enough to remove all the evidence.

But when someone steals the files out of Marta's office, Eve must immerse herself in her billionaire husband Roarke's world of big business to figure out who's cruel and callous enough to hire a hit on an innocent woman. And as the killer's violent streak begins to escalate, Eve knows she has to draw him out, even if it means using herself as bait.
---
As we near the end of 2060, the city is gearing up for the holidays and all the talk is about the upcoming premiere of The Icove Agenda. But not everyone is focused on the holidays, some are focused on murder.
Lt. Eve Dallas and her partner, Det. Peabody are called to the scene of what is supposed to look like a mugging gone wrong. Marta Dickenson is found at the bottom of a stairway with a broken neck, but her body was dragged off into a corner and her injuries aren't consistent with a fall. What is Marta, an unassuming wife and mother, doing strolling around a neighborhood, no where near her home or her office? And why would a mugger go through the trouble to stealing her coat, but leaving her really expensive boots? This set up is so sloppy, it wouldn't fool a rookie. Marta wasn't mugged—Marta was the victim of cold-blooded murder.
It doesn't take long for Dallas to track Marta back to her job as a financial auditor or to learn that Marta has just been reassigned several new files that morning. What could Marta have learned so quickly that would lead to murder? Mug her, steal her briefcase and files in case she was taking work home, but murdering her is overkill and brings up too many questions.
When Dallas and Peabody start to ask too many questions and makes someone very nervous, but what kind of idiot would make an attempt on not just one cop, but two? Killing a cop wouldn't stop an investigation. It would just focus all attention on their current case.
Dallas has used her skills and her ability to get into the mind of a killer to solve many cases over her decade as a cop, but how do you outthink a murderer who isn't acting logically?
THOUGHTS:
I'm a huge fan of Eve Dallas and the whole gang. It is always enjoyable to me to pick up one of these stories both for the thriller aspect as well as the personal aspect of the story. Although this was not the most exciting story on either front, it was still an enjoyable read.
What I like about the series is that something that happens in one story might be slightly discussed in one book but it will become very important several stories later. For example, when Mira tells Dallas a story about her childhood in one book, and Dallas doesn't call her on the discrepancy in her story until the next book, or if a gift Dallas gets from Roarke, it is just a gift in one story, but becomes an important and necessary tool in the next. I guess when you know you will continue to write stories, you have the time to subtly set up scenarios for the future.
Although this was not the most exciting case they have ever worked on, it was still enjoyable to "work" with Dallas and the gang again.
Received an ARC from the publisher. Thank you.
---
Favorite Scene:
Considering, enjoying, Roarke rocked back on his heels as he studied the image. "We have samplings, the fingerprint, and the exterior views here. It's certainly doable."
"How long?" Eve demanded.
"Oh, with some luck and another two skilled men, maybe a week. With more luck, three days."
"Crap. Does it look like I have a week?" She paced away, then back. "I've got the resources of the entire EDD, I've got the ridiculous resources of the biggest, slickest, most conniving e-geek on or off planet—"
"Thanks, darling."
"And you need a freaking week to outgeek some skinny hacker who likes to call himself the Mole?"
Roarke only smiled at her. "That's about right, yes."
"Dallas, the freaking Enterprise," McNab reminded her. "You have to understand the complexities, the filter, the—"
"No, I don't." She pointed to McNab. "You do." She pointed again, more vehemently when he started to speak again.
"I got it!"
Eve sung around toward Peabody. "What?"
Peabody waved her PPC triumphantly. "It's the Kirk thing, The Enterprise thing. It reminded me I'd hit this name that made me snicker when I was running the van—the Cargo. Here is it is. Tony Stark."
"Oh, baby." McNab blew her a double-handed kiss. "Good call."
"It's gotta be, right?" Peabody said to McNab. "It's his style."
"Who the hell is Tony Stark?" Eve demanded.
"Iron Man," Roarke told her. "Superhero, genius, innovative engineer, and billionaire playboy."
"Iron man? You're talking about a comic book guy?"
"Graphic novel," Roarke and McNab said together.
"What do you bet it's him, Dallas?" Peabody asked. "Heroes from classic novels and vids. It fits. They used his van."
"Possibly. Okay, from the looks of you three, probably. We'll push on it once we have him, but first we have to get him. Now let me think."
So she paced, and she plotted. There was no way in hell she'd get this close and surrender to some ferret-faced electronic asshole who used aliases based on fictional characters from science fiction and comic books.
A geek, she considered. And one who like to see himself as the hero, the smart one. Billionaire playboy? The one who got the women.
"Your high-tech can't beat his high-tech? We go low. We go goddamn classic. Peabody, ditch the jacket."
"My jacket?"
"Ditch it."
"Okay."
When Peabody took it off, Eve fisted her hands on her hips, took a hard study. "Unbutton the shirt."
Peabody's eyes popped, shocked brown balloons. "What!"
"Two—no three buttons down. Jesus, Peabody," Eve strode over to do it herself. "We've all seen tits before." She arched her eyebrows at the fancy lace number Peabody wore under the shirt, which nearly matched the color that currently heated her cheeks. "We could get blown up or something, and this is what you want people to see an NYPSD detective wearing under her clothes?"
"I wasn't planning on getting blown up today. Or undressed by my partner." She lifted a hand to draw the shirt back together. Eve slapped it away.
"Shove them up," Eve ordered.
"What?"
"Shove them up there."
"I'll do it."
"Stand down, McNab," Eve said mildly. "You know what I mean. Pump them up some."
When Eve started to do it for her, Peabody jumped back. "I can do it myself, thanks." Muttering, she turned her back. Her shoulders wiggled. And flushing furiously, she turned around again.
"Mmmm. She-Body."
Ignoring McNab's comment, Eve circled her partner. "It's going to work."
"Classic," Roarke said.
"What's going to work? What's classic? I want my jacket."
"Forget it. You're going to walk right up to the Mole's front door, and he's going to answer."
"I am? He is?"
"Damsel in distress, right?" Eve said to Roarke.
"A very alluring damsel. Clever, Lieutenant."
"Oh, okay. I get it. I look like I'm in trouble—all alone, unarmed. Harmless. Girl. He opens up to find out what's what. You should do it," Peabody told Eve.
"You're the one with the tits. Men are stupid for tits."
"Harsh," Roarke observed. "But largely true."
"Plus, you're the type, obviously, who appeals to skinny geeks."
"Oh yeah," McNab confirmed. "Completely."
---
ORDER A COPY: Celebrity In Death
Publisher: G.P. Putnam's Sons
Publishing Date: February 21, 2012
Hardcover: 389 pages
Rating: 5 Stars
---
Lieutenant Eve Dallas is no party girl, but she's managing to have a reasonably good time at the celebrity-packed bash celebrating The Icove Agenda, a film based on one of her famous cases. It's a little spooky seeing the actress playing her, who looks almost like her long-lost twin. Not as unsettling, though, as seeing the actress who plays Peabody—drowned in the lap pool on the roof of the director's luxury building.

Talented but rude, and widely disliked, K. T. Harris had made an embarrassing scene during dinner. Now she's at the center of a crime scene—and Eve is more than ready to get out of her high heels and strap on her holster, to step into the role she was born to play: cop.
---
In this 34th book in the In Death series, we join Lt. Eve Dallas on the movie set of The Icove Agenda. When her friend, reporter Nadine Fuerst decided to write a book based on Eve's most famous murder investigation, Eve never expected the hype that surrounded the book's release and now a movie based on that book.
It is disconcerting to watch your life played out before your eyes. Eve is overwhelmed by the feeling of déjà vu standing outside of herself and seeming to watch her own cloned copy and that of her partner, Det. Delia Peabody reenact their murder investigation of a year ago. Now she is watching her life played out before her and she's standing on a set which looks identical to her own bullpen, the only thing missing is the smell of coffee and sweat…and cops.
Although, Marlo Durn, the other Eve, is very pleasant in person, K.T. Harris, the other Peabody, is nothing like her friendly and stalwart partner. K.T. has not made any friends among her fellow cast members. She actually seems to go out of her way to make everyone uncomfortable. Even going as far as being confrontational with Eve during a dinner party.
When someone steps out of the party just long enough to help K.T. take an unexpected swim in the roof pool, Eve quickly learns that there are worse things than watching your life played out before you, and that's looking in the face—the lifeless face—of your best friend and partner. K.T. Harris looks so much like Peabody, that it strikes a nerve in the always steady Dallas.
It seems that K.T. has been spending her time doing more than learning her lines. She has been obsessed with learning the deep dark secrets of her co-stars and blackmailing them.
Eve needs to work past her distress and find a murderer among a room full of actors, professional liars whose job is to be something they are not, especially when every one of them has a motive to be rid of K.T. Harris.
Even though this book #34, I am still excited to go back to the world of Lt. Eve Dallas, and her gorgeous husband Roarke. The last novel, New York to Dallas, which was released last Fall was a very dark novel, dragging Eve back into the nightmares of her childhood. We also most of that story in Dallas, TX without Peabody, Feeney, McNab and the rest of the gang. It was nice to be back in New York, and although murder is never lighthearted and this one involved the murder of a Peabody double, which brought some distress to everyone in the story, it was not such an emotionally shocking story.
Although it is daunting to look at a series with 34 novels with various short stories connected to it and decide whether to give it a try, most of the In Death novels can be enjoyed on their own for just the murder investigation, and you might decide you like the characters enough to stick around and try a few more.
Received an ARC courtesy of Penguin Group. Thank you.
---
Favorite Scene:
She stalked over to the closet, opened it. And scowled again.
"What am I supposed to wear? There are too many choices in here. If you've got one thing, you don't have to think about it. You just take it out, put it on. This is too complicated. Peabody hounded me about this until I wanted to pull her tongue out and wrap it around her neck. Between her and Trina, my brain's fried."
Amused, he walked over, stepped into the closet. "This." He lifted a dress off the rod.
Short, she noted, with a kind of drape to the skirt from where it was caught at the side of the waist with a flower in the same material and color as the dress. Not really blue, not really green, with a kind of shimmery overcast. She eyed it, the wide scoop of neck, the thumb-width straps.
"How do you know this one?"
"The little black dress is a classic for a reason, but often expected—especially in New York. So you'll go with color, rich color in a soft sheen. It's feminine without fuss, sexy without trying to be."
She took it, turned it around, and lifted an eyebrow at the deep plunge in the back. "Without trying."
"Very hard. You have shoes to match."
"I do?"
"You do, yes, and go with diamonds. Leave the color to the dress."
"Which diamonds? Do you know how many you give me? Why to you do that?"
The aggrieved sound of her voice amused him nearly as much as giving her diamonds. "It's a sickness. I'll get them for you once you're dressed."
She said nothing, and stood where she was as he selected a dark suit from his forest of suits, a slate-color shirt, and a stone-colored tie.
"How come you don't wear color?"
"The better to serve as the backdrop for my beautiful wife."
She narrowed her eyes. "You had that one ready."
"The truth is always ready."
She jabbed a finger at him. "That one, too."
"Such a cynic."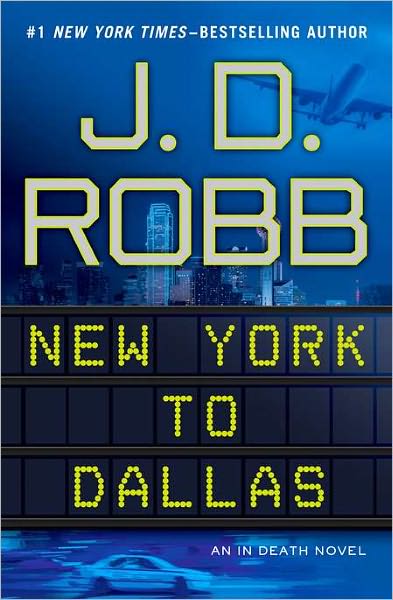 ---
ORDER A COPY:
New York to Dallas (In Death)
Publisher: Penquin Group
Publishing Date: September 13, 2011
Hardcover: 416 pages
Rating: 5 stars
---
The new novel from the #1 New York Times-bestselling author, which takes readers deeper into the mind of Eve Dallas than ever before.

The number-one New York Times-bestselling author J. D. Robb presents an intense and terrifying new case for New York homicide cop Eve Dallas, one that will take her all the way to the city that gave her her name-and plunge her into the nightmares of her childhood.

When a monster named Isaac McQueen-taken down by Eve back in her uniform days-escapes from Rikers, he has two things in mind. One is to pick up where he left off, abducting young victims and leaving them scarred in both mind and body. The other is to get revenge on the woman who stopped him all those years ago.
---
In the summer of 2060, dangerous pedophile, Isaac McQueen, has escaped from jail, and the only thing more pressing to him than restarting his collection of young girls, is getting revenge on Lt. Eve Dallas who put him in jail 12 years ago.   Knowing Eve's violent childhood, he takes hostages and forces her to confront him in Dallas, Texas.  In Dallas, she's out of her element, off her game and steeped in the nightmare of her past.  Eve and her husband, Roarke, work with the FBI and the Dallas PSD to track this killer before he has an opportunity to destroy more young lives.
If you have never read any of the In Death stories, let me tell you that Lt. Eve Dallas is one of those amazing, unforgettable characters.   You don't need to have read the whole series to read this story.  But I warn you, you will need to clear your calendar because you will want to start this series from the beginning, and this was book #33.
Now for those of us who have read ALL the In Death stories, we know that Eve, with the help and love of Roarke, has been recovering from her abusive and tragic childhood.  This case is going to dredge up a lot of those childhood nightmares which Eve has just begun to work past.   Because so much of the horror of Eve's past is relived in this book through her nightmares and with reviewing the original case arrest of McQueen, it is a relatively darker and more emotionally draining story.  And yes, admittedly, stories about a murder cop don't usually generate happy stories.  Some of the stories have been more violent than others, and some of the stories delve more into the technology of the future; and still others seem less about the murder and more about the development of the relationships between the main characters.  This one, I feel, is the darkest story of the series. 
New York to Dallas is well written, intriguing and definitely worth reading, although I missed Peabody, Feeney and McNab as much as Dallas does this time around. 
This story also caused a dilemma for me since it was the first In Death story released since I got my Nook.   So the question was to read it on my Nook or listen to the audiobook.  I really enjoy Susan Erikson's talent, so I decided to stick with audiobooks on this series.  Plus side: I can listen and clean the house.  My house thanks you for your talent Ms. Erikson.
---
Favorite Scene:
"The mayor wanted more exposure for the cops that took down Renee Oberman's ring, and for himself if you ask me.  You figure it's going to get another big bounce in the media.  Good cops against bad cops and all that.  Anyway Peabody's at her desk."  He jerked a thumb over his skinny shoulder.  "With her head between her knees.  Maybe you could smooth her out so she doesn't boot when the mayor pins the medal on her."
"Oh, for Christ's sake."
She strode out, long and lanky in the uniform, into the bullpen and over to Peabody's desk.
"Pull yourself together, Detective.   You're embarrassing yourself, and more important, you're embarrassing me."
"They're going to do it outside.  In public."
"So the fuck what?"
"Public," Peabodysaid, head still between her knees.
"You're being honored by this department and this city for having the integrity, the courage and the skill to take out a blight on this department and this city.  Dirty, murdering, greedy, treacherous cops are sitting in cages right now because you had that integrity, courage and skill.  I don't care if they do this damn thing in Grand Central, you will get on your feet.  You will not puke, pass out, cry like a baby, or squeal like a girl.  That's a goddamn order."
"I had more of a 'Relax, Peabody, this is a proud moment' sort of speech in mind,"  McNab murmured to Roarke.
Roarke shook his head, grinning.  "Did you now?  You've a bit to learn yet, haven't you?"