Blog Archives
---
ORDER A COPY:  Shades of Gray: A KGI Novel
Publisher: Berkley Books
Publishing Date: December 31, 2012
Paperback: 400 pages
Rating: 5 stars
---
The Kelly Group International (KGI): A super-elite, top secret, family-run business. Qualifications: High intelligence, rock-hard body, military background. Mission: Hostage/kidnap victim recovery. Intelligence gathering. Handling jobs the U.S. government can't…

P.J. and Cole were sharpshooting rivals on the same KGI team and enjoyed a spirited, uncomplicated camaraderie. Until the night they gave in to their desires and suddenly took their relationship one step further. In the aftermath of their one-night stand, they're called out on a mission that goes terribly wrong, and P.J. walks away from KGI, resolved not to drag her teammates into the murky shadows she's poised to delve into.

Six months later, Cole hasn't given up his search for P.J., and he's determined to bring her back home where she belongs. Bent on vengeance, P.J. has plunged into a serpentine game of payback that will make her question everything she's ever believed in. But Cole—and the rest of their team—refuse to let her go it alone. Even if it means sacrificing their loyalty to KGI, and their lives…
---
David "Cole" Coletrane knew from the moment he first laid eyes on her, that P.J. Rutherford was something special and he wanted her desperately. Their easy camaraderie and playful competition was all part of the closeness of Steele's team at KGI.
When KGI received a request to assist in bringing down a powerful and dangerous player in the underworld of human slave trade, specializing in children, there was no question they wanted a part in the takedown. The op was to send in P.J. into a swanky party to get information from Carter Brumley's second in command, a man whose lips loosened up when he started drinking. Get some information where to find the children and get out. P.J. was a sniper, not an undercover operative, but she would do whatever she could to get those kids home. But when P.J. catches the eye of Brumley himself, the operation starts to go south. P.J. is separated from her team, drugged and is now terrified and alone with a monster.
Although her team reaches her before she is "disposed of," the damage has been done and P.J. sinks into mire of helplessness and rage. She feels she is a weakness to her team and she leaves the hospital to go into hiding. She doesn't want be the weak link, and more importantly, P.J. has a new mission–revenge! She will not take her team down that road with her. But P.J. doesn't give her team enough credit. They don't see her as weak. They only see her strength for surviving the horrors of that night.
When Brumley's people start showing up dead, the team finally knows where to find P.J. and they will do whatever they can to protect P.J. from herself and from Brumley. A dangerous man like Brumley isn't going to sit quietly waiting for P.J. to show up and kill him. No way in hell will her team leave her alone to face the danger by herself.
THOUGHTS:
This was a very emotional story. My heart was racing for most of the story. Maya Banks draws you into all the emotional turmoil. I could feel the frustration and pain of the team as they could hear over the transmitter what was happening to P.J. while they desperately tried to find her. You could feel P.J.'s fear, pain and rage over being drugged and raped by this monster. Then the frustration of the team trying to find P.J. after she disappears. She doesn't glance over the darker issues. You feel it.
Although this was a darker story than I would usually go for, the emotions were so powerful that it is certainly not a story I will forget anytime soon.
I really like her KGI series and from the title of the next story, I am guessing that Steele is up next. It will be interesting to get into the head of this very cool and controlled team leader, especially after we finally see some real emotion as he too hurts for what P.J. went through.
Received an ARC from Berkley/Penguin. Thank you.
---
Favorite Scene:
Cole turned and rammed his fist into the wall. He couldn't even think for imagining P.J. alone, feeling God knows what. She'd quit the fucking team. They were family. And she walked away.
He drew back to hit the wall again and was nearly tackled by Baker and Renshaw. They took him down, pinning him to the floor.
"Get off me!" Cole roared.
"Chill your ass out," Renshaw barked. "None of this is helping."
"Enough!" Steele bellowed.
Cole flipped Baker off his chest and then swung at Renshaw. Renshaw ducked the punch, but it was enough to unbalance him, and Cole was back on his feet and staring a hole through Steele.
"I agree with Dolphin on this one, ice man. You blew it." He advanced on Steele until it was virtually only the two of them. The others faded into the background as Cole faced his team leader down.
"Goddamn you, Steele, you knew I was looking for her. You knew I'd been all over Denver. You knew how fucking worried I've been. And you just let her go and you get around to telling us two days later? What the fuck, man?"
Steele's jaw tightened. "I hoped she'd change her mind."
"Yeah, well, how did that work out for you? What the fuck are we supposed to do? Pretend nothing happened? Move on? Take another mission? Hell, why don't we just replace her since she's so goddamn expendable?"
"Enough, Cole," Steele said, his voice as cold as ice.
"Enough is right," Cole said, fury rising, sharper, harder with every breath.
He turned and stalked toward the door.
"Whoa, wait a minute," Dolphin said. "Where the hell are you going?"
Cole turned and looked at his team, that was no longer the same. It never would be. It wasn't a team without P.J.
"I'm out," he clipped out. "I'm going after P.J. I'm not leaving her to shoulder this alone. She needs us."
"Don't be so damn hotheaded," Steele growled.
Cole's lip curled in disgust. "Yeah? Why don't you stop being so fucking coldhearted. What you did was wrong and you damn well know it. You should have sat on her if you had to until we could hash this out as a team."
"She came to me," Steele snapped. "Not you. Not the team. She came to me, so I can only assume she wanted it that way."
Steele's words dug deep because he was right. It was obvious P.J. had no intention of facing Cole, and it gutted him.
"I don't give a damn what she thinks she wanted," Cole said softly. "She's not thinking straight and we all know it. Sometimes doing the right thing is all wrong. Giving her space and time and all that other bullshit is great on paper, but you and I know that the very last thing she needs is to be alone. We're her family. Her only family. We're supposed to give a damn. We're supposed to stand up for her when no one else will. And we're damn sure supposed to call her out when she's making stupid choices and fucking up. That's what family does. Live and die as a team, right? Well, you hung her out to dry, Steele. And you hung the rest of us out right along with her, because now we all look like a bunch of uncaring assholes who just let her walk away without a fight."
"Hooyah," Dolphin said quietly.
---
ORDER A COPY:
Echoes at Dawn
Publisher: Berkley Sensation
Publishing Date: July 3, 2012
Paperback: 307 pages
Rating: 5 stars
---
Grace Peterson is desperate, in hiding, and on the run after escaping a shadowy group determined to exploit her extraordinary ability to heal others. Her only lifeline – an unerring telepathic ability she shares with her sister – has been severed, leaving her alone and vulnerable. And time is fast running out…

Enlisted to bring Grace home is Rio, relentless member of the KGI. He's unprepared for his reaction to this wounded, damaged woman, and he's fiercely determined to protect her from those who nearly destroyed her. In Rio, she finds a safe haven, and for the first time…hope. But the mission is far from over. The danger Grace has eluded is fast closing in. And now it's pitching two lovers toward an unfamiliar horizon, with no place left to hide.
---
This story takes up where Whispers in the Dark left off. Rio and his team have been sent to find Shea's sister Grace after Shea loses her telepathic connection to her. Grace had been captured by an unknown enemy and was being forced to heal subject after subject to test her healing abilities. She manages to escape when another faction bombs the facility she is being held in. Rio and his team finally locate her up in the mountains and reach her just as the enemy manages to track her down.
Grace has been so weakened by her constant testing, that she is barely holding on. Unable to contact the rest of the KGI teams Rio decides that it is best to keep Grace and Shea separated for now and he takes Grace "off the grid" so that she can have time to heal her own body and mind.
Grace has been on the run for so long, she is not sure who she can trust, but she so wants to trust Rio, especially when he talks to her about being reunited with her sister and finally being safe for the first time in her life.
But those who want Grace's special healing abilities aren't going to give up the search so quickly, and they are desperate enough to call in Titan, a supposedly non-existent black ops government team who are known for their motto "Failure isn't an option." Rio and his team know they are up against the best and it will take all of KGI to keep Grace safe.
We all have inner strength to get us through the rough times: lost job, death of a loved one, experimental testing…but how much easier is it to get through those rough patches with someone at your side? Maya Banks writes great characters that may bend, but they never break and they show us that you can survive anything and truly heal with the help of someone special.
This was a book I just could not put down! I wanted to know more about Grace after reading her character in Whispers in the Dark. In this story, just reading the torture Grace goes through and the dark places it takes her mind and her soul is painful, but Maya gives her Rio, who knows just when he needs to be tough and when he needs to be gentle to help Grace recover from her torment both body and mind.
This was another captivating story in the KGI series and should definitely be on your must read list.
Received ARC courtesy of Penguin/Berkley. Thank you.
Check out our review of Whispers in the Dark.
---
Favorite Scene:
"You've been through hell, Grace. You can't expect to come out unscathed. You have to heal. Not just physically but mentally as well. Especially mentally. Your body will take care of itself but your mind has been deeply bruised by all you've endured. It's likely shut down to protect you. It's in survival mode just as you are."
"You make me feel hope," she whispered against his chest. "I've been without hope for so long, but with you, I can remember what it feels like to believe and have faith."
He held her for a moment longer and then finally pulled away. "We've talked enough for one night, I think. I'm sure you'll have more questions when you're not falling-down tired. You need to rest and completely heal. I'm not going anywhere. We can continue this conversation tomorrow."
She nodded and he tucked her back underneath the covers. Then he went to the closet, pulled out several blankets and some extra pillows. After arranging a comfortable spot on the floor, he turned back to her. "Ready for lights out?"
"Yeah," she murmured.
Already she'd snuggled into the pillows and was lying on her side facing his direction. She looked tired. Worn down. Like she'd been through hell. And yet he'd never seen a woman who looked more beautiful to him. Maybe it was because he'd seen the heart of her. Her spirit and resilience.
Grace had made a huge impact on his life in the very short time he'd known her, and he knew he'd never forget her.
He reached for the light switch and doused the room in darkness. Then he crawled beneath the covers he'd arranged and closed his eyes. His muscles screamed their protest, and fatigue beat relentlessly in his head.
He had almost drifted off when he heard her soft whisper.
"Rio?"
He opened his eyes and half turned in her direction so he could hear her.
"Are you awake?"
It was said so softly he almost didn't hear her.
"Yeah. You okay?"
There was a long pause.
"Grace?"
"Would you…" She trailed off like she was having difficulty asking what it was she wanted. "Would you sleep with me? On the bed, I mean? I feel…safer…when you're near."
His chest did funny things. His heart turned over at the fear and hesitance in her voice. Hell, he'd move a damn mountain for her.
He pushed himself upward and then flipped on the lamp. She blinked and then peered anxiously up at him.
Then he pulled the covers back and crawled into the bed. He reached back to turn off the light. Once again darkness settled over the room, and he turned back so they were facing each other, though he could barely make out her features.
They lay there silently, so still he couldn't hear her breathe. She was stiff and completely immobile but he could tell she hadn't relaxed or gone to sleep.
"Come here," he said quietly.
He lifted his arm and she immediately snuggled into his embrace. Her body was a warm shock to his, flush against his chest, her legs touched his.
He remained still, waiting to see if she'd react or if she seemed uncomfortable with his proximity, but to his surprise, she burrowed farther into his embrace, emitted a sweet-sounding sigh and then settled limply against him.
"This better?" he asked.
She nodded against him, her head bobbing just underneath his chin.
For several long moments, he lay there, unsure of what to do next. Finally he lowered his arm, curling it around her midsection and anchoring her to him. She didn't even stir. She'd already fallen asleep.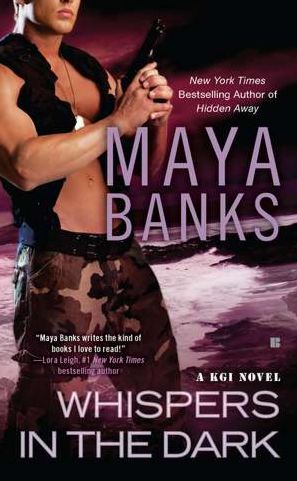 ---
ORDER A COPY: Whispers in the Dark
Publisher: Berkley Sensation
Publishing Date: January 3, 2012
Paperback: 333 pages
Rating: 5 Stars
---
She came to him at his lowest point. The voice of an angel, a whisper in the dark. She's the only thing that gets Nathan Kelly through his captivity, the endless days of torture and the fear that he'll never return to his family. With her help, he's able to escape. But he isn't truly free, because now she's disappeared and he's left with an all-consuming emptiness as he struggles to pick up the pieces of his life. Did he imagine his angel? Or is she out there, needing his help as he'd once needed hers?

Now he rushes to save her before it's too late.

Shea has been on the run from people who will stop at nothing to exploit her unique abilities. She never wanted to drag Nathan, who'd already suffered so much, into danger, but she doesn't have a choice so she reaches out to him for help. Finally face-to-face after having already formed a soul-deep bond in hell, their emotional connection is even more powerful than their telepathic one. Nathan refuses to consider ever letting her go again, but she worries they can never have a life free of the dangers that dog her every step. He'll protect her with his every breath, but can he convince her that they are meant to face these threats together?
---
Nathan Kelly was a soldier fighting in Afghanistan.  He was captured, hidden and tortured by the enemy.  He no longer knows if it was day or night, or how long he had been held captive.  Two of his friends have already been killed and he has lost his will to fight his captors and just wants the release of death.  Then he hears the voice of an angel in his head.  Has he lost his mind at last?  Does it even matter?  She brings him comfort, takes his pain and gives him the strength to fight back and escape. 
Although once he is finally free, she is no longer in his head and it feels like he lost a piece of his soul.  Did he imagine his angel or was she real? 
Halfway around the world, Shea Peterson is on the run.  Shea is a telepath, and she and her sister, Grace, are running from those who want to use them like lab rats.   She doesn't know why she hears the pain and torment of the soldier who has been captured, but when he finally starts to give in to despair, she cannot stop herself from connecting with him.  She gives him her strength and takes away his pain, although taking his pain makes her weak and vulnerable.
When her pursuers finally catch up with Shea, she is drugged and beaten for information about her sister.  She manages to escape, and Nathan is the only person she trusts enough to turn to for help.       
There is no question for Nathan that he would protect the woman who saved him.  When Nathan finally got to where Shea was hiding, I held my breath as nervous as he was for them to finally meet. 
His heart nearly stopped as he pulled onto the shoulder.  His palms went slick on the steering wheel.  His pulse raced so hard he was light-headed.
Just a few feet away was Shea.  The woman—the Angel—who'd invaded his mind.  All his doubts surfaced, but all he had to do was open his door and get out.  He would have his proof and until now he'd had no idea how badly he wanted her to be real.
——————-
He was holding her.  Finally holding her.
"You're real.  You're real."
Now that Nathan has Shea, he will do anything and everything to protect her and shield her as she had done for him.
"It's going to be we from now on," he bit out.  "There is no you.  No me.  Only us."
Can Nathan and his family's KGI special forces team keep Shea safe, when they don't even know the enemy they face? 
Whispers in the Dark is one of the most emotional books I have read in a long time—in such a good way.  Nathan and Shea are connected on such an intimate level both by their telepathic link and their similar experiences of capture and torture.  It is portrayed so strongly in this story you will feel as connected with Nathan and Shea as if you share their bond. 
I can't recommend this book to you strong enough.  This will be one of those books that you tell all your friends about, but there's no way you're loaning them your copy.
The next KGI story will feature Shea's sister, Grace and will be released in 2012.
Received ARC courtesy of Penguin Group.  Thank you!
---
Favorite Scene:
This time the knife slashed across his chest in a measured cut meant to inflict pain, but not mortal damage.
He ground his teeth together and focused on breathing in and out. He could endure this. He'd suffered far worse already.
Then warmth crept through his body and he felt sunshine fill his mind. Instead of welcoming it, he screamed a silent no.
Get out, Shea! Get the hell out of my head. I don't want you here, damn it.
Do or say nothing to further anger them, she said in the voice he'd already associated with everything good in the world.
He felt her flinch, and it took him a moment to realize that he'd been cut again. He stared down in horror as blood trickled down his chest. But he felt nothing.
She wrapped herself completely around him, holding him, offering her warmth and caring and all the while he could smell her blood from the wound given to him.
Never, never had he felt more helpless as he sat there being slowly carved up by a knife that he couldn't even feel. He couldn't even feel her pain. She was working hard to keep it all from him.
Tears ran freely down his cheeks, not because of what was being done to him, but because she suffered in his stead. It was more than he could bear.
His fingers dug into the ropes binding him and he clawed relentlessly, trying to break free so he could kill the sons of bitches who were causing Shea so much pain. He'd die before he allowed her to continue hurting.
Just be still, Nathan, and maybe they'll leave you alone. Don't do anything to anger them. Please. It will all be over soon. It's only temporary for me. You know this.
As much as he wanted to rage, he willed himself to quell the hatred and fury that burned so hotly within him. For her, he would do it because it was she who was hurting. Not him. Not him, goddamn it.
She was slick with blood and it threatened what little control he had left over his sanity.
Get the hell away from me, Shea. I don't want you here. This isn't yours to take for me.
It nearly broke him when she raised her hand to softly touch his cheek. A simple gesture of comfort. She was comforting him when she was taking the brunt of his torture.
Please, Shea. Don't do this. God, don't do this. Not for me. I can take it. They won't break me. I'm not giving up. I swear it. Just please go. Break off.
She merely wrapped her arms around him and pressed her body close. He hugged her back as they both endured hell.