Our winner is…Linda. Congratulations.
Yay! And a Happy Friday once again. The last few years we have jumped from winter to summer and this year is no exception. Friday and Saturday will be sunny and 75 degrees with Sunday returning us back to the mid-40s. So I am taking advantage while I can and dragging out a folding chair if I must so I can sit outside and read.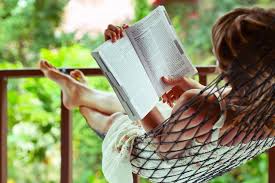 My question to the group this week is do you pre-order books?
When Amazon started making books (and by that I mean paperbacks and hardcovers) available for pre-order, I indulged a few times. I eventually needed to stop doing that after I would receive more than one copy because I would forget I already pre-ordered a book and pre-order again. With digital copies, at least Amazon has the courtesy to tell you when you already ordered or purchased a book. Now that I do reviews I rarely buy book. Sweet! But this week I found myself once again the proud owner of several copies of a book which I had pre-ordered (and forgot about) and then I was able to get a review copy after all. On Tuesday, I received a notification from Amazon thanking me for my purchase and letting me know my copy of the book I just finished reading was available in my kindle account. Of course, just to add insult, when I turned on my Kindle, both my download purchase and my review copy sat side-by-side in my carousel.
I know that pre-ordering copies is good for author sales and ranking, but some of us just can't be trusted with that one-click button.
So how many of you pre-order books from your favorite authors and how many still go the old fashioned route of hitting your local bookstore on sale day?
Just so you don't have to pre-order, this week's giveaway is a copy of the upcoming May release of The Secret Ingredient for a Happy Marriage by Shirley Jump.
Giveaway open to U.S. residents, 18 years and older. Giveaway ends Thursday, April 19th.
Thank you to Forever Romance for this week's giveaway.
Nora has always been the sister who binds the O'Bannons together. No matter what crisis hits, smart, dependable Nora knows how to fix it. But for Nora, the pressure of perfection is taking its toll.

Nora's marriage is in trouble, and she has been reluctant to worry her sisters with just how dire her situation is. Now though, faced with losing her husband, her home, and the life she's worked so hard to build, Nora can no longer pretend.

As the O'Bannon women rally around her, Nora begins to see that failure is nothing to fear. It's like they say in the bakery: if you want to make something good, you can't be afraid to get messy. When her husband returns, asking Nora to give their family a second chance, Nora must decide if their relationship can be saved-or if it's time to throw out the old recipe and start from scratch.