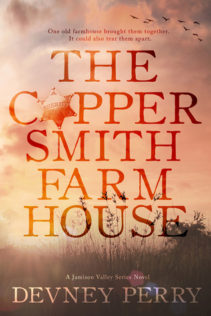 The Coppersmith Farmhouse (Jamison Valley, #1) by Devney Perry


Series:
Jamison Valley #1
Published by
Self-Published
on March 24th 2017
Genres:
Small Town
Format:
Audiobook
Narrator:
Ava Erickson
,
Joe Arden
Length:
9 hrs 43 min



This post contains affiliate links you can use to purchase the book. If you buy the book using that link, I will receive a small commission from the sale.
One old farmhouse brought them together. It could also tear them apart.

Gigi has just uprooted her whole world to start a new life. The unexpected gift of a farmhouse in small-town Montana is just what she and her daughter need to escape big-city loneliness. The last thing she needs is attitude from the town's sheriff, the most perfectly attractive and ruggedly handsome man she's ever laid eyes on—and a complete jerk.

Jess knows all about women like Gigi. Beautiful. Sexy. Scheming. She's stolen his sanctuary, the farmhouse that should have been his. But along with a face full of freckles, she's got a sharp wit and a backbone of steel—something he doesn't discover until after making a complete fool of himself. If he can earn back her trust and win her heart, he might just find the home he's always needed.
---
DNF. I simply couldn't listen to this anymore. The Sheriff was a pushy, controlling jerk ang Gigi just kept letting him get away with it.
I picked this up after a recommendation from our giveaway a few weeks ago. The story premise was good and I liked Gigi and her daughter, Rowan. There were several secondary characters which I hoped would grow into interesting stories of their own. The problem here is that the Sheriff was so controlling that I could not enjoy the story and he kept making me angrier and angrier.
Gigi is a nurse and at her job in Seattle, she met an older gentleman named Ben. When Ben finished his rehab and was leaving the hospital, she asked him if he had a ride and someone to help him for awhile. Ben had no family and all of his friends were older or had already died. He didn't even have clothes to go home in.  Gigi, being a kind soul, added taking care of Ben to her already cramped day of working, taking care of her sick mother and her one year old daughter.   Gigi, Rowan and Ben became their own family unit after Gigi's mother passed and when Ben died, he left Gigi his money and his farmhouse in Montana, telling her to so start a new life in the little town of Prescott.
Why Ben kept a house for twenty years when he didn't live there anymore and obviously never intended to return is a good question. But for the last twenty years, Ben had Brick, who was also known as Jess, the Town Sheriff, looking after his house and doing repairs. Ben's house became a haven for Jess, from his life with his screwed up mother, and he doesn't take it well that this woman stole his farmhouse from him.
When Jess first meets Gigi, he hates her because she is a bitch who used an old man and stole the farmhouse that Jess hope Ben would give him. He has taken care of it like it was his own house and he wanted it.
Now, Jess does mention that he used to talk to Ben once a month to discuss the farmhouse and any repairs, and that three years ago, Ben started talking about Gigi and Rowan and having dinners and all the time he was spending with them. Jess really is a sucky cop since he never wondered or even asked Ben, or used his cop interrogation techniques or even used google to determine who Gigi was and if she was trying to swindle the possessons of an old man? As a cop, he could have checked her background, right?   Jess knew that Ben had no family. He never once in the three years that Ben talked on and on about Gigi and her daughter questioned or even considered that Ben would give his possessions to Gigi?
So when Gigi first meets the super-hot Sheriff, he is absolutely rude and nasty to her. That is until he has an epiphany and decides that lovely Gigi might just be a nice person and he better go pee on her first before any of the other men in town get a chance. This way Jess gets the farmhouse, the pretty girl and her rather nice kid.
Except he forgets that Gigi might not be interested in the cranky asshat as a boyfriend. This is where Jess begins to lose me. Jess tells her they are going out on Friday. She say, "No, thanks. You've been treating me like garbage. Why do I want to go out with you?" Jess says, "6:30." Gigi says, "No." And Jess says, "See you then. Dress casual so we can go to the cafe where I never take dates and the whole town will note that I am making a claim on you."
Jess continually decides how things are going to be and if Gigi makes any objection, he keeps talking right over her, ignoring whatever she says. Gigi is bitten by a rattlesnake in her old barn (Are there rattlesnakes in Montana? Anyone?) and plans to eventually take the barn down. Next thing you know, Jess hires someone to take the barn down and build a heated garage with plenty of room for Jess's car, his car and his work vehicle plus all his other stuff. Jess has every intention of eventually moving in with Gigi and her kid after what was it, two weeks? Gigi gets pissed off at his controlling behaviour but when she complains that0 this is her property and her problem and he needs to discuss things with her first, he bowls right over her wishes and her complaints.
The last straw for me was about a quarter of the way through the book. Jess wants to go to the high school football game (former HS player that he is) and he's all "Let's go. Not everyone in town knows we are together so we have to been seen out and about together so everyone knows." Gigi is tired, it's been a long week and she has no interest in team sports, let alone watching some HS game and she once again says "No." He says, "I have to go as Sheriff." Gigi says, "Have a good time." So Jess calls to her daughter and says "Hey, Rowan. You want to go to the football game." Of course, she says, "Yes!" That is BS! He used her kid to make her do what he wanted.  Talk about manipulative!
Then I realized after I was screaming "douchebag" for the fourth time at my radio that I didn't have to listen to this guy's B.S. anymore. I returned my audible and got my credit back.
I just finished re-listening to Dragon Bound by Thea Harrison, and Dragos, the millenia old dragon who has had people bowing down to his every whim for centuries and who quickly changed his tune when he realized that Pia wasn't going to let him walk all over her. If a millenia old dragon could learn to be polite and discuss things with his woman, why can't a small town Sheriff?
A review of Goodreads shows that my opinion is among the minority.  Most reviewers like this story.  I simply had no interest in Jess as a hero.
Related Posts