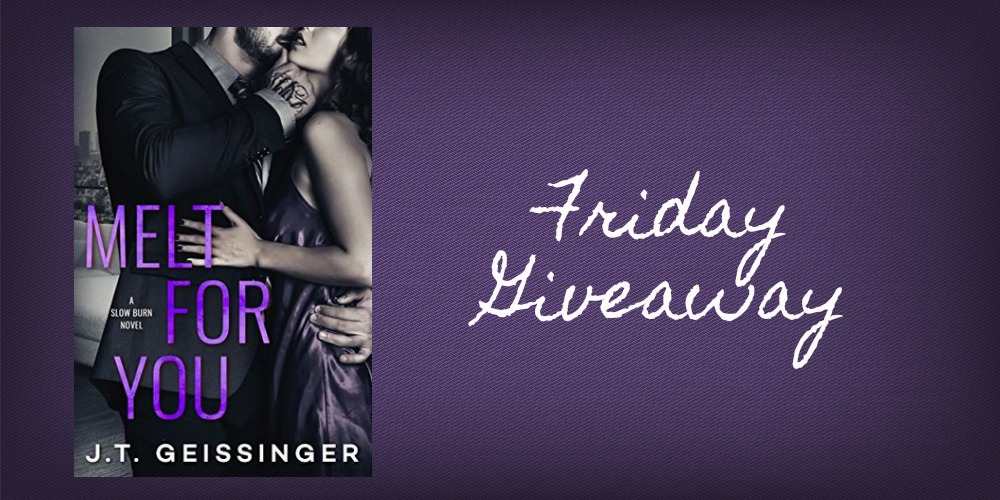 Our winner is…Mary Jo. Congratulations
Happy Friday? Wait — how is this happening? I am all for January and February passing in a blur, but not the summer. Things have been crazy and I am now going to have to add in back to school. No! No! No!
Well, I at least have some good news for you. This week's giveaway is a Kindle copy of Melt for You by J.T. Geissinger. This was a sexy/sweet story that I enjoyed. I have been passing it on to all my Book Buddies and they agree.
To enter this week's giveaway, break my heart and tell me are you happy or sad to see the summer coming to an end? (And teacher's on summer break, don't gloat.)
Open international to anyone who can get a Kindle copy (no guaranties). Open to anyone 18 years or older. Giveaway ends Thursday, August 30th.
Socially awkward Joellen Bixby has a date every Saturday—with her cat, a pint of ice cream, and fantasies of the way-too-handsome Michael Maddox. She'd give anything to win over the unattainable CEO of her firm, but how can she when she blends in so well with her cubicle? The answer may be closer than she thinks.

Cameron McGregor is a cocky, tattooed Scottish rugby captain who just moved in next door. He's not Jo's type—at all—but the notorious playboy is offering to teach the wallflower everything he knows about inspiring desire. Though a lot of women have rumpled Cam's kilt, Jo is special. Far from the ugly duckling she thinks she is, in Cam's eyes she's sharp, funny, and effortlessly sexy. Now, thanks to him, Jo is blooming with confidence and has the man of her dreams within reach.

Unfortunately for Cam, he's just helped to push the woman of his dreams into the arms of another man—and now he's in the fight of his life to keep this beauty from getting away.