Our winner is…Elizabeth H. Congratulations.
I have a special giveaway for you. Last Thursday my book buddy, Christine and I took the train into New York City to see Patricia Briggs. This was the first time that she has traveled out of the Northwest area on a book tour and I can't tell you how excited I was that she chose NYC.
Patricia Briggs has posted the Q&A on her Facebook page Click here to watch.
It is always so interesting to hear an author's insight into their own series. I read a story and wonder how it is so easy for these authors to come up with these amazing stories, but is it really so easy?   Then I go to a book signing and hear how much though went into it or that they went back and re-wrote entire sections because it just wasn't right, and it still amazes me that even though it isn't "easy," they still pull it all together and give us such great stories.
I was also very happy to finally get an answer to something I've always wanted to know…why do her werewolves take soooo long to shift.   You can't see me but you can hear me asking my question at about 10:30 into the video and you can listen to the answer to that question for yourself.
During the book signing, which we were lucky enough to be near the front of the line, I also got a chance to mention to Patricia that after Night Broken I had questions about the story and I had tried to get an interview with her but I wasn't able to through her publicist.    Somehow her husband, Mike, found my blog and stopped by to answer my questions which was so very nice of him.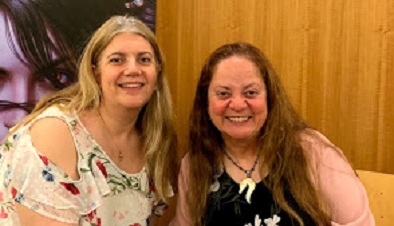 It is such a great experience to meet and talk to your favorite authors and I am so glad we had the opportunity to meet Patricia Briggs this time around.
But I didn't forgot you while I was there.   I picked up a signed book for myself and a signed copy for you to win! Because this is a special giveaway, it will run until May 31st so that everyone gets an opportunity to enter. This giveaway is for U.S. residents only. (Sorry.  It gets too expensive and too complicated to do giveaways outside of the U.S.)