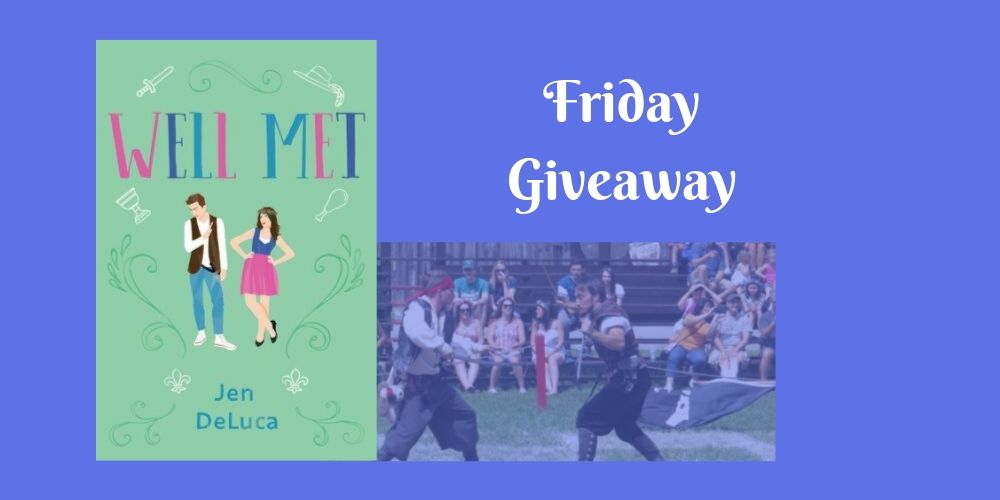 Our winner is…Jamilynn. Congratulations.
Happy Friday, my Ladies!   Sadly, I could not find Elmo last weekend, nor could I locate a chair. 🙁   I have decided that if I must be the driver again next year, I am going to spend my money on a show ticket rather than buy one for the conference. I didn't need a conference ticket to sit in the hallway and would much rather watch a musical than anime dress up.
This weekend is the start of the NY Renaissance Festival. While we don't go every year, my kids have been asking to go again this year.  So for this week's giveaway I have a copy of Well Met by Jen DeLuca. I enjoyed this story and the background of the Renaissance Fair.
For this week's giveaway, tell us if you have ever attended a Faire and bonus points for dressing up.
Giveaway ends Thursday, August 22nd. Open to U.S. residents, 18 years and older.
All's faire in love and war for two sworn enemies who indulge in a harmless flirtation in a laugh-out-loud rom-com from debut author, Jen DeLuca.

Emily knew there would be strings attached when she relocated to the small town of Willow Creek, Maryland, for the summer to help her sister recover from an accident, but who could anticipate getting roped into volunteering for the local Renaissance Faire alongside her teenaged niece? Or that the irritating and inscrutable schoolteacher in charge of the volunteers would be so annoying that she finds it impossible to stop thinking about him?

The faire is Simon's family legacy and from the start he makes clear he doesn't have time for Emily's lighthearted approach to life, her oddball Shakespeare conspiracy theories, or her endless suggestions for new acts to shake things up. Yet on the faire grounds he becomes a different person, flirting freely with Emily when she's in her revealing wench's costume. But is this attraction real, or just part of the characters they're portraying?

This summer was only ever supposed to be a pit stop on the way to somewhere else for Emily, but soon she can't seem to shake the fantasy of establishing something more with Simon, or a permanent home of her own in Willow Creek.