Please say it is Friday! Please!
What happened to last week's Friday Giveaway? The same thing that has ruined my sleep. The same thing that has sucked up all my reading time…actually, my anything time. We have a monster in the house…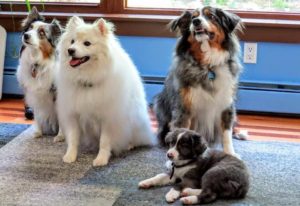 We got a puppy! She is only nine week old and as adorable and smart as she is, it is still soooo much work. I just want to sit and read a book!! She is not yet crate trained so we are working on that along with basic obedience and potty training. I am only able to write this because her batteries have worn down but after a 10 minute recharge, she will be at it again.
Last month was Dianne Duvall month which gave us great stories about immortals fighting vampires.  I checked my file to find out what could be the polar opposite of that and I found, Heart of Ashes which is highlanders fighting for the freedom of Scotland…with swords….Okay!  I did my best.
Leave a comment to be entered in this week's giveaway.  This giveaway is for a U.S. Kindle eBook.  Giveaway ends Thursday, July 30th.
A Scottish warrior and a Norman maiden clash in this stunning epic!

Cainnech (Cain) MacPherson's hatred for the English was born when he was a lad of seven, the day they raided his village and killed his family. They took everything from him without mercy and tossed him onto the battlefield, where the memory of love faded to dust and left nothing in its wake but violence.

Now, as Robert the Bruce's most formidable, most lethal warrior, he wreaks havoc on his enemy, taking land by force and without mercy. But when he raids a small castle in Northumberland, he faces his greatest opponent yet—a bold, beautiful Norman lass who will see him dead at any cost rather than give up her home…even if it means tearing open his armored heart and stirring the ashes that remain.

Aleysia d'Argentan will do anything to keep the hated Scots out of her castle and away from her villagers. She has prepared for this day for the last four years, building traps in the forest, poisoning the grain, and hiding daggers wherever she could use them to kill her enemy. But she isn't prepared for the brawny, brooding Highland warlord who invades her life—and her heart. He is an infuriating, irresistible opponent with a curious touch, a smoldering kiss, and a reluctant smile that begins to shine on her alone.

Can the ashes of his heart be stirred into flame by his enemy?