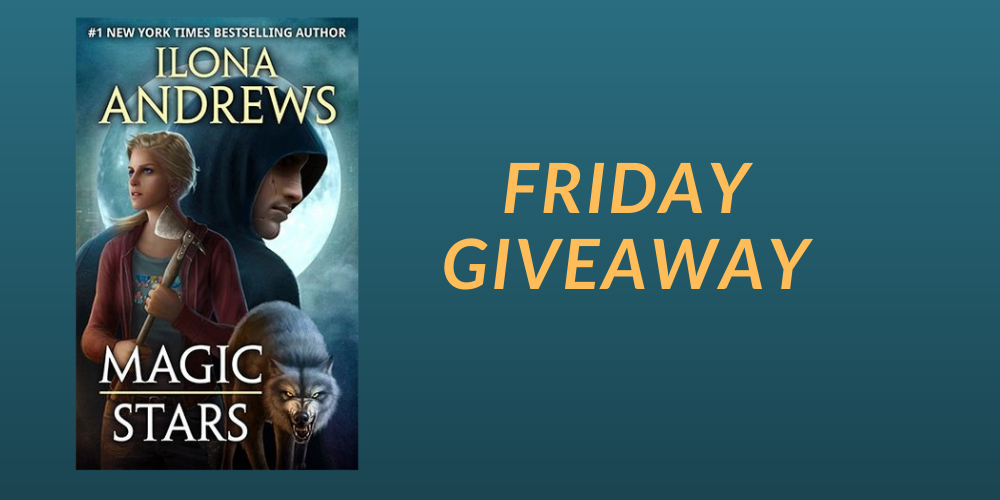 Our winner is…Alexis. Congratulations.
Hello and Happy Friday!
As I mentioned in yesterday's review, if you are planning to read Blood Heir but want to skip the whole Kate Daniels series (or haven't finished the whole series), you should at least read Magic Stars which is a short story  featuring 17-year-old Julie Olsen and her teenage crush, Derek Gaunt. Julie and Derek both worked for Kate's investigative agency and usually worked as a team. This shows their dynamic and gives you a background of both of them before their changes which we see in Blood Heir. So, of course, this week's giveaway is a U.S. Kindle copy of Magic Stars.    As an update to yesterday's review, the authors just announced that there will be two more books in this series since sales were so high.
One thing I realized lately is that I have gotten away from the author interviews which was part of my original excitement of starting this blog almost 10 years ago. I am going to make an effort to reach out to some authors to discuss whatever they are currently working on.
So for this week's giveaway (and even if you don't want to enter) shoot me some names of authors you want to get to know better, keeping in mind that neither Stephen King nor Nora Roberts is going to respond to my emails for my little blog. But if there is a new author that you recently stumbled upon or one you haven't heard from recently, note them down in the comment section and I'll see what we can do to reach out to them.
Giveaway ends Thursday, January 28th.
Scarred, solitary Derek Gaunt has separated from his Pack, and is truly a lone wolf. With no family he answers to no one; but is fiercely loyal to a chosen few. So, when several of those close to him are murdered, he'll stop at nothing to hunt their killer through the magic-drenched streets of Atlanta.

Never one to be left on the sidelines, equally determined—some might say stubborn—Julie Lennart-Olsen soon joins in his pursuit; and what began as revenge turns into a race to save the city. Their search pits them against powers they never imagined and magic so old, it predates history. It may cost Derek his life, but there are things for which even he would risk everything.