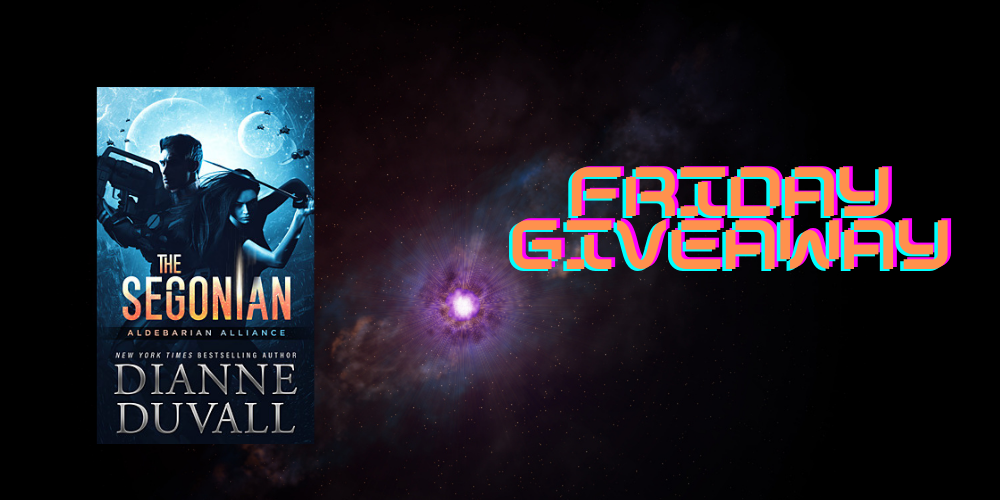 Our winner is…Maria. Congratulations
Happy Friday! We're are going to finish our week with another day of The Segonian by Dianne Duvall.
So let's talk the good, the bad, and the little bit of both.
Good. Eliana from The Segonian. She is such a spitfire. She is also sweet, brave, thoughtful and one powerful little Earthling to join this crew of aliens. She is just so much fun to be with and enjoyed her story so much.
Bad. We are five episodes into Stephen King's The Stand and I just don't like it. CBS All Access doesn't have the usual constraints of the basic networks. Honestly, the four part mini-series back in the 90's did a much better job. So much character development tossed aside and such a good cast wasted. This was our first episode without a time jump. I understand the purpose of time jumping if the beginning is particularly slow and we needed to grab the audience but there was so many stories to tell during a crazy period, the audience would have been invested by the end of the first show. It is very disappointing.
A little of both has to be Blood Heir by Ilona Andrews. It's a good story. No question. And it so good to be back in the world of Kate Daniels. The good news is that appears this will be a new series.
The bad news is that it appears this is the beginning of a new series which means you will not receive all the answers at the end of this book.
It is one thing if you know going in that you will not have a complete story arc but I didn't and I got to the end and kept trying to swipe for more pages…nothing! We will discuss this more next week.
Just leave a comment to be entered in this week's giveaway.  This will be for a U.S. Kindle copy of The Segonian.
Giveaway ends Thursday, January 21st.
New York Times bestselling author Dianne Duvall brings readers the second stand-alone novel in a thrilling new sci-fi romance series full of action, humor, and happily-ever-afters.

Eliana's life has never been what one might term ordinary. At least, it hasn't been for a very long time. As a powerful Immortal Guardian, she spends her nights hunting and slaying psychotic vampires that most of humanity doesn't even realize exist. Then an opportunity arises that instantly makes her extraordinary existence seem downright boring. The leader of the Immortal Guardians asks her to guard a group of mortals who are embarking upon a voyage across the galaxy to the planet Lasara. How could she possibly say no?

In no time at all, Eliana is hurtling through space on board a Lasaran battleship and getting to know not one but two alien races. It's the most exciting adventure of her long life… until the ship is unexpectedly attacked. Amid the chaos and destruction that follow, she valiantly helps everyone she can before an explosion renders her unconscious. When Eliana awakens, she finds herself alone, floating in space, clad only in a spacesuit, with no ship in sight. Alone–that is–except for the warm, deep voice that carries over the comm in her helmet.

Commander Dagon and the crew of the Segonian battleship Ranasura respond to a distress call from their Lasaran allies and join a massive Alliance-wide search-and-rescue mission. He quickly achieves communication with a lone Earthling female and races toward her. Every time they speak, his fascination with her grows and he becomes more desperate to reach her before her oxygen supply runs out. Her strength, bravery, and humor entice him, even more so when she defies all odds and they meet in person.

As he and Eliana embark upon a quest to find her missing friends, a bond swiftly grows between them that deepens with every laugh and smile and tender touch they share. But they are not the only ones searching for Earthling survivors. When Eliana herself becomes the hunted and their enemies begin to close in, can the two of them fight their way to victory, or will their enemies take everything?