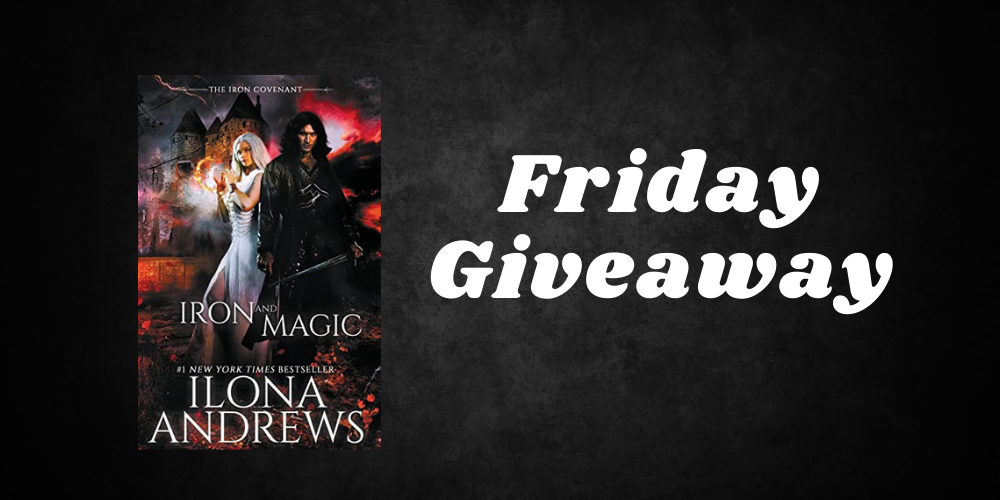 Our winner is…Alexis. Congratulations.
It's say goodbye to February Friday!!
How is everyone? It has taken me awhile but I finally finished my Kate Daniels series re-read. I do love this series. It has such wonderful characters and I love the world building where magic and technology shifts in waves over the world. I pulled the reading list off the Ilona Andrews website and read them in that order following the story arc. There were three short stories that I never read before so that was fun. I found that I remembered most of the stories and quite surprisingly, it turned out that the final story, Magic Triumphs, was the one I forgot the most about and it was almost like reading it anew.  I forgot about Erra in the end of Magic Triumphs and was confused how she went from ghostly specter to Julie's ruling Grandmother figure in Blood Heir.  I forgot what happened with Roland and how Conlan and Julie are able to visit with him.  I also forgot about the epilogue scene between Julia and Erra which sets up the spinoff books.
Of course, you would expect the authors to have notes of their own stories but on my re-read, I was surprised about things discussed along the series which are part of Julie's story such as Erra indicating that Julie's magic has a propensity towards falcons, horses and wolves, which would explain her relationship with her horse, Tulip, her falcon, Turgan, and probably Derek too. I also found out why they were looking at Desandra's son and what was so different about him. I am surprised that Julie wasn't make aware of that.
I also mentioned in my review of Blood Heir how exciting Julie's story is going to be because Julie has spent the last eight years training in weapons and magic with her grandmother Erra, her uncle Hugh D'Ambray and her grandfather, Roland. These three are masters in weapons and magic. While Kate was raised by Voron and trained to be a master with her sword and with killing, I found Kate's strength to be in the one thing Voron didn't want her to do, that is make friends.  Magically, Kate never trained or even had much knowledge of her powerful blood and the magic passed down through her father.   Kate doesn't make her first blood armor until Magic Binds and it was pretty awful. She used words of power for most of the series but in most of the books, it sucked up all her energy and sometimes nearly killed her.   There is no indication whether or not Kate has worked with her own magic or trained on this with Roland since Julie left or if she has turned more full-time mother and less killer of monsters over the last eight years. I don't know if we will get an answer to that question in future books.  We also had Conlon at a year old in Magic Triumphs holding a warrior form and making blood claws.  We also see him (at 10) practicing partial shifts and blood gauntlets in Blood Heir.  Both Conlon and Julie's skills are far superior to Kate's.  This should make for more exciting stories.
If you haven't read this series, it is one of my favorites and I can't recommend it enough.  Then again, I would also say that for all the Ilona Andrews series.
For this week's giveaway, I have a copy of Iron & Magic which is the first book of the spinoff series for Hugh D'Ambray. He was a villain for part of Kate's story arc and while I won't call him a hero because he really is such an ass, but by the end of his story, you kind of enjoy his assholeishness.
This giveaway is for a U.S. Kindle copy of Iron & Magic. And good news for those crazy few of you who don't like ebooks, the publishers are beginning to send out paperbacks again. Yay!
Just leave a comment to be entered. This giveaway ands Thursday, March 4th.
No day is ordinary in a world where Technology and Magic compete for supremacy…But no matter which force is winning, in the apocalypse, a sword will always work.

Hugh d'Ambray, Preceptor of the Iron Dogs, Warlord of the Builder of Towers, served only one man. Now his immortal, nearly omnipotent master has cast him aside. Hugh is a shadow of the warrior he was, but when he learns that the Iron Dogs, soldiers who would follow him anywhere, are being hunted down and murdered, he must make a choice: to fade away or to be the leader he was born to be. Hugh knows he must carve a new place for himself and his people, but they have no money, no shelter, and no food, and the necromancers are coming. Fast.

Elara Harper is a creature who should not exist. Her enemies call her Abomination; her people call her White Lady. Tasked with their protection, she's trapped between the magical heavyweights about to collide and plunge the state of Kentucky into a war that humans have no power to stop. Desperate to shield her people and their simple way of life, she would accept help from the devil himself—and Hugh d'Ambray might qualify.

Hugh needs a base, Elara needs soldiers. Both are infamous for betraying their allies, so how can they create a believable alliance to meet the challenge of their enemies?

As the prophet says: "It is better to marry than to burn."

Hugh and Elara may do both.