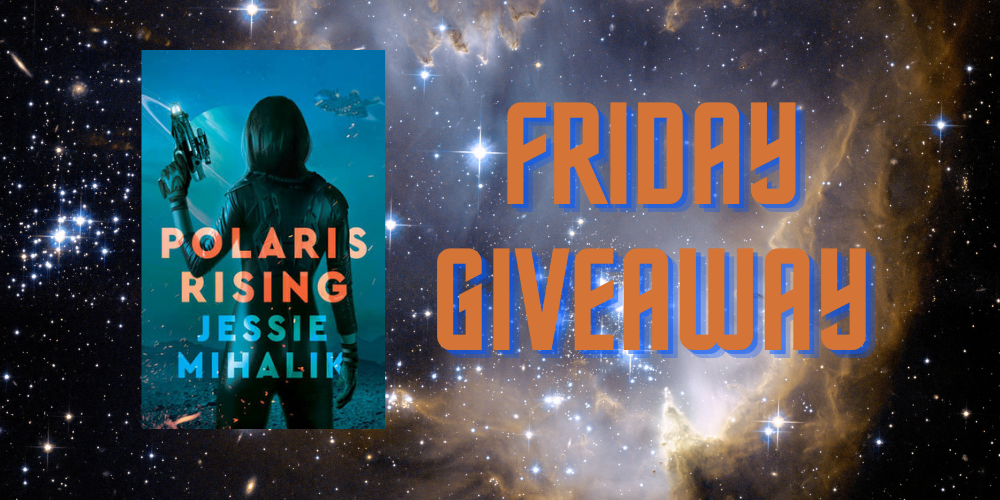 Our winner is…Linda. Congratulations.
TGIF! TGIF! Happy Friday all!
How is everyone doing? I am still in the middle of my Kate Daniels re-read, making sure I get all the novellas in there. There are several of them that I missed the first time. I know I should go back to my TBR list but nothing is really calling to me.
We finished The Stand last night and I can honestly say to anyone who hasn't watched, don't waste your time! Awful! Invest those hours in reading the book or listening to the audiobook. The wonderful cast was absolutely wasted on this presentation.
Changing topics — For this week's giveaway, I thought we should take another trip to a galaxy far, far away with Jessie Mihalik's Consortium Rebellion series. Polaris Rising introduces some great characters and a very interesting series.
Just leave a comment to be entered. This week's is for a U.S. Kindle version.
A space princess on the run and a notorious outlaw soldier become unlikely allies in this imaginative, sexy space opera adventure—the first in an exciting science fiction trilogy.

In the far distant future, the universe is officially ruled by the Royal Consortium, but the High Councillors, the heads of the three High Houses, wield the true power. As the fifth of six children, Ada von Hasenberg has no authority; her only value to her High House is as a pawn in a political marriage. When her father arranges for her to wed a noble from House Rockhurst, a man she neither wants nor loves, Ada seizes control of her own destiny. The spirited princess flees before the betrothal ceremony and disappears among the stars.

Ada eluded her father's forces for two years, but now her luck has run out. To ensure she cannot escape again, the fiery princess is thrown into a prison cell with Marcus Loch. Known as the Devil of Fornax Zero, Loch is rumored to have killed his entire chain of command during the Fornax Rebellion, and the Consortium wants his head.

When the ship returning them to Earth is attacked by a battle cruiser from rival House Rockhurst, Ada realizes that if her jilted fiancé captures her, she'll become a political prisoner and a liability to her House. Her only hope is to strike a deal with the dangerous fugitive: a fortune if he helps her escape.

But when you make a deal with an irresistibly attractive Devil, you may lose more than you bargained for . .