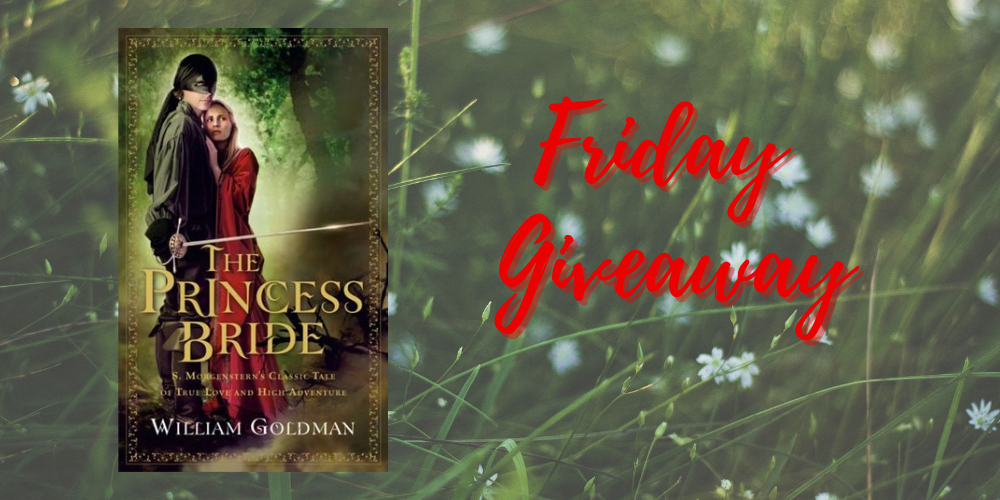 Our winner is…Alexis. Congratulations.
Happy Friday!
I know, right now you are confused. What is she doing? Wait, The Princess Bride?  Is that a new book?   Nope.  Come on who doesn't love the 1987 movie, The Princess Bride? It is awesome. But why it is this week's giveaway? I will tell you.
First of all, I forgot that The Princess Bride played a little part in the Kate Daniels series since it was Kate's favorite book and many times Curran's only response to Kate was simply "As you wish." So after doing my series re-read, it was on my mind that I never actually read it. Then I recently saw that the ebook copy was on sale and there was a simple note stating that there was so much more to the novel which didn't make it to the screen and I thought, yeah how many books to movies to we complain about where the plot is twisted to shorten it and so many good scenes are cut out.
Hence, we need to read The Princess Bride.   Once again, I was buying one copy for me and one copy for you. Yay!
A re-read is a good choice for this weekend since there won't be much time for reading this weekend. Spring is coming and it is time to get some projects finished around the house because I will soon need to be digging in my gardens.
This week's giveaway is for a U.S. Kindle copy. Giveaway ends Thursday, March 18th.
A tale of true love and high adventure, pirates, princesses, giants, miracles, fencing, and a frightening assortment of wild beasts – The Princess Bride is a modern storytelling classic.

As Florin and Guilder teeter on the verge of war, the reluctant Princess Buttercup is devastated by the loss of her true love, kidnapped by a mercenary and his henchmen, rescued by a pirate, forced to marry Prince Humperdinck, and rescued once again by the very crew who absconded with her in the first place. In the course of this dazzling adventure, she'll meet Vizzini – the criminal philosopher who'll do anything for a bag of gold; Fezzik – the gentle giant; Inigo – the Spaniard whose steel thirsts for revenge; and Count Rugen – the evil mastermind behind it all. Foiling all their plans and jumping into their stories is Westley, Princess Buttercup's one true love and a very good friend of a very dangerous pirate.

"Buttercup's Baby" is at the end of this edition.