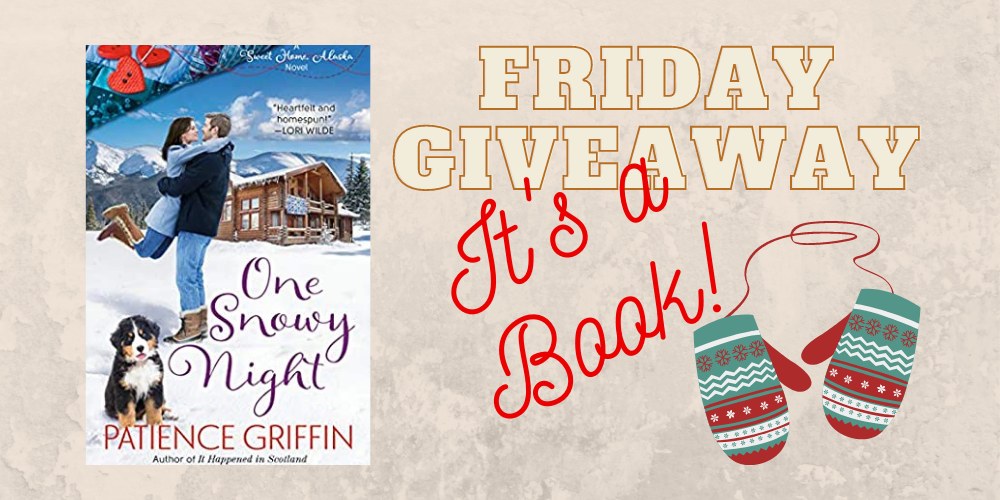 Our winner is…Linda. Congratulations.
It's a book! A real paperback book! Halleluiah!
It's been so long since I received actual books from the publishers I was shocked and excited to see the bulky package in my mailbox and I might have done an excited hop in the driveway.
This is a first book in a new series featuring a small town in Alaska written by Patience Griffin. I know I listened to an audiobook once in her Kilts & Quilts series. I liked the small Scottish town she created and the people it. In that series there was a matchmaking company and there was a mention of a sister venture in Alaska but I don't know if those series are connected or if this is a completely new storyline. Clearly this is a second chance romance involving high school sweethearts.
I don't know how long it will be before more physical books find their way here so make sure you take advantage and get your bookmarks ready.
Happy Friday!
Back to the old rules.  Giveaway open to U.S. residents, 18 years and older.  Giveaway ends Thursday, April 8th.
A woman struggling to raise her daughter alone in a small Alaskan town finds her simple existence upended when the father of her child returns. . . .

Sweet Home, Alaska, was once a thriving, idyllic town, where A Stone's Throw Hardware and Haberdashery and the Sisterhood of the Quilt were the cornerstones of the community. Then, in one fatal moment, two young lives were cut short, and everything changed. Now the Stone family businesses have closed, the diner is in the red, and the population has dwindled to 573.

After the tragic accident that took her sister's life, Hope McKnight discovered she was pregnant, and gave up her dreams of college to raise her daughter. When Donovan Stone returns to sell his family's properties and to cut final ties with Sweet Home, he's shocked to find Hope still there–and a single mother. The pull between Hope and Donovan is as powerful as ever. But so are the secrets and lies stemming from that long-ago tragedy. Will they be able to overcome the past, or will the heartbreak of bygone days destroy their love again?