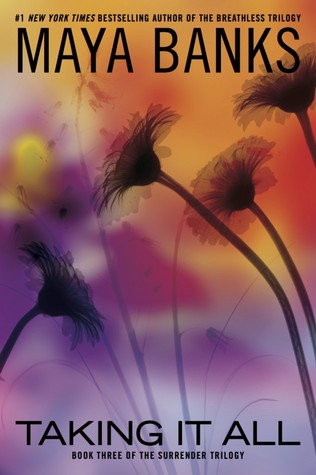 ---
ORDER A COPY:
Taking it All (The Surrender Trilogy)
Publisher: Berkley
Publishing Date: August 5, 2014
Paperback: 320 pages
Rating: 3 1/2 stars
---
Chessy and Tate have been married for several years. In the beginning, their relationship was everything she wanted. Passionate. All consuming. She offered her submission freely and Tate cherished her gift with a tenderness that made her feel safe. Content. Wanted. And loved beyond all measure. But as the years have gone by, Tate has become more immersed in making his business the success it has become, and Chessy has taken a back seat to his business obligations. Growing unhappier with the status of their once blissful marriage, Chessy knows that something has to give. Or they stand to lose it all.

Tate loves his wife. Has always loved her. Providing for her has always been his number one priority. But lately she's seemed unhappy, and he's worried. Worried enough that he arranges for a night together that he hopes will reignite the fire that once burned like an inferno between them.

But a business call at the wrong time threatens everything. Chessy's safety, his concentration, his wife's faith in him as her husband, a man sworn to love and protect her above all else. Gutted with the realization that he's going to lose her—has already lost her—he readies for the fight of his life. Whatever it takes, he'll get her back. And prove to her that nothing is more important than her love. And that if she'll allow him to prove himself one more time, he'll take it all. Everything. But he'll give far more back. Himself. His undying love.
---
Chessy has been feeling the loss of her husband, not to a mistress but to his business. When they first married, Tate and Chessy were so happy. Chessy loved to be submissive to Tate, not just in bed, but in all things. She like having a husband who took care of everything. They used to spend all their time together, but she barely sees him anymore. If he is not working, he is answering calls from clients at all hours.
Chessy has been unhappy for some time now but being stood up by her husband was the last straw. Chessy is ready to give up on them but she gives Tate one more chance to put their marriage to rights. It's an opportunity which Tate fails miserably. Tate takes her back to the House, which is the sex club they are members of. He has hand picked a third to join in their entertainment, but when he steps away, leaving a tied down Chessy to the mercy of an unknown man, things get out of hand.
Chessy is done being second best to Tate's job and suffering for it. He left her to the bound and helpless so that he could answer a client's question, and she doesn't think she can ever forgive him.
Tate realizes too late that he has lost the only thing that is important to him. The house, the cars that was all for Chessy. Even his dedication to his job was to provide for her with a lifestyle he knew she deserved. Chessy walking away has been the wake up call he should have never needed, and he won't stop until he wins her back.
THOUGHTS:
In this trilogy only Kylie and Jensen caught my attention. I found no sympathy for Chessy and we barely knew Tate. I guess that was the overall problem. Tate wasn't there for Chessy, but surprising he made appearance in the prior books to be there for Kylie and for Josslyn when their relationships went to hell.
I guess the most unbelievable part was that Tate walks away from his wife while she was tied down at the House while she was being serviced by a strange man. I don't think a man has enough blood flowing to his brain that he could even answer a phone while watching a sex act, let alone walk away to coherently talk business. Most men wouldn't walk away if they were having chest pains and needed to go to the hospital. "No, No. I'm fine. Keep going. More to the left."
I did have some sympathy for the desperate Tate trying to get Chessy back but overall I wasn't invested enough in these characters to truly care.
Received an ARC from the publisher in exchange for an honest review.