Q & A with Rebecca Zanetti
Thank you for stopping by to speak with us today. You were kind enough to come speak to us about two years ago. You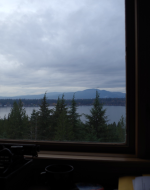 have been a busy beaver since we last spoke. You have a new home. Please tell me those pictures of the pretty mountains you keep posting are just a postcard. I don't think it's fair that you're a fabulous writer with an awe-inspiring view like that too.
Thanks so much for having me here today – I always love to visit! The view is real and inspires me, even when it's gray and drizzly like today.
At the new house, have you been able to break your husband of the odd items he keeps coming home with or were they packed up and moved with you?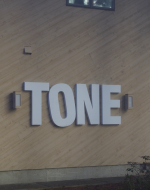 LOL! No, I have not. In fact, I've attached a picture of his newest addition, which is just crazy. In fact, I have to tell you, when I left him this morning to go to a writer's meeting, he was trying to install a rusty, really old axe to a handle because his handle (after having been duct-taped several times), finally just broke off. He'd found the axe in the river years ago, so it was probably old by then. Instead of just buying a new axe ($19), he bought a new handle ($13) and was trying to attach the old axe head. He's not cheap…he just loves things with history. But as he was chiseling out the broken wood from the really old axe head, I just had to shake my head.
You have two series which have concluded or are concluding shortly. Marked was the final book in the Dark Protectors Series which came out December 22nd and Total Surrender on March 31st should bring a HEA to all the Dean brothers in the Sin Brothers series.  As a writer, is it hard to walk away from the worlds you create?
Great question, and yes, it's definitely hard to walk away from the worlds. However, and this makes it a lot easier, spin-offs are always possible. We're doing a spinoff on the Dark Protectors called the Realm Enforcers, and right now I'm also creating a proposal for a spinoff for the Sin Brothers. I think it'd be fascinating to have a brother out there who didn't know (or even want) the Dean Boys existed. They don't exactly give up on family, so it might make for some humorous moments.
Is there any type of story that you want to try your hand at or anything you definitely want to stay away from? Erotica? Urban Fantasy?
You know, my reading tastes are pretty eclectic, so I figure I might try a hand at a few genres. I'm not big into historicals, so I don't see myself writing one, but I'd never say never. And I like really spicy romances, but I don't see myself writing a BDSM with contracts, negotiations, and all of that. But again, you never know. 
Now in your upcoming release, Total Surrender, Jory's been trapped at the mercy of the Commander and the Dr. Madison for some time now. I'm sure they are not just having tea parties. My guess is that there's been some torture and more experimentation going on. How is that going to affect him?
Jory is a sweetie but also a genius who learned early on to tamp down on emotion and deal with the moment, so he's well prepared. And frankly, no matter what, he's always the smartest guy in the room, so that has a lot of value. Plus, his motivation is saving his brothers, and that makes for great determination. I wouldn't mess with the guy. 
Thank you so much for stopping by once again to speak with us. I am so sorry to see the end of the Dark Protectors and now the Sin Brothers, but I am looking forward to seeing what new stories you will create for us.
Thank you so much for having me, and I truly hope you enjoy the spin-off series' we're working on right now!
---

BLIND FAITH by Rebecca Zanetti
(January 27, 2015; Forever Mass Market; $8.00)
A betrayal he couldn't forget . . .
For Nate Dean, love is a four-letter word. As part of a secret black-ops military unit, he and his brothers were genetically engineered by the government to be ruthless soldiers with an expiration date. They were loyal only to one another . . . until Nate laid eyes on the woman who stole his heart and blew his world apart. Now, years later, his family is still paying the price for his mistake. But as time runs out, there's only one person who can save his family: the very woman Nate swore he'd never trust again.
A love she couldn't deny . . .
The moment Audrey Madison spies Nate across a crowded ballroom, she can barely breathe. He's just as undeniably sexy as she remembers, yet there's an edge to him now that's as irresistible as it is dangerous. When he asks for her help, Audrey can't refuse. But she has secrets of her own–secrets that, if Nate ever discovers them, may cost them both their lives . . .
Buy Links:
Amazon
B&N
BAM
IndieBound
iBooks
Excerpt
"Let's dance." He turned her toward the dance floor.
She balked. "No." God. She couldn't dance with him, couldn't be touched by him.
"Yes." His hold slid down to the back of her elbow, and he ushered her toward where the orchestra was playing "I Will Wait for You" by Michel Legrand. The warmth in Nate's touch flared her nerves to life in an erotic need she'd worked hard to overcome.
"Nate—"
"Shhh."  He tightened his hold and drew her into an impressive erection.
She gasped, her face heating, her sex convulsing. Blinking, she glanced up in confusion to see if he was as affected as she was and stilled at the look in his eyes.
Furious. The man was truly furious. Even with the contacts masking his eyes, his anger shone bright.
She tried to step back and didn't move. Yeah, she knew she'd hurt him when she'd ended their relationship, but after nearly five years, he shouldn't still be so mad. He'd had freedom for five years, which was a hell of a lot better than she'd had. She'd had pain and fear and uncertainty. She blinked. "What is wrong with you?"
His impossibly hard jaw somehow hardened even more. "Oh, we'll discuss that shortly." Threat lived strongly in the calm words. "For now, we're going to finish this dance. Then you'll take the north exit and meet me in my car so we can talk."
"If I don't?" she asked quietly, wings fluttering through her abdomen.
His hold tightened imperceptibly. "I know where you live, I know your daily routine in working for Senator Nash, and I know where you go when you need time alone. You can't hide, you can't outrun me—and you know it."
The hairs on the back of her neck rose. "How long have you been watching me?" More importantly, why hadn't she noticed?
"A week.  Long enough to know the two apes toward the doorway are following you, too.  What's up with that?"  His hold tightened just enough to show his strength.
She shrugged.  "They haven't made a move, so I'm not worrying about it."  Not true, and by the narrowing of Nate's eyes, he could still smell a lie a mile away.  "The commander is having me followed."
Nate's jaw clenched.  "Why?"
"Dunno."  They didn't have time to discuss it.  "You should go now."
"No." He spun her, easily controlling their movements.
Her leg hitched, and she stumbled against him.
He frowned. "What's wrong?"
"Nothing." None of his damn business, that was. "What do you want to talk about?"
His gaze narrowed, and he spun her again. She tripped again. Her damn leg didn't move that way.  She glanced toward the doorway and the two soldiers watching her.  They'd straightened to alert stances.  Damn it.
"What's wrong with your leg?" Nate asked, brows furrowing.
Oh, they were so not going into her injuries on the dance floor. "You almost sound like you care." She threw his words back at him, gratified when his nostrils flared in irritation.
His gaze probed deep, wandering down her neck. He blinked several times, his chest moving with a harsh intake of breath. "I like your dress," he rumbled, his voice a low whisper.
With his tight hold, she had no doubt the tops of her breasts were visible. "Nathan, don't—"
"Don't what?" His gaze rose to her lips. A light of a different sort filtered through his angry eyes. She knew that look. Her body heated and her thighs softened. His erection jumped against her, and she bit down a groan.
"One kiss, Audrey."
Her eyes widened to let in more light. "No," she breathed. One of his hands held hers, the other pressed against her back. Thank goodness. He couldn't grab her and kiss her, no matter how appealing the thought. "Bad idea."
"I know." Nate didn't need hands. His lips met hers so quickly, she never saw him move.
His mouth covered hers with no hesitancy, no question—as if he had every right to go deep. His tongue was savage and demanding, holding nothing back and accepting no evasion. He tasted of loneliness, anger, and lust. Hard, needy, demanding lust.
The men at the door were watching.
But her body didn't care—instantly igniting instead of pushing away.  Her heart thundered in her ears, and she fell into his heat, uncaring of whether or not he caught her. He wrapped around her, his unyielding body holding her upright. He caressed her with his tongue, and she met him thrust for thrust, fierce pleasure lighting her on fire.
She forgot where they were, who they were, everything but the desperate need he created.
He broke the kiss, blatant male hunger crossing his face. His breath panted out even as he moved them in tune with the music.
She softened against him, allowing him to lead so she didn't collapse. Her mind whirled, and she shook her head to regain reality. "Nathan, what do you want?" The question emerged as a breathless plea she couldn't mask.
That quickly, all hints of desire slid from his face. His chin hardened. "Want? I want to know what happened to the child you were carrying five years ago when you ripped out my heart. Where's my baby, Audrey?"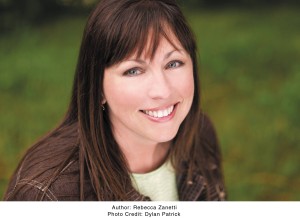 About the author:
New York Times bestselling author Rebecca Zanetti has worked as an art curator, Senate aide, lawyer, college professor, and a hearing examiner – only to culminate it all in stories about Alpha males and the women who claim them. She is a member of RWA, has won awards for her works throughout the industry, and has a journalism degree with a poly sci emphasis from Pepperdine University as well as a Juris Doctorate from the University of Idaho.
Growing up amid the glorious backdrops and winter wonderlands of the Pacific Northwest has given Rebecca fantastic scenery and adventures to weave into her stories. She resides in the wild north with her husband, children, and extended family who inspire her every day-or at the very least give her plenty of characters to write about.
Website
Facebook
Twitter
Goodreads
---