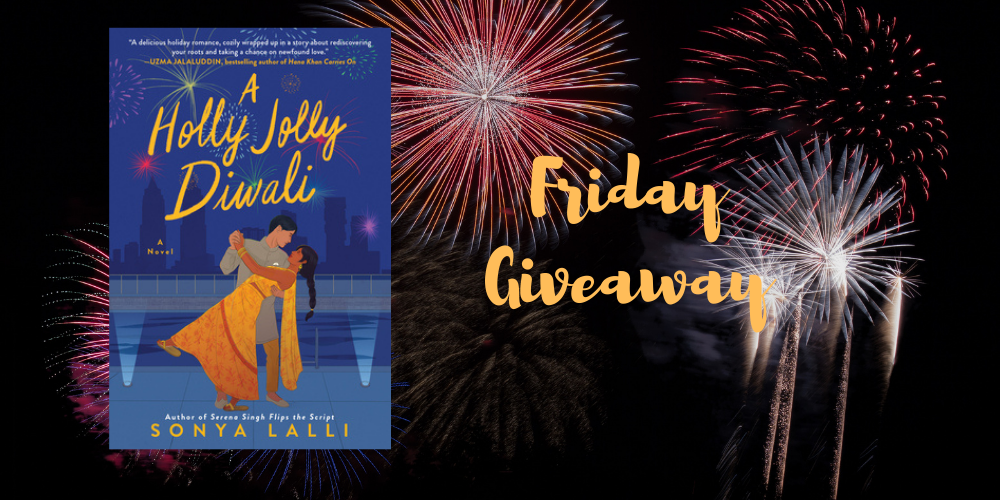 Happy Friday!
I hope everyone had a lovely Thanksgiving.    I think I am still full.   Now it is time to eat lots of salad before the Christmas cookies come out.
Happy Holiday to everyone celebrating Hanukkah this week.    I have only just started my Christmas shopping and we are hitting deadlines for shipping for Christmas.  What's up with that?   You would think after last year's all online Christmas shopping they would have worked out any kinks in delivery.
I got the painting done in my daughter's room with the help from the girls and I just need to go back for some touch up spots and to hang and hem the curtains.  Then we can move onto decorating the house for Christmas.  Woo, I am tired and the weekend hasn't even started.  I do want to get it all done on Saturday so I can squeak some me time in on Sunday.
I only have a few holiday stories to share and while this is not a Christmas story, this does look like a lot of fun.
Just leave a comment to be entered.
Giveaway is open to U.S. residents.  Giveaway ends Thursday, December 9th.
One type-A data analyst discovers her free-spirited side on an impulsive journey from bustling Mumbai to the gorgeous beaches of Goa and finds love waiting for her on Christmas morning.

Twenty-nine-year-old Niki Randhawa has always made practical decisions. Despite her love for music and art, she became an analyst for the stability. She's always stuck close to home, in case her family needed her. And she's always dated guys that seem good on paper, rather than the ones who give her butterflies. When she's laid off, Niki realizes that practical hasn't exactly paid off for her. So for the first time ever, she throws caution to the wind and books a last-minute flight for her friend Diya's wedding.

Niki arrives in India just in time to celebrate Diwali, the festival of lights, where she meets London musician Sameer Mukherji. Maybe it's the splendor of Mumbai or the magic of the holiday season, but Niki is immediately drawn to Sam. At the wedding, the champagne flows and their flirtatious banter makes it clear that the attraction is mutual.

When Niki and Sam join Diya, her husband and their friends on a group honeymoon, their connection grows deeper. Free-spirited Sam helps Niki get in touch with her passionate and creative side, and with her Indian roots. When she gets a new job offer back home, Niki must decide what she wants out of the next chapter of her life–to cling to the straight and narrow like always, or to take a leap of faith and live the kind of bold life the old Niki never would have dreamed of.