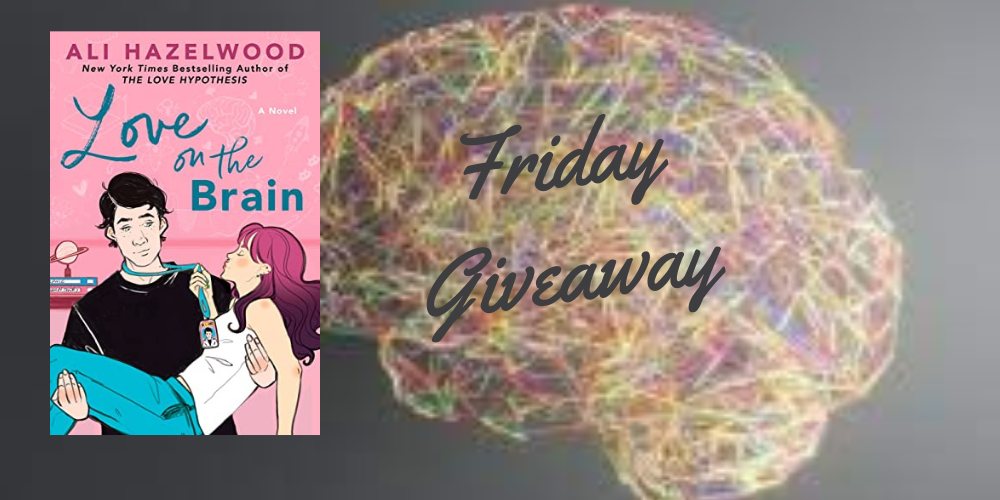 Our winner is…Mary Jo. Congratulations
Happy Friday!
This is how much I love you guys…I am giving away my copy of Love on the Brain.  When I really like a story, my tendency is to hoard it for myself.  You know, for that day when Ali Hazelwood shows up at my house and wants to sign it for me.   Since I never gave up my copy of The Love Hypothesis, I'm covered when she shows up so this one's for you.
I am really glad I found this author.  I just love her characters and their socially awkward nerdiness.   They focus on smart women facing the hardship of being a women in STEM and in this story, she points out more than once the unequitable treatment of women in sciences and even today men still act as thought their tiny woman brains couldn't possible understand the complications of science.  Go Team Hazelwood.  Let's feature more smart women in science in a fun romance!
As always, just leave a comment to be entered.
Giveaway is for a trade paperback and is open to U.S. residents only.  Giveaway ends Thursday, August 11th.
Bee Königswasser lives by a simple code: What would Marie Curie do? If NASA offered her the lead on a neuroengineering project – a literal dream come true – Marie would accept without hesitation. Duh. But the mother of modern physics never had to co-lead with Levi Ward.

Sure, Levi is attractive in a tall, dark, and piercing-eyes kind of way. But Levi made his feelings toward Bee very clear in grad school – archenemies work best employed in their own galaxies far, far away.

But when her equipment starts to go missing and the staff ignore her, Bee could swear she sees Levi softening into an ally, backing her plays, seconding her ideas… devouring her with those eyes. The possibilities have all her neurons firing.

But when it comes time to actually make a move and put her heart on the line, there's only one question that matters: What will Bee Königswasser do?