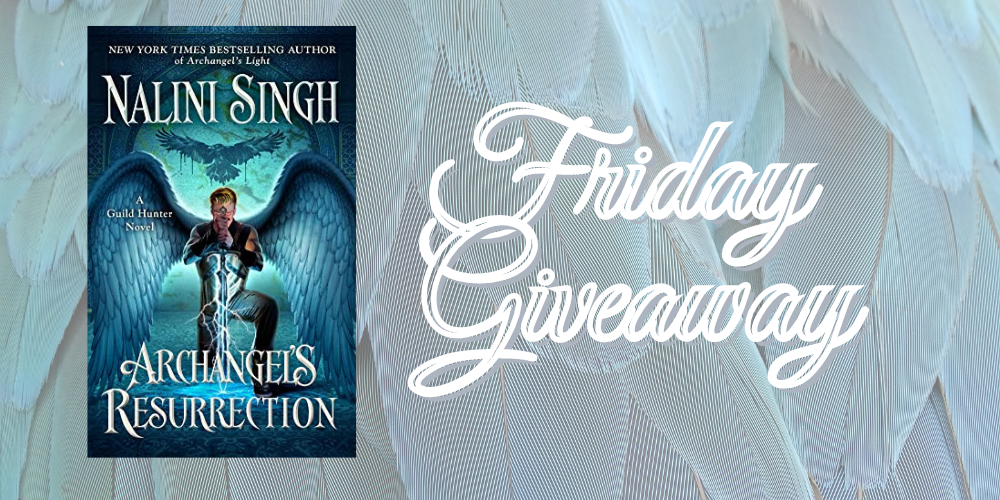 Happy Friday!
We are off for one last college tour.  The good new is that the acceptance letters have already started coming in.   Fingers crossed we hear from her top pick soon (and in a positive way).
Starting next week, we are going to do something interesting and have a few weeks of giveaways that I will call Something Completely Different.  The last two boxes that I received from my friends at Berkley included several books that I didn't request.  As I have indicated before, my opinion of books is simply that my opinion, and am I certain someone out there is looking forward to some of these other options.   I am looking forward to seeing who might find these next few books to be exciting.
This week's giveaway is a copy of Nalini Singh's next Guild Hunter story, Archangel's Resurrection.   You know how much I love Nalini and all her characters but Alexander isn't one of my favorites.  The last 20 percent of the story was super exciting but I don't know  that it made up for the first 80 percent of non-stop Alexander.   I hope to have time to catch up on reviews after this weekend so we can talk about this more.
I'm off.  Just leave a comment to be entered in this week's giveaway.
This giveaway is for a paperback copy and is open to U.S. residents only.  Giveaway ends Thursday, October 10th.
New York Times Bestselling author Nalini Singh takes us into the dangerous, haunting world of archangels…and a love that is legend.

For thousands of years, the passion between Alexander, Archangel of Persia, and Zanaya, Queen of the Nile, burned furious and bright, seemingly without end. But to be an archangel is to be bound to power violent and demanding. Driven by its primal energy, Alexander and Zanaya fought as fiercely as they loved. Locked in an endless cycle of devotion and heartbreak, it is only Zanaya's decision to Sleep that ends their love story.

Eons later, it is the Cascade of Death that wakens them both. The passion between them a flame that yet burns, Alexander and Zanaya stand together in one last battle against the ultimate darkness. But even a warrior archangel cannot win every war. Alexander's scream shatters the world as Zanaya falls, broken and silent…only to rise again in a miracle that may be a devastating curse. For is it truly the Queen of the Nile who has been resurrected?

Only one thing is clear: this is the last beat of their passionate, angry dance. The final song for Alexander and his Zani…