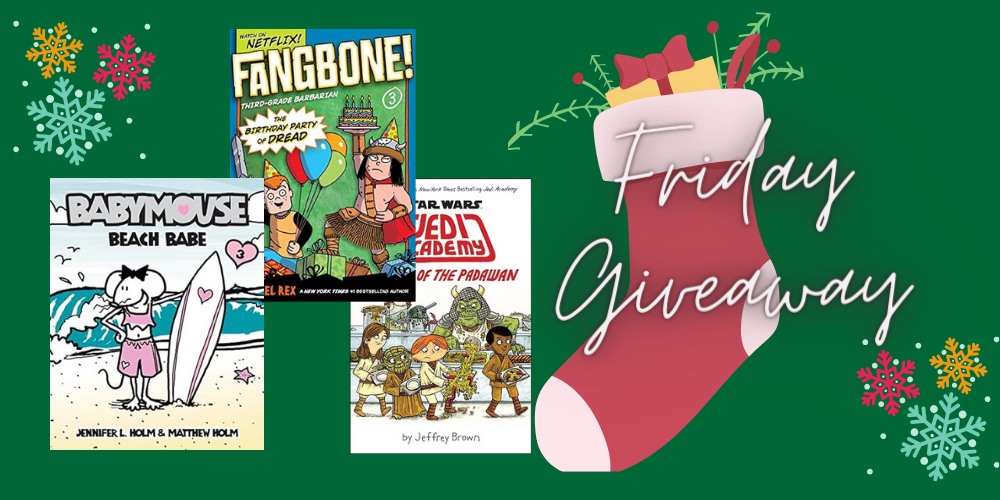 Happy Friday!
I know we haven't even had Thanksgiving yet but I am thinking the holidays. More particularly, books for the kids. I found that my kids left a bag of donation books, and like me, my kids are very gentle with their books. I have pulled out some that I think you might want to share with someone on your Holiday list. This also means more trips to the post office so you get these books in time for your own holiday. Hanukkah is early so if you win let me know and I will head over to the post office asap.
This week I have a collection of comic-style books which include:
A signed copy of Bad Kitty Meets the Baby by Nick Bruel
Happy Birthday Bad Kitty
Babymouse Beach Babe
Babymouse for President
A Very Babymouse Christmas
Extreme Babymouse
Babymouse Puppylove
Fangbone, Third Grade Barbarian – The Birthday Party of Dread
Lunch Lady and the Cyborg Substitute
Knights of the Lunch Table – Dodgeball Chronicles
Star Wars Jedi Academy Return of the Padawan
Dragonbreath – Attack of the Ninja Frogs
If you have a child, niece, nephew, family friend or just a school grade secret Santa, let me know if you are interested and if you need them asap.
Just leave a comment to be entered in this week's giveaway.
Giveaway is for paperback copies and is open to U.S. residents only.