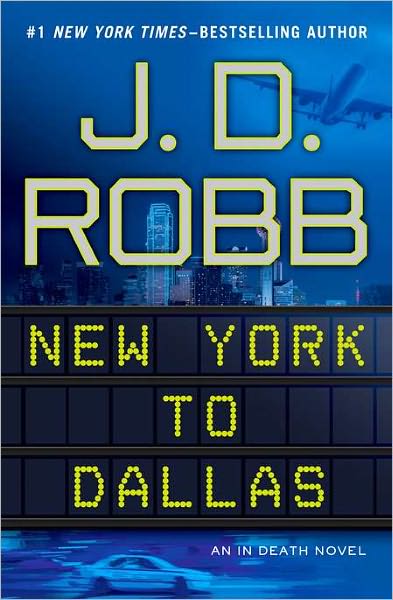 ---
ORDER A COPY:
New York to Dallas (In Death)
Publisher: Penquin Group
Publishing Date: September 13, 2011
Hardcover: 416 pages
Rating: 5 stars
---
The new novel from the #1 New York Times-bestselling author, which takes readers deeper into the mind of Eve Dallas than ever before.

The number-one New York Times-bestselling author J. D. Robb presents an intense and terrifying new case for New York homicide cop Eve Dallas, one that will take her all the way to the city that gave her her name-and plunge her into the nightmares of her childhood.

When a monster named Isaac McQueen-taken down by Eve back in her uniform days-escapes from Rikers, he has two things in mind. One is to pick up where he left off, abducting young victims and leaving them scarred in both mind and body. The other is to get revenge on the woman who stopped him all those years ago.
---
In the summer of 2060, dangerous pedophile, Isaac McQueen, has escaped from jail, and the only thing more pressing to him than restarting his collection of young girls, is getting revenge on Lt. Eve Dallas who put him in jail 12 years ago.   Knowing Eve's violent childhood, he takes hostages and forces her to confront him in Dallas, Texas.  In Dallas, she's out of her element, off her game and steeped in the nightmare of her past.  Eve and her husband, Roarke, work with the FBI and the Dallas PSD to track this killer before he has an opportunity to destroy more young lives.
If you have never read any of the In Death stories, let me tell you that Lt. Eve Dallas is one of those amazing, unforgettable characters.   You don't need to have read the whole series to read this story.  But I warn you, you will need to clear your calendar because you will want to start this series from the beginning, and this was book #33.
Now for those of us who have read ALL the In Death stories, we know that Eve, with the help and love of Roarke, has been recovering from her abusive and tragic childhood.  This case is going to dredge up a lot of those childhood nightmares which Eve has just begun to work past.   Because so much of the horror of Eve's past is relived in this book through her nightmares and with reviewing the original case arrest of McQueen, it is a relatively darker and more emotionally draining story.  And yes, admittedly, stories about a murder cop don't usually generate happy stories.  Some of the stories have been more violent than others, and some of the stories delve more into the technology of the future; and still others seem less about the murder and more about the development of the relationships between the main characters.  This one, I feel, is the darkest story of the series. 
New York to Dallas is well written, intriguing and definitely worth reading, although I missed Peabody, Feeney and McNab as much as Dallas does this time around. 
This story also caused a dilemma for me since it was the first In Death story released since I got my Nook.   So the question was to read it on my Nook or listen to the audiobook.  I really enjoy Susan Erikson's talent, so I decided to stick with audiobooks on this series.  Plus side: I can listen and clean the house.  My house thanks you for your talent Ms. Erikson.
---
Favorite Scene:
"The mayor wanted more exposure for the cops that took down Renee Oberman's ring, and for himself if you ask me.  You figure it's going to get another big bounce in the media.  Good cops against bad cops and all that.  Anyway Peabody's at her desk."  He jerked a thumb over his skinny shoulder.  "With her head between her knees.  Maybe you could smooth her out so she doesn't boot when the mayor pins the medal on her."
"Oh, for Christ's sake."
She strode out, long and lanky in the uniform, into the bullpen and over to Peabody's desk.
"Pull yourself together, Detective.   You're embarrassing yourself, and more important, you're embarrassing me."
"They're going to do it outside.  In public."
"So the fuck what?"
"Public," Peabodysaid, head still between her knees.
"You're being honored by this department and this city for having the integrity, the courage and the skill to take out a blight on this department and this city.  Dirty, murdering, greedy, treacherous cops are sitting in cages right now because you had that integrity, courage and skill.  I don't care if they do this damn thing in Grand Central, you will get on your feet.  You will not puke, pass out, cry like a baby, or squeal like a girl.  That's a goddamn order."
"I had more of a 'Relax, Peabody, this is a proud moment' sort of speech in mind,"  McNab murmured to Roarke.
Roarke shook his head, grinning.  "Did you now?  You've a bit to learn yet, haven't you?"