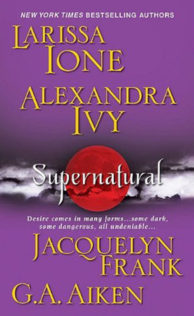 Supernatural (Lords of Deliverance, #1.5; Demonica, #6.5; Guardians of Eternity, #7.5; Nightwalkers, #1.5; Dragon Kin, #0.4)
by
Larissa Ione
,
Alexandra Ivy
,
Jacquelyn Frank
,
G.A. Aiken

Series:
Lords of Deliverance #1.5
,
Demonica #6.5
,
Nightwalkers #1.5
,
Guardians of Eternity #7.5
Published by
Zebra
on September 1st 2011
Genres:
Paranormal/Urban Fantasy
Pages:
471
Format:
eBook



I received this book for free from in exchange for an honest review. This does not affect my opinion of the book or the content of my review.
This post contains affiliate links you can use to purchase the book. If you buy the book using that link, I will receive a small commission from the sale.
---
Rating: Each story is individually listed
In this tantalizing collection, four New York Times bestselling authors invite you into the alluring worlds they've created in the Demonica, Guardians of Eternity, Nightwalkers, and Dragon Kin series. Each mesmerizing page will leave you craving more. . .

"Vampire Fight Club " by Larissa Ione

When a wave of violence forces shapeshifter Vladlena to go undercover, her first stop is a haven of vice—with a dangerously sexy vamp in charge. Both Vladlena and Nathan are hiding something, but they can't conceal the lust that simmers between them . . .

"Darkness Eternal " by Alexandra Ivy

After being held captive by one vampire for four centuries, Kata had no intention of taking another one to the underworld with her. Yet even in the pits of hell, there's no ignoring the intoxicating desire awakened by his touch. . .

"Kane " by Jacquelyn Frank

Kane knows Corrine was meant to be his. . . just as he knows that truly possessing the lovely human is forbidden. But on the night of the Samhain moon, the beast in every demon is stronger than reason, and Kane's hunger is more powerful than any punishment. . .

"Dragon on Top " by G.A. Aiken

Escorting the highborn Bram through deadly Sand Dragon territory will try Ghleanna's patience. . . and her resolve. For Bram is determined to enhance the journey with a seduction no female could resist. . .
---
I picked up this anthology because I am a fan of Alexandra Ivy's Guardians of Enternity series.  But I have seen the names Larissa Ione and Jacqueline Frank often as suggested reading when I purchase my e-books, so I was happy to see them grouped together since it would give me a great excuse to try these other authors.
Vampire Fight Club by Larissa Ione – This was a very exciting story involving a secret, supernatural fight club.  Vladlena Paskelkov was an emergency nurse at Underworld General the night her brother is brought in after suffering a beating at the local underground fight club. Lena is a shifter and goes undercover as a medic to find who is responsible for what happened to her brother.  At the nightclub, which is the front for the fight arena, she meets Nathan Sabine, a vampire who manages the nightclub.  Although she is drawn to Nate, she first has to determine if he is responsible for the fight club.
I enjoyed this story.  It was well paced and kept you interested.  I like Larissa Ione's writing and purchased Bloodlust and Eternity Embraced, (one was a free download and the other discounted through B&N).  If I like these as well, I will start her Demonica series from the beginning.
Rating:  4 stars
Darkness Eternal by Alexandra Ivy – The story centers around Uriel, whom we met before in Yours for Eternally and Devoured by Darkness.  He is a vampire and the right-hand man to Victor, the Clan Chief of the Great Briton.  He is sent to rescue Kata, the lovely gypsy, who has been held prisoner by her twin sister, Marika (now a vampire) and her pet wizard, Sergei.   Kata is sent into Hell (literally) and Uriel follows to help get her out.  After being held prisoner by her vampire sister for several centuries, Kata is not thrilled with the idea of putting her faith in Uriel.
Since I am a fan of the series, I liked the story, but it was not my favorite of the series.  Like most short-stories, it felt a bit rushed.   There was not enough action to make it truly exciting, but too much so that the romance felt forced.   If you want to try the Guardians of Eternity series, read When Darkness Comes, Darkness Everlasting or Darkness Unleashed.
Rating:  3 stars
Kane by Jacqueline Frank – This story is about Kane who finds his fated mate in Corrine, who he thinks is human and therefore forbidden.  Kane is the taken away and punished for trying to be with her.  But when Kane touched her, her dormant Druid nature starts to change her.  Without Kane's energies to sustain her, the change almost kills her and leaves her weak and bedridden.
I was disappointed in this story.  First, for a short story, it was REALLY short, and secondly, the whole story was about the fact that she was his fated mate and due to the fact that it was the night of the Samhaim moon, he was crazed with the need to mate with her.  Since she was recovering from her Druid change, he had to be chained down so he wouldn't attack her.
This lack of a real story was unfortunate since I was very interested in the premise of Kane being a "young" demon (only 98 years old).   Since most stories are about how the demon/vampire/supernatural being has been around for centuries and how powerful he or she is, it would have been an interesting twist to see a hero just coming into his powers or abilities, maybe struggling overcome a more powerful and older opponent.  This story equates to a teenager trying to get lucky with his girlfriend.  Sadly a lot of potential wasted.
Rating:  2 stars
Dragon on Top by G.A. Aiken –  The Princess wants Captain Ghleanna to protect Bram when he travels to the land of the Sand Dragons to negotiate a treaty.  Bram doesn't want Ghleanna to protect him since he has been in love with her forever and because he is not a warrior, she doesn't even notice him.
I was surprised to learn that G.A. Aiken is a pseudonym for Shelly Laurenston.  I have read several Shelly Laurenston short stories, which I liked, and have her Pride series in my list of books to read.
I liked this story, but I liked it much better when I ignored the whole dragon aspect of the story.  Probably just me, but I just wasn't excited about the dragon thing.  I kept picturing them more cartoonish, very Puff-the-Magic-Dragon like.  I was also confused from time to time during the story if they were now dragons or people since they would be speaking to each other, writing, drinking ale, etc. in dragon form, same as in human form.
Take out the dragons, and Bram and Ghleanna were delightful characters. Their dynamic is wonderful.  Bram was charming and Ghleanna and her brothers were hysterical.   If this had been a straight medieval period story, I would have enjoyed it more.  Dragons or not, I do give it 5 stars since it was so enjoyable.
Rating:  5 stars
Received copy courtesy of Zebra. Thank you!
---
Favorite Scene (from Dragon on Top):
"Me and mine…we argue.  But to back up your statement, Cadwaladrs just need to be willing to take a claw to the face.  Or a shield."
"Aye.  I remember that."
Ghleanna blinked, frowning.  "You were at our dinners?"
There was a pause and then Bram demanded, "Was I entirely invisible to you?"
"Well…not entirely."
Deciding it was time to get to work, Bram began to get up.  But Ghleanna caught his arm, her laughter annoying him even more.
"I'm teasing." she said, pulling him back. "I swear."
"Isn't it bad enough I assumed you'd always ignored me?  Now I find out I was just invisible to you."
Related Posts