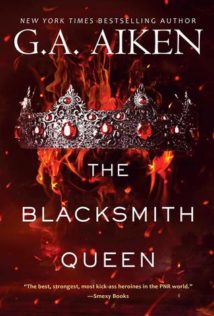 The Blacksmith Queen (The Scarred Earth Saga, #1)
by
G.A. Aiken

Series:
The Scarred Earth Saga #1
Published by
Kensington Publishing Corporation
on August 27, 2019
Genres:
Fantasy
Pages:
304
Format:
eBook



I received this book for free from in exchange for an honest review. This does not affect my opinion of the book or the content of my review.
This post contains affiliate links you can use to purchase the book. If you buy the book using that link, I will receive a small commission from the sale.
When a prophesy brings war to the Land of the Black Hills, Keeley Smythe must join forces with a clan of mountain warriors who are really centaurs in a thrilling new fantasy romance series from New York Times bestselling author G.A. Aiken. The Old King Is Dead With the demise of the Old King, there's a prophesy that a queen will ascend to the throne of the Black Hills. Bad news for the king's sons, who are prepared to defend their birthright against all comers. But for blacksmith Keeley Smythe, war is great for business. Until it looks like the chosen queen will be Beatrix, her younger sister. Now it's all Keeley can do to protect her family from the enraged royals.

Luckily, Keeley doesn't have to fight alone. Because thundering to her aid comes a clan of kilt-wearing mountain warriors called the Amichai. Not the most socially adept group, but soldiers have never bothered Keeley, and rough, gruff Caid, actually seems to respect her. A good thing because the fierce warrior will be by her side for a much longer ride than any prophesy ever envisioned ...
---
A wonderful new fantasy adventure from G.A. Aiken.
Keeley Smythe loves two things: her family and being a blacksmith. But no matter how much she loves her younger sister, Beatrix, she just doesn't believe it when words spreads that the witches of Amhuinn declared that Beatrix will be the next Queen. While Beatrix is very book smart and well read, she is still only a farmer's daughter. Really, who wants to get in the middle of that blood bath to replace the Old King?
But when centaurs arrive at their farm to escort Beatrix to the witches for confirmation of the prophecy, Keeley knows she will not allow her sister to travel without her protection. So Keeley grabs her battle hammer and heads out with their odd party including the centaurs, a war monk and her apprentice, a pack of hell wolves and a horse set on revenge.
Yet when their party finally reaches the witches and their soothsayer actually confirms that Beatrix will be Queen, she also indicates that Keeley will be Queen.   Beatrix might be very excited but Keeley has no interest in becoming Queen.  Really, how can she and Beatrix both be the Queen?   Stupid soothsayer!
But Keeley finds out there is much more plotting going on than she would have ever believed, and if her family is to survive this royal bloodbath, it seems she is going to have to pull on her big girl panties and fight the dueling royals for the crown.
This new series by G.A. Aiken bares a lot of similarities with her Dragon Kin series and also with her Shelly Laurenston alter ego's Prides series as far as family dynamics and non-stereotypical characters.  While I am not saying that this new series is a re-hash of old characters,  I will say that if you don't like the bickering siblings or the quicky dynamics between the hero and heroine that you find in her other series, you probably won't enjoy this series.
Aside from those feeling of deja vu, this story focuses on only the three oldest sisters out of twelve children: Keeley, Gemma and Beatrix.
Keeley has such a laid back attitude about life and love just about all thing, but especially animals.  Rescuing a pup is how Keeley ends up being followed around by hell wolves who usually just see people as yummy snacks.  Whether her calming way with beast has anything to do with charming Caid, the Centaur who can become human, isn't addressed, but his siblings are confused by his interest in Keeley.
G.A. Aiken takes her usual, unusual characters and drops them into a fun, High Fantasy story which is definitely worth investing in since I am definitely in it to see who walks away with the crown.
---
Favorite Scene:
Caid woke up the next morning with his arms around Keeley, the pair facing each other as they slept, and his brother staring down at them.
"What are you doing?" Caid whispered, desperately not wanting Keeley to wake up and find Mad Quinn of the Scarred Earth Clan glaring down at her.
"I'm wondering what you're doing," Quinn whispered back.
"What does it look like? Now fuck off!"
"I can tell you it doesn't look right, Brother. Not right at all."
Assuming his brother was talking about Keeley, Caid was about to get up and beat the bastard into the ground with his front hooves, until he felt something resting against his hip. Something…furry.
He glared down at the wolf sleeping on him like he was nothing but a pillow. He growled at the lead demon wolf and one lid opened, its flamed-covered orb gazing at him.
"Fuck off," he whispered at the beast but it ignored him. He attempted to slap the demon away but Caid nearly got his hand snapped off.
"Keeley," he finally said.
"Hhhm?"
"Keeley."
Startled, she sat up and threw her sword. Quinn barely ducked in time, the weapon impaling a tree right behind him.
"What the hells was that?"
Keeley opened her eyes and looked at Caid's brother. "Oh. Sorry."
Snarling, Quinn stalked back to camp and Keeley motioned to the wolf still resting on Caid.
"Piss off with you," she said sweetly. "You're making Caid uncomfortable."
Those disturbing eyes of some hell flickered over to him, then away. With a loud, dramatic sigh, the creature rose to its feet and trotted off after Quinn.
Caid kissed Keeley's forehead and asked, "You knew that was Quinn when you threw the blade at him, didn't you?"
"Oh, yes. I knew."
Related Posts