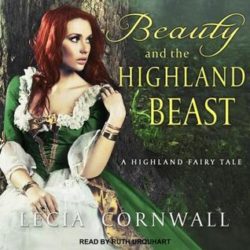 Beauty and the Highland Beast
by
Lecia Cornwall

Series:
A Highland Fairy Tale #1
Published by
Tantor Audio
on June 20th 2017
Genres:
Fantasy
,
Highlanders/Scotland
Format:
Audiobook
Narrator:
Ruth Urquhart
Length:
9 hrs 33 min



This post contains affiliate links you can use to purchase the book. If you buy the book using that link, I will receive a small commission from the sale.
Powerful and dangerous Highlander Dair Sinclair was once the favored son of his clan, the Sinclairs of Carraig Brigh. With Dair at the helm, Sinclair ships circled the globe bringing home incredible fortune-until one deadly mission when Dair is captured, tortured, and unable to save his young cousin. He returns home breaking under the weight of his guilt and becomes known as the Madman of Carraig Brigh. When a pagan healer predicts that only a virgin bride can heal his son's body and mind, Dair's father sets off to find the perfect wife for his son. At the castle of the fearsome McLeods, he meets lovely and kind Fia MacLeod. Although Dair does his best to frighten Fia, she sees the man underneath the damage and uses her charm and special gifts to heal his mind and heart. Will Dair let Fia love him, or is he cursed with madness forever?
---



This was not exactly what I expected and even weeks later I am still not certain how I feel about this story. I do have copies of the next two in the series and I will give them a try.
I had a copy of Beauty and The Highland Beast which I had received from HeroesandHeartbreakers.com as part of their book club. I didn't get to it but after I was offered review audiobooks for books 2 and 3, I upgraded to an audiobook of this story as well. I will start by saying that the narrator did a really good job with the many characters.  The story itself wasn't the simply romance I was hoping for.
This was a lot more complex than I was expecting. This is a twisted fairy tale based off the old Beauty and the Beast story. So I thought the focus would simply be on Dair and Fia and them getting to know each other. But this story also had a lot of darker issues in play and which I believe was tripping me up with my desire to read a simple lighthearted fairytale.
Here Dair is a ship captain for his clan and is very successful in going around the English blockades against Scottish trade. Because of Dair, his clan is the richest and most successful in Scotland. That is why English ships captured Dair and his crew while he was taking his young cousin to the convent to take her orders as a nun. The English then killed and tortured his crew and raped, tortured and killed his cousin, Jeannie. They send Dair back broken and near death himself to his family. His father the Chief sent for the local midwife to help with Dair who was on death's door and would wake up screaming every night since his return. In order to save herself, she told the Chief that he needed to find a virgin who would save his son.
The Chief went to the Clan MacLeod, who had 13 daughters in hopes that he could bring one virgin back. Fia was overprotected by her family, due to a tragedy which left Fia with a limp and scars of her own. Fia was always healing small animals and she was happy to go since she has never been allowed to leave her  home.
Obviously, Dair was suffering from PTSD as well as survivors guilt and Fia is simply kind to him and holds his hand and sings to him while he is gripped by nightmares. Suddenly she is a mircle worker and everyone in the Clan goes to her for every bruise.
You feel for the Chief who is just trying to save his son until he tells Dair to go along with it.  That once Dair is better he doesn't have to stick with the limping, scarred girl and that he can marry Fia's sister, Maggie, who is a beauty but more superficial.  Dair is at this point beginning to admire Fia and isn't happy with his father's vote that Fia wouldn't be the proper wife to the future clan chief.
The story has a darker plotline in that someone doesn't want Dair to be the successor to the Chief and is actively torturing him and bringing on his nightmares. They aren't happy that Fia is helping Dair control them and takes an active role against the Chief, Dair and Fia which is quite bloody and brutal, including convincing all of the nice folks in town that Fia is a witch and must be responsible for some bad luck the clan is having.   Fia should be thankful for the rainy season because the locals were quite bummed that they couldn't burn her at the stake. Really? And more importantly, if Dair and Fia do get the HEA we are hoping for, how the hell do you overlook the fact that your new neighbors were actively trying to burn you alive!! Oops, our bad?
I guess I was put off on this story because I liked Fia and I like Dair and instead of being allowed to enjoy watching them work past Dair's problems and fall in love, it was all backstabbing and plots and I was looking for simpler. For the next story, I will keep all this in mind.
Related Posts