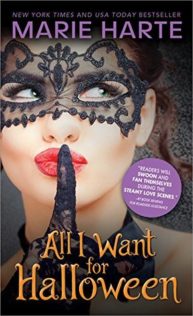 All I Want for Halloween
by
Marie Harte

Published by
Sourcebooks Casablanca
on September 26th 2017
Genres:
Holiday
Pages:
354
Format:
eBook



I received this book for free from in exchange for an honest review. This does not affect my opinion of the book or the content of my review.
This post contains affiliate links you can use to purchase the book. If you buy the book using that link, I will receive a small commission from the sale.
TONIGHT, SHE PLANS TO LET GO.Dressed up and anonymous, Sadie Liberato feels powerful, sexy and free. Where better to lose herself than a masked party?

Gear Blackstone's cheating ex and scheming best friend have managed to spin his life into a serious downward spiral. At least with a mask on he can cut loose for one night. And cut loose he does-with the sexiest, snarkiest chick he's ever met.

After a scorching-hot encounter, Sadie and Gear are desperate to find each other in real life. But can the heat last when the masks come off?
---



I was hoping for a book about Sadie since we met her and her brother Elliot in A Sure Thing.
While the story is not noted as being part of the Donnigan series, this book features Ava's crazy cousin, Sadie and her brother Elliot.  We met them in A Sure Thing and they were hilarious.  They reminded me of Will & Grace and it is funny that that show has just returned to TV.  Since this book wasn't noted as part of the Donnigan series, I didn't realize until I started reading who was featured in this story.  I hope Elliot gets his own story someday as well.
I loved that Sadie for all her snarky humor is an introvert and prefers to stay in rather than socializing.  Even when Elliot forces her to attend a Halloween party for the purpose of socializing and promoting their business, she finds a quiet corner to hang out in so she can be by herself.   She then meets a masked devil (Gear Blackstone) and they have fun together in their hidaway and their good time culminates into hot sex in the dark corner and turns their lives upside down.
Although they are both masked, a check with the host garners Gear the name of his hot Xena Warrior Princess and he goes to the shop the next day to return Xena's sword which she left behind.   Sadie was quite distracted when she left the party since after the hot sex, she managed to punch out Gear's ex-fiance.  Gear's exes (finance and best friend) had an affair and managed to steal his show/garage where he made custom bikes. Not only did they stab him in the back, they made Gear out to be the bad guy and since Gear is as unfriendly as Sadie, it wasn't hard to get the public to believe that all the show's problems were caused by Gear.
I liked how Gear and Sadie's unsociability linked up in a fun way rather than just being two grumpy people barricading themselves against the world.  They were funny and entertaining.  They both had issues with being mistreated by people who they thought loved them, leading to some fears about trusting again, but overall it was a really entertaining story.
This was a fun, light-hearted story and while there are some drop ins from the other Marie Harte series, this could definitely be read as a stand alone.
---
Favorite Scene:
"My name is April. I'll leave my number at the front desk in case you're interested."
Gear and Elliot watched her leave.
"I think I was just fondled." Gear couldn't believe it. In all his time on the show, before and after even, he'd never been so boldy, er, handled.
"Wow. That's much more a Megan move." Elliot stared after her.
"Does she do this a lot?" Maybe the chick had mental issues.
"Not that I know of. I think you should talk to Mac about that."
"I don't know." He felt stupid for wanting to complain. If a guy had done it to a woman, no question she should say something. But he was twice April's size.
"If you don't, I will. That's not cool."
Gear frowned. "Actually, if you mention to Mac you saw it, that might be better than me saying something. With my luck, that chick will sell her story to the tabloids, and I'll end up being the grabber."
"I guess in some ways, fame does suck." Elliot paused. "And speaking of suck…"
"I'll stop you right there."
Elliot laughed. "I was just going to say it sucks to be you."
"You got that right." Gear couldn't help chuckling with him.
"What's so funny?" Sadie asked as she approached.  "And what the hell is April smirking about?"
Gear shook his head at Elliot, not wanting to cause a scene that might spiral out of control, not in Sadie's gym. Sure, he was now a member too, but this spot was sacred to her.
Elliot glanced from her to Gear, and Gear knew the fool would spill his guts.
"Don't–"
"April grabbed him."
Sadie frowned. "What?"
"She totally cock-grabbed your boyfriend. I saw the whole thing."
Expecting Sadie to give him the third degree about it, Gear readied to defend himself.
"I'll be right back." Sadie walked away.
"Huh?"
"Watch." Elliot smiled with glee.
Gear looked for Sadie and saw her narrowing in on April.
"We should–"
"Watch and learn, Gear. My sister is not one for subtlety. Take note."
"I've seen this play out before." He cringed, waiting for April to get her ass handed to her.
Sadie had a discreet conversation. The redhead turned wide eyes to him, then hurried away.
"What was that?"
"My scary sister in action." Elliot sounded satisfied. "You sure you know what you're doing dating her?"
Sadie turned with a smile.
"Well?" he asked.
"I told her if she touched my man again, I'd shove her head up her ass, right after I ripped out her fake nails one by one and shoved those down her throat."
"Your man, huh?" Gear wanted to rock back on his heels and crow with delight. "So we're not in the closet anymore?"
"Hey, man." Elliot huffed. "That's my people's line."
"Shut up, Elliot," he and Sadie said at the same time.
"Ugh. Young love. So disgusting." Elliot left them, grinning ear to ear.
Related Posts