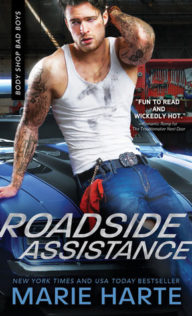 Roadside Assistance (Body Shop Bad Boys, #2)
by
Marie Harte

Series:
Body Shop Bad Boys
Published by
Sourcebooks Casablanca
on September 6th 2016
Genres:
Blue Collar
,
Small Town
Pages:
384
Format:
eBook

I received this book for free from in exchange for an honest review. This does not affect my opinion of the book or the content of my review.
This post contains affiliate links you can use to purchase the book. If you buy the book using that link, I will receive a small commission from the sale.
---


[box style="rounded" border="full"]I fluctuated with how much I enjoyed this story. While I don't need stories with millionaires in suits, every time I settled into the story, it would get too crass and it would hit me wrong. Of course, I need to know what happens next. [/box]
Foley Sanders figured he'll always be content with a life of cars and casual hookups. Until a run-in with Cyn, a statuesque firecracker with a hate-on for men, leaves him bewitched and intrigued-much to her annoyance.

Maybe Cynthia Nichols was a little hard on Foley, that muscular, tattooed, super-hot mechanic next door. But she's tired of feeling defensive about her size and has sworn off men. She's got a new job, new life, perfect plan. Foley has trouble written all over him-no way is she going to fall for his charms.

Foley might look like a bad idea, but underneath, he's all gentleman. Too bad Cyn's not buying it. What's a bad boy to do when the goddess of his dreams won't give him the time of day?
Foley is a hot, tattooed mechanic and Cynthia Nicols co-owns the coffee shop two doors down.  Foley isn't sure what attracts him more, the bite of her words or his desire to bite her ass.  He loves her curves and her no back down attitude, but she doesn't seem to want to give Foley the time of day.   Women usually fall all over each other to get to Foley but he will not be discouraged.  He is determined to get his hands all over that woman and see if she is as feisty in bed.
This is a difficult story to review since I am not sure I really liked it, but I will confess that I need to read the next story to see what happens with Sam. I fluctuated a lot with my liking of all these characters. Overall, Cyn and Foley and their friends are likable characters, but sometimes Foley would open his mouth, and it was like suddenly being in the ice bucket challenge.  He was so crass it was a complete turn off.   Women are discussed more as tits and ass and something to have sex with to pass the weekend.  There is only such much appreciation of her great tits that I want to hear.   My husband works in a shop and after an afternoon of guys being guys, sometimes he comes home and I have to remind him he is no longer at the shop and he needs to turn if off.
It's a world where all the other guys agree that they would happily do your girlfriend and that's the greatest of compliments to her hotness and your choice.   Foley's best friend, Sam, mostly from jealousy, wants to know why Foley keeps seeing Cyn since he fucked her already.
Cyn's mother is also a hard character to take. She is sweet as pie until it is only her and Cyn and then it is nothing but comments about her weight and how she will never get a husband unless she takes care of herself, etc., etc.  If you have a problem with fighting your own weight or body issues, listening to Cyn's mother is not going to leave you feeling good about yourself.   It is no wonder Cyn lived out of state for the last 10 years.  Foley describes Cyn as "pin-up girl curvy" and while he simply wants to do all kinds of naughty things to those curse, Cyn has had her mother buzzing in her ear her whole life about how Cyn is not good enough, including how does she think she could hold onto a man like Foley looking like she does.   So when Foley indicates he likes her good appetite and her curse, she accuses him of being a "chubby chaser" and walks away.
Although we are to believe that Foley isn't concerned about Cyn's plus-size statue, there is a lot of conversation in this book about her size.   There is certainly more discussion about size than if Cyn was an average weight.   It is more positive from Foley but discussed a lot. And there is a lot weight-shaming by Cyn's mother and Foley's friend Sam, and it is a main focus of Cyn because of her mother's weight-shaming. So while Cyn's size is constantly presented as not an issue for Foley, it is constantly discussed by him, by his friends, by Cyn, by her mother.   It was too much the focus of the book — Cyn's weight or how Foley and all his friends would be happy to do her regardless.
So why do I want to read the next story? The next story appears to be Foley's friend Sam. Sam is from a broken home and was taken in and raised by Foley's mom like a second son. He had a problem with Foley's obsession with Cyn because he and Foley were like brothers and she was getting between them, but more his problem was that they were like brothers and not brothers. There was some fear in losing his place with Foley and his mother because they are all the family that he has, but as technically an outsider, he fears them taking it away. He is the type of damaged hero that I like and it will be interesting to watch him fall for a woman as more than just something to have sex with.
I am definitely on the fence with this series and we will see how the next one goes before I make any further commitment to read more.
---
Favorite Scene:
There was a funny scene where Cyn's mother gets to meet Foley, the tattooed, muscled, mechanic boyfriend for the first time and she is quite open with her displeasure.
"So, have you been married?" Ella asked Foley again.
"Legally, in the States?"
Cyn heard a thread of humor in his tone and started to relax.
"As opposed to what?" Ella asked, her fingers tight around her coffee cup.
Foley kicked back in his seat. "Well, I mean, a wedding in Mexico to a pinata shaped like a banana. That probably wouldn't count, right?"
Her mother pursed her lips.
Cyn fought a laugh. "He's teasing, Mom."
"I should hope so."
Foley chuckled. "Just kidding, Mrs. Nichols. Nope. Never married. No kids, no troubles. Just me floating in a world of nuts and bolts and the guys I work with."
"What do you do for a living?"
Next thing, Ella would be asking for bank statements and credit approval ratings. "Mom, enough, okay?"
Foley grabbed her hand under the table and squeezed.
"Your funeral," she muttered. A glance behind her, at the counter, showed Nina and Matt focused on their table. They had yet to blink.
"I'm only doing what a concerned parent would do." Ella sniffed. "He looks like a criminal."
"Oh Lord." Cyn dropped her head into her hands.
"Nah. I'm done with prison. That was years ago."
Her mother just stared. Cyn couldn't tell if he was serious or not. Intrigued, she wanted to know more.
"Now I'm just a hard-working meth dealer. I own this corner and the heroin lab down the street. But I don't employ underage children. Only ex-cons and guys with at least a GED."
Cyn's jaw dropped.
Her mother choked on the sip of coffee she'd taken while Foley chuckled. "Hey, I'm just kid–"
"This is your boyfriend?" Ella was not pleased. "How long has this been going on?"
Not pleased herself, Cyn answered, "Since I found out I was pregnant."
She wanted to slap a hand over her own mouth. Now her mother and Foley looked horrified. But their shared alarm caused her to burst into uncontrollable–and a touch hysterical–laughter.
Her mother said something in Italian Cyn didn't need translated. "I've obviously come at a bad time. I'll talk to you later." Ella stood.
"Hey now. I was just kidding, Mrs. Nichols." Foley didn't sound put off by her mother at all. "I work two doors down at Webster's Garage. I'm one of the mechanics there. All legal. I swear."
"How nice for you." Ella looked angry, bewildered, and…old. "I'll come back another time to talk to you, Cynthia. Good-bye, Foley." She turned and left.
"Hmmm." Foley stared after her. "I'm sensing a touch of awkwardness." Understatement of the year. "Do you think she liked me?"
Cyn laughed again, unable to contain it. "Oh yeah. She was totally into you. I could tell."
Matt joined them and took a seat next to Foley. "What was all that about?"
"The part about your sister being pregnant or me being a meth dealer?"
Matt just stared.
Related Posts