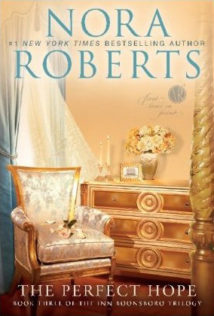 The Perfect Hope (Inn Boonsboro, #3)
by
Nora Roberts

Series:
Inn Boonsboro Trilogy #3
Published by
Berkley Trade
on November 6th 2012
Genres:
Contemporary
,
Small Town
Pages:
308
Format:
eBook



I received this book for free from in exchange for an honest review. This does not affect my opinion of the book or the content of my review.
This post contains affiliate links you can use to purchase the book. If you buy the book using that link, I will receive a small commission from the sale.
---
The Montgomery brothers and their eccentric mother are breathing new life into the town of Boonsboro, Maryland, by restoring its historic hotel. And they're finding their own lives revamped by love. This is Ryder's story… Ryder is the hardest Montgomery brother to figure out — with a tough-as-nails outside and possibly nothing too soft underneath. He's surly and unsociable, but when he straps on a tool belt, no woman can resist his sexy swagger. Except apparently Hope Beaumont, the innkeeper of his own Inn BoonsBoro. And though the Inn is running smoothly, thanks to Hope's experience and unerring instincts, her big-city past is about to make an unwelcome — and embarrassing — appearance. Seeing Hope vulnerable stirs up Ryder's emotions and makes him realize that while Hope may not be perfect, she just might be perfect for him.
---
In the Perfect Hope, Nora Roberts brings us back for one last stay at the Inn Boonsboro. When Ryder Montgomery first saw Hope Beaumont walk into the Inn with her beauty pageant good looks, mile high heels that accented her long legs and her perfect body encased in a perfect suit, he knew she was trouble. He wasn't happy when his mother hired her on the spot. He though she was too snooty, too uppity and too city for their quiet little Inn. Even though he now sees how well she runs thing, there is still something about her that keeps him on edge.
When her former boyfriend, Jonathan Wickham of the Wickham Hotel, comes sniffing around looking to bring Hope back to D.C., Hope isn't prepared to deal with her old, and newly married boyfriend, so she does the first thing that comes to mind, and grabs Ryder up in a great big kiss to prove that she has moved on with her life. As Hope rages against Jonathan's insolence, Ryder sees something he never thought of before, that his frosty and flawless innkeeper might not be as perfect and unapproachable as he believed.
Hope believed her dream life included marrying the charming and stylish Jonathan, managing his family's hotel, and playing hostess to wonderful parties and the glamorous lifestyle she was living in D.C. Imagine her surprise when that all fall apart when Jonathan announced his upcoming marriage to another woman. Even more surprising to Hope is how much happier she is now running a small Inn in the quaint little town of Boonsboro, Maryland. She has a wonderful job with a lovely boss, and now she is close to her best friends who are celebrating births, and marriages and new businesses, and who cares if sexy Ryder Montgomery looks at her like she's an annoyance. Who cares that he is always swaggering around Town in his tool belt, always smelling of sawdust and varnish, and who cares if his ass is just bitable, Ryder is so not her type at all. So why can't she stop thinking about him?
In our last visit to Inn Boonsboro, Nora Roberts brings us a wonderful story of two people who believe they don't belong together, but who couldn't be more perfect together.
THOUGHTS:
Although I still have an underlying annoyance at the subliminal sales pitch for her new Inn, no one can complain that Nora Roberts doesn't do her pitch well.
This was another well written and enjoyable romantic story of two people who couldn't believe there was anyone worse suited for them. Both Hope and Ryder look at each other with desire, but both continue to stand by the fact that the other is so not their type.
Nora also doesn't have to give us overused plot twists. She can bring us a great story where romance feels fresh and grows in a natural progression. She brings in the prior boyfriend, but instead of causing the usual problems and suspicions between our H/H, he is seen quickly for the blowhard that he is and simply becomes a catalyst for bringing our H/H together.
You just can't go wrong with a Nora Roberts story.
Received an ARC from the Penguin/Berkley. Thank you.
---
Favorite Scene:
"No beer for you." Ryder scratched at the dog's ears, gave the homely face a rub. "You can't handle it. Remember last time? All you did was lap up half a spilled beer before I caught you, and what happened? You walked into walls and puked. "You're a lousy drunk, Dumbass."
"My grandmother had a cat who drank brandy."
This time she gave him a jolt. He shifted, watching Hope as she came in the St. Paul Street door. For a moment the light framed around her, caught at the ends of her hair.
She took a man's breath away, he though. It just wasn't right.
"Is that so?"
"It is. Her name was Penelope, and she has a taste for Azteca de Oro. She had a thimbleful every night, and died at the age of twenty-two. The cat who wouldn't die."
"D.A. likes toilet water."
"Yes, I'm aware." She walked over, set the pie dish on the plywood. "Payment in full."
She'd done the fancy latticework for the top crust, he noted. He stuck a finger in a space between, ignoring her appalled, "Don't! Oh, really." Scooping some out, he sampled.
It hit that perfect note between tart and sweet. He should've figured it. "It's good."
"It would be even better on a plate, with a fork."
"Maybe. I'll try that out later."
"Don't," she repeated, and this time slapped his hand. Reaching in her pocket, she took out a Milk Bone for the dog. "He may drink out of the toilet, but by and large he has better manners than you do." She gave D.A.'s head a pat. She hesitated. "It was nice of you to tell Avery I was upset yesterday."
"You'd moved out of pissed off to broody. I figure that's girl territory."
Yes, she thought, more insightful than she'd given him credit for. And kinder.
"Close enough. I should get back. We don't have any guests tonight, so she and Clare are coming over."
"I got the bulletin." He got up, hefted the pie. "I'm going for a beer."
"I got that bulletin." She stepped out, and since it seemed polite, waited for him to lock up. "What color are you going to paint this place?"
"Something else."
"Already an improvement. Your mother's talking about a slatey blue, chrome accents, white trim, gray stone work along the base."
"That's her deal."
"She's good at it."
He put the dog in the cab, windows half down and—knowing D.A.—set the pie in the bed of the truck.
"Well," she began, "have a—"
She didn't manage more as he yanked her against him, lifted her up to her toes, and swooped in for a kiss that shot the rest of the words out of the top of her head. She managed to grab his waist for balance though she couldn't have fallen if the earth had quaked, not with his hands fisted—one in her hair, one on the back of her shirt.
Heat rocketed down her arms, up her legs, into her center, sharp as lighting bolts. Then her hands slid up his back, gripped his shirt in turn as she rode that lightning.
She didn't pull back, didn't gasp in shock or protest. He'd have released her if she had. But he was tired of looking the other way, or trying to. Ignoring her—or trying to. She'd stirred it up. He could give himself that excuse. In the Penthouse, then again here in the damn parking lot.
He'd had samples. Now he wanted a good, healthy bite.
Related Posts