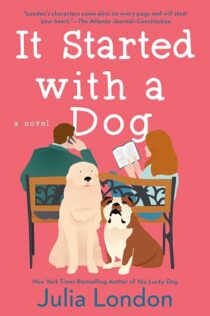 It Started with a Dog (Lucky Dog, #2)
by
Julia London

Series:
Lucky Dog #2
Published by
Berkley Books
on October 5, 2021
Genres:
Contemporary
Pages:
352
Format:
eBook
Source:
Netgalley



I received this book for free from Netgalley in exchange for an honest review. This does not affect my opinion of the book or the content of my review.
Thanks to an accidental phone swap, two adorable rescue pups, and a coffeehouse clash, a holiday flirtation goes to the dogs and hilarity ensues, from New York Times bestselling author Julia London.
All Harper Thompson wants for Christmas is the huge promotion she's worked so hard for--which she should get, as long as her launch of the hip new coffeehouse, Deja Brew, goes according to plan. Jonah Rogers is trying to save his family's coffee shop, Lucky Star, from going out of business, which will be tough with the brand-new Deja Brew opening across the street.
When Jonah and Harper meet for the first time after accidentally swapping phones, their chemistry is as electric as a strand of Christmas lights. He's a tall, handsome, compassionate hunk of engineer, and she's an entrepreneur whose zest for life is very sexy. They love all the same things, like scary movies, greasy food--and most of all, dogs. It's a match made in heaven...until Jonah finds out that Harper's the one about to put him out of business.
Only one coffee shop likely can survive, and a competition of one-upmanship ensues in a battle of the brews. The paws really come out when the local rescue shelter has a fundraiser where local businesses foster dogs, and patrons vote with their dollars for their favorite pup. Harper takes in an adorable old bulldog on behalf of Deja Brew, while Jonah fosters a perky three-legged dachshund for Lucky Star. As the excitement builds for who will be crowned King Mutt and king of the coffee hill, Harper and Jonah must decide if their connection was all steam or if they are the perfect blend.
---
This book had some really adorable moments but took too long to get the story told.
Harper Thompson didn't realize that the worst rideshare ever would be the turning point in her life. Heading home to be with family for Christmas, Harper ends up leaving with the wrong phone. Since both of them are out of town, they are stuck with the wrong phone and end up having an adorable week texting updates and important messages to each other. By the end of the week, Harper can't wait to actually meet up with the most charming man she has spent time with in a (sadly) long time. She is also hoping he will bring the handsome dog which is the focus of his screensaver.
When Harper and Jonah Rogers finally meet in person, there is instant buzz on both sides and they agree to move on from phone swap to an actual date, or more like a get together to go jogging which would then include handsome puppy Truck. Harper and Jonah talk of all manner of things, favorite ice cream, favorite movie, how their families make them crazy but somehow as their bond grows, they seemed to have missed having one very important discussion. What do you do for a living?
Actually, Harper is aware that Jonah is an astrophysicist, and Jonah is aware that Harper does marketing for a crazy boss. But they haven't gotten to the part where Jonah is in town to help save his family's failing coffee shop, Lucky Star, and that Harper is charge of opening the Deja Brew coffeehouse across the street which is going to be the nail in the coffin to the Lucky Star's business. Once this shocking revelation is made and Jonah realizes that he has been sleeping with the enemy, an enemy Jonah has fallen fast and hard for, how can he break it to his family that his new girlfriend is the competition that might doom their mom and pop shop.
This story started out adorably with the phone mix up. We have some great conversations back and forth between Harper and Jonah.   In fact, most of the time which is focused on Harper and Jonah is perfect romance fodder.   They were sweet and adorable and very attracted to each other.
What failed for me was the whole competing business portion of the story.   Let's start with I couldn't stand Harper's boss.  He is mercurial but not in a fun odd-ball way.   He puts Harper in charge of the opening of the Deja Brew store…but not really.   There really doesn't seem to be a large staff at this headquarters but Harper is expecting to get a promotion.  Her boss decides that competition breeds creativity so he hires someone to compete for Harper's promotion.  She has to compete for her promotion after years dedicated to the company against someone who just walked in the door.   Harper thinks this new person is the boss's new admin but soon learns, from her competition, that he was hired to come in as Harper's boss and is just as confused by the sudden need to compete to the position.    Harper is a hard worker and could succeed at any company.  She doesn't seem overly attached to her boss, nor is she making an absurd amount of money.  So why would she continue to work at such an unstable company with a erratic boss?   It made no sense to me.  Yes, she put in years of work but should have walked away years ago.
We also have Jonah who went to college to be an astrophysicist.  An astrophysicist!  His family's mom and pop small-town coffee shop is failing in light of the fact that his father's health was failing and the family is running the same coffee shop since the 50's.  The only people who come in are the regulars for a plain old cup of coffee.  They fight any changes that Jonah proposes which aren't much since Jonah is a astrophysicist, not a marketing expert.    The problem with Jonah is that his company wants him to spearhead their next project, which is a dream come true and an offer not made often, but Jonah is afraid of his father's health and that if he walks away, that the coffee shop with fail, especially with the new Millennial-centric coffee shop opening across the street.    There is a Starbucks down the street which didn't force the coffee shop to shut their doors so the problem is the coffee shop, not the competition.   Again, Jonah is an astrophysicist, a job that I would think would pay better than average salary as compared to marketing genius.  Wouldn't he be better off, doing his astrophysicist job and just paying out of his own pocket for a coffee shop manager/marketing genius to try to save the coffee shop?  It just didn't make sense to me how flummoxed Jonah was about leaving his family to return to his dream job especially when his father told him to go.
The romance in this story was spot on and I loved Harper/Jonah moments, especially when including their dogs.   The drama between the two coffee shops and the work issues were no brainers to me and someone could have figured that out a lot faster and we could have gone back to the romance.
---
Favorite Scene:
The next morning, Harper was doing what felt like a month's worth of laundry when the phone pinged. It was a text from Jonah.
Hope you had a great Christmas. Mine was pretty good until my cousin found that bottle of scotch he'd been saving for a special occasion. Wanted you to know that Oakwood Gynecology and Obstetrics thought it imperative to remind you at 6:15 this a.m. that you have an appointment the 15th. Shall I press Y to confirm or No to reschedule?
Lord. Y to confirm, please.
Shall any emojis accompany this reply?
Ah, so he'd noticed her overreliance on emojis. Yes, Obviously the doctor emoji and the smiley face with the mask.
Obviously.
She smiled.  This is great timing! Because you got a text from your mom. She is going to shop the sales at Kohl's and would like to know what size underwear you need. Boxers or briefs? The last question had not come from his mother, but Harper had a burning curiosity.
The question was met with silence. Harper held her breath. Had she gone too far? Dammit, she'd gone too far. This was her problem–she never understood the rules of the game. Which annoyed her, as she really like Jonah and she hadn't meant to insult his mother and she really, really wanted to see his dog.
She began to type out a profuse apology, but a text suddenly pinged. Sorry–I died for about a minute and only the urgent need to tell you my mother does not buy my underwear brought me back to life.
Harper laughed.
This is so awkward, he texted. My mom can be a little not there. I told her I didn't have my phone.
Harper turned on the dryer and leaned against it.  I don't think she got the message. She texted several times yesterday. Mostly with pictures of presents (you got a sweater) and food (she made your favorite cobbler).
Jonah sent an emoji with exasperation.  Damn, I do love that cobbler So I don't know how to say this, especially since I don't know you, but I really need you to understand that I am not as weird as my phone must make me seem. I swear I'm a normal kind of guy and really need us to be on the same page about that, so I submit exhibit A from your phone as a friendly reminder that we all have stuff.
What followed was a picture Olivia had taken of her during a girls' trip to New York a couple of years ago. Harper had awakened in a borrowed, too small, onesie pajama (she'd forgotten to bring her own), and after tossing and turning in a bed as hard as a slab of marble, she'd had some serious bed hair and mascara smeared under her eyes.
Harper burst out in laughter. Yes, everyone had stuff.  That is so unfair, she texted. At least you can blame your stuff on your mom.
Are we even?
Harper was still grinning.  We are even. Still, I think you should let your mother know your underwear needs. It seemed really important to her.
A laughing emoji.  Moms, amiright? Let me know if she sends anything else and in the meantime, I'll give her a call and REMIND her that I don't have my phone. Boxer briefs, BTW. Smiley face.
That made her blush. Yessir Harper was definitely looking forward to meeting this guy.
She put the phone down and carried on with the laundry until the phone pinged again. She had to laugh–this was a text from "Dad" in Jonah's contact list. Cowboys play Philadelphia Monday Night Football. You coming? She forwarded the text to Jonah.
Oh my GOD, he texted back, along with an exploding head emoji. Do they listed to anything I say?
And so it continued.
Related Posts