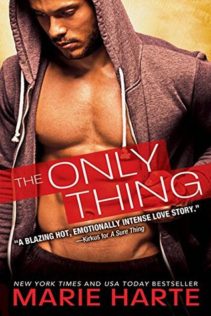 The Only Thing
by
Marie Harte

Series:
The Donnigans #3
Published by
Sourcebooks Casablanca
on May 1st 2018
Genres:
Blue Collar
,
Contemporary
Pages:
352
Format:
eBook



I received this book for free from in exchange for an honest review. This does not affect my opinion of the book or the content of my review.
This post contains affiliate links you can use to purchase the book. If you buy the book using that link, I will receive a small commission from the sale.
What do you do when a "fake" relationship is so much better than the real thing?

Hope Donnigan is finlly getting her life together. She's working a job she likes, has some amazing friends, and is steering clear of Mr. Wrong. Now if only she could get her mother to understand that. Maybe a hot tattoo artist from the other side town is just the ticket to teach her mom a lesson.

J.T. Webster fell for Hope months ago at his sister's wedding. So when she propositions him to be her fake boyfriend to get her mother off her back, he's all in. The only problem is J.T. had no idea their pretend relationship would be better than anything real he's ever had...

The Donnigans Series: A Sure Thing (Book 1)Just the Thing (Book 2)The Only Thing (Book 3)
---
I didn't realize how much I like the fake relationship trope but this gave us a natural development of the romance and a nice blend of sexy and sweet.
How would you like to never measure up to someone else's standards? In The Only Thing, Hope Donnigan has no desire to fulfill all her mother's wishes for Hope's life. No matter what success Hope achieves, it is not what her mother wants for her. Hope and her mother have never had a smooth relationship but Hope had always hoped once she was grown up, her mother would allow her to choose her own path. But, apparently that's not going to happen.
In utter frustration with her mother's latest list of must-date rich, successful men who Hope has to meet, Hope tells her mother that she is dating a tattoo artist. A man who has been in prison and has multiple baby mamas through the city.
Hope may just have said that because she has T.J. Webster on the brain and while he is a tattoo artist, she might have been making up the baby mamas and the prison thing. Maybe? She isn't even sure. Now she just has to convince T.J. to be her fake boyfriend.
T.J. couldn't take his eyes off Hope when he saw her at his sister's wedding. When she approaches him about playing her fake boyfriend, T.J. wonders if this is his chance to get to know Hope a little better and maybe convince her that they should take the "fake" out of their relationship.
The romance grows nicely as Hope and T.J. get to know each other. Even though they were still in the "fake" part of their relationship, they both give in to the sexual tensions between them and were clearly well into a real relationship before they made the conscious jump to stop faking it.
While the relationship between Hope and T.J. was sweet. The conversations between Hope and her mother kept raising my blood-pressure. There is a difference between love and persecution and Hope's mother definitely crosses the line and is always on Hope's back. Something her mother doesn't do to any of the three boys in the family. And her brothers and Hope's father would just quietly back out of the room and leave Hope to the slaughter. This isn't the first time the author has introduced a horrific mother figure who was constantly on the attack.
I did like that race was barely brushed upon even by the persecuting mother. She was only concerned about his employment and the only skin issue was whether the tattoo artist had tattoos himself since Hope's mother found them distasteful.
This was a nice romance and to add something besides mama-drama, Hope has a stalker and T.J. jumps into full protection mode, which works against the stalker by bonding Hope and T.J. even faster since T.J. all but moves in with Hope to keep her safe.
All of the author's separate series merge in her books and while you don't have to have read them all, the different groups and families are a big part of each story.
Related Posts