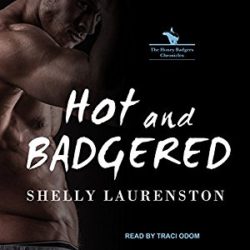 Hot and Badgered (The Honey Badgers, #1)
by
Shelly Laurenston

Series:
Honey Badger Chronicles #1
Published by
Tantor Audio
on March 27th 2018
Genres:
Paranormal/Urban Fantasy
Format:
Audiobook
Narrator:
Traci Odom
Length:
13 hrs 14 min



I received this book for free from in exchange for an honest review. This does not affect my opinion of the book or the content of my review.
This post contains affiliate links you can use to purchase the book. If you buy the book using that link, I will receive a small commission from the sale.
It's not every day that a beautiful naked woman falls out of the sky and lands face-first on grizzly shifter Berg Dunn's hotel balcony. Definitely they don't usually hop up and demand his best gun. Berg gives the lady a grizzly-sized t-shirt and his cell phone, too, just on style points. And then she's gone, taking his XXXL heart with her. By the time he figures out she's a honey badger shifter, it's too late.

Honey badgers are survivors. Brutal, vicious, ill-tempered survivors. Or maybe Charlie Taylor-MacKilligan is just pissed that her useless father is trying to get them all killed again, and won't even tell her how. Protecting her little sisters has always been her job, and she's not about to let some pesky giant grizzly protection specialist with a network of every shifter in Manhattan get in her way.

Wait... He's trying to help? Why would he want to do that? He's cute enough that she just might let him tag along-that is, if he can keep up . . .

Contains mature themes.
---
Hot and Badgered might be the first book in a story arc but it is all part of the same shifter world created by Shelly Laurenston so be ready to spend time with some old friends…and enemies.
In Hot and Badgered we meet three half-sisters, Charlie, Max and Stevie, three daughters of a honey badger named Freddy "the fuck up" MacKilligan. Their father is a major screw up and a thief, but not even a good thief. Whatever he steals, he loses. Which only makes things worse for Charlie, Max and Stevie, because whoever Freddy's screws over usually tries to take it out on his daughters. Or, let's not forget the time he sold his youngest daughter Stevie, the prodigy, to a Columbian drug lord to make designer meth for him.  Freddy is all about stealing a buck and doesn't worry about the destruction (or the daughters) he leaves behind.
When Freddy steals over a million pounds sterling from his own, not very legal, businessman brother, it once again puts the girls running from another group of hired mercenies. Well, really they only run as far as they need to in order to get those thugs into their own trap. The MacKilligans are honey badgers. Not only are honey badgers hard to kill, but after years of dealing with their father's B.S., they know how to get real mean.
But this last screw up also put Charlie in the path of one sweet grizzly bear, who is more of a teddy bear, and no matter how much Charlie protests that Berg doesn't want to get involved in the MacKilligan curse, she simply can't shoo him away. And she is starting to realize, she just doesn't want to.
In a series full of different types of wolves, lions, tigers, bears, jackels, and wolverines, it is the honey badger that everyone fears. They are the most vicious and the hardest to kill. Charles even takes on Dee Ann Smith and comes out on top!
I find in this series that the more antisocial the character, the more I love them. Livy from Bite Me and Bo Novikov from Beast Behaving Badly are at the top of my list. They are just outragous which makes it so funny.
But I have to admit, as much as I enjoy Shelly Laurenston's (and alter ego G.G. Aiken) stories while I am reading them, I don't feel the need to play catch up on the books that I missed or feel the desire to do a series re-read. They are fun stories, but they never call to me to come back again even on my favorite characters.
---
Favorite Scene:
Max meets Bo Novikov…
Max went through the sports store and found a few shirts and caps she wanted to buy, but it had been a while and she thought it was best to go track down Charlie before Charlie had to track her down and Stevie. Their big sister's anxiety went through the roof when she couldn't find them, and Max didn't want to be responsible for the ulcer she was sure Charlie was going to get if she didn't relax a little.
Max walked back to where she'd last seen her sister. She stood outside the Starbucks and, going up on her toes, she tried to look over the heads inside the open café.  So many tall people.
Frowning when she didn't see her sister, Max decided to go inside for a closer look. But as she began to move, she heard a screeched, "Livy!" And then something landed on her back.
Without thought, only instinct trained into her since the death of her adopted mother, Max reached behind her, grabbed hold of whatever had her, lifted up and over, and slammed the person onto the floor.
She rammed her foot against a chest to pin her prey to the ground and pulled out the blade holstered at the back of her jeans. She raised the blade over her head, about to drop onto the prey beneath her to keep it pinned in place. But a hand grabbed her wrist, halting the blade mid-attack and yanking her back and away.
The grip on her wrist was firm. So firm, Max knew she couldn't break it. So she turned her body, dislocating her shoulder. She ignored the pain and unleashed the claws on her free hand, burying them deep into someone's side.
She heard a grunt of pain and finally looked up–and holy shit! Up!–until she was gazing into bright blue eyes surrounded by white hair.
Max hissed, unleashing her fangs. In return, the man unleashed his own.
And when his two eyeteeth continued to grow until they reached past his square jaw, like a pair of tusks, Max decided…she was out.  Fuck that shifter shit with their honorable "fang to fang, claw to claw" code that Dutch had always told her about.
Max yanked out her claws, causing blood to arc out of the male's side and splatter several onlookers. She spun again, the pain in her shoulder very close to making her pass out. But she clenched her jaw, and when she faced the man again, she quickly sized him up before kicking him mid-chest. Shocked by the power of the blow, he finally released her, sending Max reeling. She hit the ground, rolled backward and stood. By then she had blades in both hands. Her wounded shoulder couldn't move much, but she could still have his eyes out and his throat cut before the pain got so bad she'd wish that someone would just kill her already.
She cracked her neck and started forward, but two adorable bookend bears slid to a stop in front of her, both with their big arms out, matching eyes wide in panic.
"No, Max!" Berg said. "Don't do it."
Max narrowed her eyes. Not because she was plotting something but because her shoulder was killing her. But the two males misinterpreted.
"You can't do this," Berg begged. "Please. Just walk away."
"Max?"
Max looked away from the two bears and saw her cousin standing a few feet away.
"What the fuck are you doing?" Livy walked closer, shoving the two bears out of the way. "Starting shit again?" She growled before yelling, "Again?"
"It wasn't me! It was–" Max stared to point at the man who was behind the bears, bleeding from his side. He'd done the damage to her shoulder, but he hadn't actually started anything.
Max looked over the crowd, finally pointing at a black woman in roller skates. "It was her."
Livy turned and Max saw her cousin's entire body go tense. "What did she do?"
"She hugged me from behind."
Livy rested her hand on her hips. "I thought we talked about that sort of thing, Blayne."
"Okay, this looks bad," the woman called Blayne said, skating forward, focused on Livy. "But I thought it was you."
Max stepped up beside her cousin. "Is that your excuse? That we all look alike?"
"What?" Blayne's eyes widened in horror. "No! Of course not!"
"Really, Blayne?" Livy asked. "Because it sound like you're saying we all look alike."
Of course, they were cousins and Blayne hadn't actually seen Max from the front. She was just going on body size and the short hair. But that didn't matter…because this chick was just too easy to fuck with. Hell! Max could do this all day!
"Because we're Asian?" Max asked.
"Of course not! I mean, my husb–"
"What?" Max pushed. "You about to tell me that some of your best friends are Asian?"
"Actually, my best friend is…um…look, I'm just saying that…um…" Her brown eyes narrowed. "You two are fucking with me, aren't you?"
Max stared laughing. She couldn't help it. Who was this little weirdo?
The big guy who'd gotten between Max's blade and Blayne's sternum stepped up beside Blayne and glowered down at Max.
"You tell 'em, honey," Blayne said. "My husband."
Max knew she was looking at a fellow half-Asian, so she was kind of expecting a "talking to" as Charlie like to call her lectures. To be honest, looking at the size of the guy and seeing the blood dripping onto the floor from the side she'd ripped open with her claws, she'd gladly welcome a "talking to" rather than a "beating on."
Still glowering, Blayne's husband demanded, "Do you skate?"
"Yeah!" Blayne agreed. "Do you…" She turned to her husband. "Does she skate?"
"We need a new enforcer. And she's mean."
Max grinned. "I am mean!"
"I think she's a serial killer," Livy added…for some reason. "Look at that smile," she said flatly, pointing at Max. "That sick, disturbing smile."
Max tilted her head to the side and tapped Livy on the elbow. "Thank you so much, cousin," she said with as much sweetness as she could possibly manage.
Frowning, Livy stepped away from her. "See what I mean?"
Related Posts