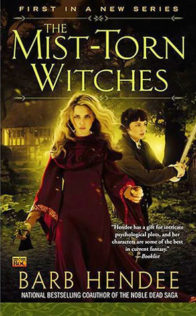 The Mist-Torn Witches (The Mist-Torn Witches #1)
by
Barb Hendee

Series:
The Mist-Torn Witches #1
Published by
Roc
on May 7th 2013
Genres:
Paranormal/Urban Fantasy
Pages:
326
Format:
eBook



This post contains affiliate links you can use to purchase the book. If you buy the book using that link, I will receive a small commission from the sale.
---
[box style="rounded" border="full"]There is good and bad points to this series. Although I like the sisters, my biggest problem would be that they don't make more use of their gifts and the big reveal always draws away from the momentum of the ending. [/box]
Céline Fawe was only fifteen and her sister, Amelie, was only twelve when their mother died leaving them alone. Their only way to survive was for Céline to fill the role that her mother death left open as the local apothecary, and as a seer of the future. Céline did not have her mother's gift, or so she thought, but she was very good at reading people and knowing what they wanted. They lived well for several years with Céline earning money for them and Amelie taking on the job of protector.
It was five years later when Prince Damak's future bride comes to Céline looking for a reading of her future that everything changes. No one is more surprised than Céline when she actual sees the woman's future, which includes Damak falsely accusing her of adultery and killing her.  This way he could have her dowry, but not be burdened with a wife. For sharing that bit of information, Damak sends his guards to burn down the Fawe sisters' home and try to kill them as they fled the burning building. It was Amelie's skill with a blade and Prince Anton's guards who saved the sisters and bring them to Anton's castle.
The underlying premise of the series is that Prince Damak and Prince Anton are brothers. The lands are not ruled by a King but a Grand Prince who is elected every 9 years. Damak and Anton's father plans to retire in two years, just before the next election, and name one of his sons as his successor. Both have been given a castle and some lands/towns to rule, so that their father can determine who would be the better leader. Where Damak rules with an iron fist and drains most of the money from his people leaving them in an impoverished state, Anton is a kind ruler, his people are flourishing although Anton's coffers are not as lush as Damak's.
Upon arriving at Anton's castle, Céline and Amelie find out that there is someone killing young women in the castle and the outlying town.   Anton asks Céline to use her gift for foresight to figure out who the next victim will be so they can help catch the killer.   If they succeed, he will give them the apothecary shop in town as a gift.
Céline has to confess to her sister that she is no longer just pretending to see people's futures and they also find out that Amelie has developed the power to see into the past.
Between both of their gifts, Céline is able to see who the next victim will be and try to lay a trap to catch the killer, while Amelie will see into the past to determine the motives of the killer.
THOUGHTS:
I am having a love/hate with this series. I enjoyed it enough to read all three books which have been released and I would have continued if there were more. But they all have one inherent problem in the premise where one sister sees the past and one sees the future and they solve the crime, as the action builds and the killer is narrowed down, and all the suspense which has been building up comes to a head, Amelie ends up touching the killer and her gift drags us into the killer's backstory. The whole momentum of the story is brought screeching to a halt. Then we spend a chapter hearing the blah, bhah, blah behind why the killer was doing it. And by the third story, I was actually going blah, blah, blah in my head, because I really didn't care why they were doing it, I just wanted to see what happened next.
I would have also liked to have spent a little more time with Céline and Amelie in their little town and life in their feudal environment. But once they find the killer in this town and open their little shop, in the next stories they get dragged away to solve other problems in the kingdom and we don't really get to learn more about them because we are so busy solving problems.  By the end of three books all we know about them is what we knew in the beginning, Amelie is good at fighting and Céline is some medical knowledge.
This is not a romance series, but a Fantasy series, not Urban Fantasy since it if more Lord of the Rings style. In Fantasy/Urban Fantasy, romance is hinted at and not fulfilled in any way. Prince Anton lost his wife in childbirth several years ago but he now has his eye on Céline, and his second in command, Lieutenant Jaromir has his eye on Amelie. At this time, Céline is 20 and Amelie has just turned 17. Anton is a prince and the girls are both descended from gypsies. Obviously, the Prince can't marry a peasant gypsy girl so his interest is just an admiration of Céline's kindness and beauty. Jaromir is married to his job so he feels he can't take a wife and young Amelie, who prefers to wear trousers rather than dressing as a lady should, is nothing like the women Jaromir usually has in his bed. Admirably, neither of these men will ask these untouched young women to become their mistress, which is the only thing they feel they could offer to them.  So you do have to give them credit for not just pushing to get them in their beds. So the non-romance dance begins where there is a possible love interest, but it will be a long, long time before anything starts happening.
I will say I am much more interested in the Amelie/Jaromir pairing than Céline/Anton. Jaromir's underlying problem is that he needs to be free to protect the prince and the castle and can't take a wife. But Amelie proves that she can hold her own in a fight, and with a little more training from Jaromir, she wouldn't need him to protect her in times of danger. She could fight by his side, even if that is unconventional. Both are also stronger characters. As an example, Jaromir and Amelie would be the Darcy/Elizabeth pairing to Céline and Anton's Bingley/Jane pairing. Anton's a little wishy-washy to me both as a man and as a leader, and understandably, Céline spends her time feeling guilty using her power when all she is doing is point out who is going to die next. Since Anton can't make any declaration of his feelings toward Céline, there is a young guard who is showing an interest which will be a cause of some strife.
All in all, I find the stories interesting and they move along well until the final chapters when Amelie's gift drags us into the past and derails the momentum. I would like to see the sisters be allowed to make better use of their gifts or a better way of presenting the killer's motives and allowing Amelie just to have an "Ah ha!" moment where we don't have to be dragged away from the story to watch every minute detail of why the killer acts the way he or she is acting.
Received a copy from the publisher in exchange for an honest review.
Related Posts