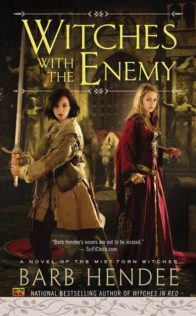 Witches With the Enemy (Mist-Torn Witches, #3)
by
Barb Hendee

Series:
The Mist-Torn Witches #3
Published by
Roc
on May 5th 2015
Genres:
Paranormal/Urban Fantasy
Pages:
326
Format:
eBook



I received this book for free from in exchange for an honest review. This does not affect my opinion of the book or the content of my review.
This post contains affiliate links you can use to purchase the book. If you buy the book using that link, I will receive a small commission from the sale.
---
[box style="rounded" border="full"]I once again declare my love/hate with this series. There was a lot of potential for this series, but the sisters aren't given a chance to use their gifts to their fullest until the very end when Amelie sees the killer's past right at the apex of the action and once again screeching the whole story to a halt. I will still read the next one, because I am still hoping to see more from these characters.[/box]
Prince Anton's brother, Damak, has a new bride lined up but when her family comes to his castle to negotiate the betrothal, her family members start dying. Someone is trying to stop this wedding from happening.
Damak knows that Anton and their father have used the Fawe sisters and their gifts in the past. Céline's ability to see the future and Amelie's ability to see into the past have caught several killers.  So Damak has requested that Anton, bring his new seers to help determine who is behind the deaths.
Anton doesn't want Céline or Amelie anywhere near his brother, but he can't figure out how to decline without looking bad to their father.  This time Anton himself will accompany the sisters to his brother's castle with a small grouping of soldiers, leaving Lieutenant Jasomir behind to keep Anton's people safe.
The sisters are warned never to be alone with anyone in the castle, but especially with Damak.  There is nothing Damak likes better than to destroy anything the Anton favors.  When he realizes that Anton is harboring some affection for Céline, he waits like a spider for a chance to be alone with the pretty seer.
Anton will keep the sisters safe while they try to determine who will be next and flush out the killer before he can succeed in stopping the wedding.
THOUGHTS:
As I said in my prior reviews, there is one problem with basis of this series in that in each story, Amelie's gift of seeing the past will show us the killer and their reasons behind the killings.   When this happens, the big build up, usually involving the killer trying to kill Amelie, hence why she is touching them, and all the action stops so we can tiptoe through the killer's thoughts.  In this story especially, my brain started going blah, blah, blah, because there was way too much information being doled out about the why and wherefores to the point and didn't care why anymore.  This is our killer.  This person is a selfish ass.  Now stop them.   We didn't need to be dragged through every little offense…blah, blah, blah.  Again, we learned more about the killer than we have spent time getting to know the sisters.
Céline knows her herbs and medicines and she now no longer fakes being a seer. She is attracted to Anton, but know it can't go anywhere because he is a Prince and she is a peasant. And…and…
Amelie thought she had no psychic talent so she became the protector of her sister. She likes to wear men's trousers and shirts and is good with a knife. And…and…and she has been forced to wear a dress in the last two stories which makes her cranky. And…and…
That's it. That's all we really know about the sisters besides one sees the future and one sees the past. This series has potential and I would love to see the author flesh out the characters more.
In this story, we do learn a little more of the dynamics of the two brothers and their relationship, including with their father, but learning much more about Damak than about Anton. We find out the Damak is more than just a tyrant, he is a true sociopath. He cannot seem to understand feelings, especially love and affection, and this is what leads to his desire to destroy everything that Anton shows an interest in or a talent towards. At one point he gets Céline alone and although it seems he intends to cut her up and rape her, he doesn't even appear to be excited about hurting her. It truly is more an interest in destroying her because Anton seems to like her, then him being the type who gets off on hurting people.
We finally see an alpha Anton when he stops his brother from harming Céline, but then he gets all wishy-washy again later by lamenting if he came off too harshly to his brother. It was a true "are you kidding me" moment.
Jasomir was left behind for this story so there wasn't much in the Jasomir/Amelie corner of the story, but there was a sweet moment at the end when they return home and Jasomir stops by simply to see for himself that she was okay. Whether this becomes his attempt at friendship with her, or the first step in working around his belief that they can't be together because he is married to his job, we will have to wait and see in the next story.
A check of Goodreads was a little confusing since I would have sworn there were postings for book 4 and 5 in the series, but when I checked again nothing came up either on Goodreads or on the authors website. I am hoping there is a book 4 and we can finally focus on the girls and their new lives in the little town and develop these characters past the superficial, we have the gift of sight. We have learned more about secondary characters then we know about the sisters.
Received an ARC from the publisher in exchange for an honest review.
Related Posts