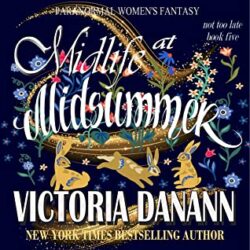 Midlife at Midsummer (Not Too Late #5)
by
Victoria Danann

Series:
Not Too Late #5
Published by
7th House
on July 16, 2021
Genres:
Paranormal/Urban Fantasy
Format:
Audiobook
Length:
2 hrs 30 min
Source:
Audible


This post contains affiliate links you can use to purchase the book. If you buy the book using that link, I will receive a small commission from the sale.
A NOT TOO LATE novella
Rita Hayworth transitioned from underappreciated insurance adjuster and underappreciated wife to the most powerful figure in the magic world. The job came with perks. Guaranteed health, a dream home, wonderful neighbors, magical dogs, and a sexy soul mate who's also a legendary relative of the fae. So what's wrong with that? Keir has a burning desire for a formal commitment, but Rita's been burned by love before.
When she finally makes a decision and agrees to let the vampire officiate, it seems happily ever after is at the next stoplight. But wait. This is Rita. It can't be that easy because, for one thing, Loki just can't seem to leave her alone.
---
Epilogue to the Not Too Late series.
Midlife at Midsummer is mostly an epilogue to the series.  We again see Evie re-settling into her new life after the upheaval of Evie's abduction.  We also have Keir trying to convince Rita that it is time for a handfasting between them.  It is only 10 months since Rita divorced her husband of 20 years and started this new life at Hallow Hill.    Rita could happily see herself spending this new life with Keir by her side, even if she will someday grow old and he will not, but is a formal handfasting really necessary?  But will Keir be content without one?
Rita is busy trying to decide if she is ready to make that commitment to Keir when someone absconds with her this time.  Rita and her no-nonsense court has shaken the long-lived fae and other powerful beings who have long believed that they could do as the please.   Rita is an interesting and shiny new toy in this magical world and someone has decided they want to play.   Rita will have to out-think a God so she can get back to her sweet Town of Hallow Hill and give her sephalian her answer.
Again there is good and bad with making waves in this age old pool.  Rita has made some wonderful new  friends and some dangerous enemies in her short time as magistrate and has caught the attention of someone very powerful who wants to keep that shiny new toy all for himself.  With no way to escape this powerful being, Rita will need to think fast if she want to go home.
I am sad to see an end of the series, which was more like one long story.  The characters were great and Court meets had so much potential for conflicts between the different groups.  We definitely could have followed this series for awhile.   It should be noted that the author's website has on her list a Book 6: Trials at Tregeagle, but clicking on that only takes you to Amazon's website and Midlife at Midsummer.  If there is a book 6, I will absolutely be grabbing a copy of the audiobook since the narrator does such a wonderful job.
I definitely enjoyed this series and would happily read more.
Related Posts