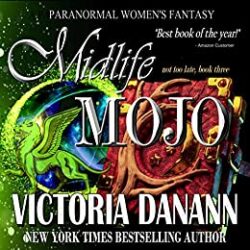 Midlife Mojo (Not Too Late, #3)
by
Victoria Danann

Series:
Not too late #3
Published by
7th House Publishing
on February 13, 2021
Genres:
Paranormal/Urban Fantasy
Pages:
382
Format:
Audiobook
Narrator:
Michella Moss
Length:
7 hrs
Source:
Amazon


This post contains affiliate links you can use to purchase the book. If you buy the book using that link, I will receive a small commission from the sale.
A PARANORMAL WOMEN'S FICTION NOVEL
from Rita Hayworth I have a daughter who knows nothing about my life in Hallow Hill and she's coming for college holiday break. Her visit will dovetail the Solstice Court Meet. It will be close, but if all goes according to plan, I'll be out of magistrate robes in time to meet the plane.
The problem here is that I have to include the qualifier if all goes according to plan, and I ask you. When has anything in my life ever gone according to plan?
It may be too late for super shiny hair, going without a bra, or sleeping eight hours without a potty break. But it seems that it's not too late for navigating magical politics, expatriating, romance, and saving the world.
---
Rita is settling into her new life and new position when her daughter comes to visit too early.
At this point in the story, Rita is settling into her new life in Hallow Hills and becoming quite the fixtures in town. Her Legendary Lunches are becoming quite legendary and everyone in town wants an invite. Life with Keir is blissful and she has a routine walking her dogs on the moors with Lochlan each day and going to the Hallows each morning.  Everyone is excited about the upcoming Yule ball at (vampire) John David Weir's house.
Her first Court was earthshaking for the fae after centuries of doing whatever they wanted. Now, this new Magistrate is actually creating punishments with real consequences, and she is preparing to choose cases for the Yule Court, which will include of all things a case of a Valkyrie against the Norse Gods, who actually agreed to allow the matter before Rita's Court.
Rita is content in way she never imagined her life could be.  Rita is so excited that after Court week, her daughter Evangeline ("Evie") will be joining her in Hallow Hill during her college break.  Except Evie shows up a week early, before the Yule Court.   Trying to hide the fact that the town is full of magic kind was going to be hard enough.  How could Rita possibly hide all the extra magic kind who will come in for Court week? And how can she sneak away to do her job as magistrate?
When Maggie comes up with the idea of putting the whole thing out there and showing their true nature to Evie and then erasing her memory before Evie returns to school, Rita jumps on the idea. She would like to share her new life and her new home with the daughter. What could possibly go wrong?
I really like this little town of Hallow Hill and the characters we have been introduced to here. Of course, Evie's focus of study in college is myths. Really? And this was a surprise to Rita too. It should be. What parent wants to pay for college so your kid can study mythical creatures? What are you going to do with that "Do you want fries with that" degree? And Evie wants to transfer to Oxford University to finish this degree?  Considering her studies, Evie takes the news well that humans aren't the only ones inhabiting this world and is very excited to spend her vacation in a mythical town and watch her mother in Court.
As I said before, it is disturbing how one fae group views another fae group as less and Rita has decided it is time to up the stakes until fae realize they need to learn a little empathy for their fellow creatures. As a no nonsense Magistrate, Rita is already making powerful friends and powerful enemies which will bring good and bad into her life.
This is a very creative paranormal series and I am enjoying it with so many possible storylines but it is a continuing arc so you wouldn't want to jump into it here in the middle of the story.
Related Posts