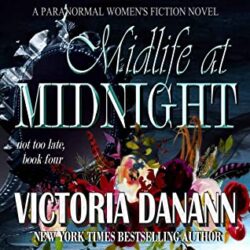 Midlife at Midnight (Not Too Late, Book 4)
by
Victoria Danann

Series:
Not Too Late #4
Published by
Victoria Danann
on April 30, 2021
Genres:
Paranormal/Urban Fantasy
Pages:
446
Format:
Audiobook
Narrator:
Michella Moss
Length:
8 hrs 11 min
Source:
Audible


This post contains affiliate links you can use to purchase the book. If you buy the book using that link, I will receive a small commission from the sale.
EVIE IS MISSING!
Rita is hysterical. Keir is near panic. Diarmuid is beside himself.The thrilling tale of the Wild Hunt as a first responder rescue unit.And a Beltane Handfasting like no other.
---
Rita's job as magistrate has garnered powerful friends and dangerous enemies.
Evie has been kidnapped and Rita is frantic to get her back. And Rita isn't the only one. The new Irish Fae King is much too interested in Evie's rescue for Rita's peace of mind but the most important things is finding Evie alive, then worrying about her relationship with Diarmuid.
As Magistrate, Rita can't accept favors from the powerful fae in order to save her daughter, but it seems that most of the fae are outraged enough to help without requirement payment from Rita.  Her new family in Hallow Hill are pulling in their own favors to help their newest neighbor.
I have to admit that I found this one to be a bit boring. Yes, Evie was missing and taken by an unstable being. Her condition was unknown and everyone was frantic. But most of the eight hours are spent with a frantic Rita waiting at home, breaking down in tears, where everyone comes to try and calm her down.   It wasn't like Rita was chasing down leads.   The most she does is meet with some people to negotiate assistance since she can't ask for favors or her future rulings could be called into question as payoffs for those past favors.   So all Rita could do was wait for Lochlan and the others to pull some strings and hope they find Evie.
I felt it all went on way too long. When I purchased this book in the series, I saw the statement "Evie is missing." I honestly thought she would be grabbed by the Irish King.   Dairmuid was a player in the fae world even going so far as to say that people who say they are in love are too lazy to seek out their next bed partner.   But in a prior story, it was noted that fae could fall in love at first sight, and one of the court matters was about a fae who had absconded with a woman who caught his eye.  Dairmuid had his eye on Evie from their first meeting.  Dairmuid grabbing Evie actually would have made for a more interesting storyline but wouldn't have gotten Evie where she needed to be at the end of this story.
We do get a Court meet at the end of this story which included someone who represents the crazed creature who grabbed Evie but I don't actually agree that Rita handled it well in the end.
Overall, I was disappointed with this story in the series. This was book 4 out of 5, with book 2 being only four hours and book 5 being only 2 1/2. This book was one of the largest parts of the series after book 1 which was all setting up for Hallow Hill and the magistrate job.   We spent too much time watching Rita having breakdowns and yes, while this showed that not everything in her new life was rainbows and puppies, I would have like to see a quicker wrap up for finding Evie so we can have more time with post-kidnapping Evie and more Rita back in Town and in Court.
NOTE: I do want an emotional support bunny who sucks up your anxiety, even with side-effects, please.
Related Posts