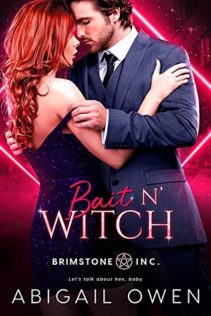 Bait N' Witch (Brimstone Inc., #3)
by
Abigail Owen

Series:
Brimstone Inc #3
Published by
Entangled: Amara
on June 15, 2020
Genres:
Paranormal/Urban Fantasy
Pages:
150
Format:
eBook



I received this book for free from in exchange for an honest review. This does not affect my opinion of the book or the content of my review.
This post contains affiliate links you can use to purchase the book. If you buy the book using that link, I will receive a small commission from the sale.
Rowan McAuliffe has been hiding most of her life. Secretly trained in her powers by an unusual source, she'd been taught not to trust anyone. Especially other witches. However, after she was forced to perform a hateful act against her will, she now hides from the Covens Syndicate and their judgement.
Greyson Masters is the Syndicate's best hunter. On top of the danger of his job, Greyson is trying to raise his triplet daughters alone, budding new witches who display an alarming combined power no one understands. Too bad he doesn't have a clue how to deal with them.
Until Rowan walks in and the chaos settles for the first time in...well, ever.
Little does Greyson realize that his new nanny is the very witch he is hunting, and she's been hiding right under his nose this whole time.
***This novella was previously self-published as a Legendary Consultants story, but has undergone a complete re-edit. Scenes were added, things were changed, but the kissing still remains!
Each book in the Brimstone, Inc. series is STANDALONE:* The Demigod Complex* Shift Out of Luck* Bait N' Witch
---
An enjoyable story.
This is the third book of a series, and I am sure there will be some spoilers for earlier books.
Anyone who read the first two books obviously was ahead of me on character development and background but this premise sounded interesting to me so I decided to grab a review copy of this one. Unless you want to ruin the surprise, you shouldn't start here.  I wasn't lost because we do have a section of the story where Greyson magically experiences the memories of the characters from the prior two books, so if I were to try and jump back to the first book, I would already know what happens at the pinnacle of the conflict.
We might be getting into spoilers now.
Rowan is a witch with an ability to speak to animals, but it turns out one significant blow back of that ability is that shifters can turn the magic around and control Rowan. This is what happen in the prior book. Rowan is a witch who was raised by her adoptive mother who was a demon. Her mother made sure she learned magic but not your typical witch magic.   She also raised Rowan to fear the Coven Syndicate, who governs witches.  She believed that Rowan's parents were killed by the Syndicate.    While Rowan was born with the special ability to speak to animals, she can control other powerful magic as well. But after the happenings of the last book where Rowan was forced to do bad things until she escaped her captors, she is on the run from the Coven Syndicate and more particularly, Greyson Masters who is the hunter assigned to find her. Rowan believes that the Syndicate's usual policy is to kill witches that are a danger to others and worry about consequences later. In fact, when Greyson found the warlock who was captive with Rowan, he immediately killed him.  She feels if the Syndicate ever found out that shifters could control witches like herself, she would not be the only one hunted.
Rowan's friend decides to hide Rowan in plain sight and sends her to Greyson under the guise of being a low magic nanny for his triplets. The kids are cute and since it is a short book, they quickly grow a bond with Rowan.  Greyson, seeing how well they all get along, begins to grow his own bond with Rowan. Part of what helps them grow closer, is working together to raise the girls and help with their magic. After years of juggling life as a single father, having someone who understands and helps him care for his teenage girls, definitely bonds them.
I enjoyed this story.  It was a quick read with some good humor and a cute romance.   I wasn't invested in the overall story line so I was much more interested in Greyson, Rowan and the girls, then in the final battle.   I came in at the end of the story arc but, especially since Greyson saw the events which took place through the eyes of the other characters, I certainly wasn't lost. Unfortunately, it didn't draw me enough to these other characters to make me want to go back to read the prior books.
---
Favorite Scene:
Almost thirty minutes later, the girls finally put in an appearance. "We're hungry."
Rowan greeted them with a welcoming smile. "Have a seat. There's not much left, and it's probably cold, but you're welcome to eat."
Not much left? They'd had only one helping each. Greyson glanced at the serving dishes. Sure enough, only about a quarter of the food remained.
Had Rowan just spelled the food to reduce the amount remaining and teach the girls a lesson? If she had, she'd done so in front of him without him seeing or hearing. Not even a fizzle of energy in the room or a flicker of a lightbulb. Apparently, his nanny had untapped depths.
He eyed her speculatively. Tricky.
The girls exchanged a glance, then looked toward him. While he'd allowed their hiding act in the past, he'd never actively condoned it. He gave them no help, keeping his expression neutral.
"This smells good," Atleigh, the peacemaker, tried.
Before Rowan could respond, Lachlyn spoke up. "Didn't you notice we were gone?"
No change in Rowan's pleasant expression. "Yes, I did."
"And you didn't look for us? Aren't you supposed to be all caring and stuff?" Lachlyn scowled, but her bluster didn't hide how truly upset she was.
Rowan paused in spooking a miniscule amount of casserole onto a plate for Atleigh. "If you mean fluttering around like a panicked bird caught in a windstorm searching for you, you'll find that's not my style."
"But you knew where they were?" Greyson asked. He needed to be sure he left his daughters with someone capable. Even if her eyes were an extraordinary shade of gray, like moonlight in a forest, and her berry-ripe lips tempted a taste.
Get your mind off her lips, you ass.
She directed a polite gaze his way, but he caught the anger snapping in their depths all the same. "I assured myself they were safe and in the house. They are old enough to arrive at dinner on time, without prompting."
She sent the girls a sweet smile. "After all…you don't need a nanny. Right?"
Lachlyn, whom he'd mentally dubbed the ringleader almost since birth, tipped up her chin. "Exactly."
"Excellent." Rowan divvied out the remaining food.
"Is this all?" Chloe asked, a mournful droop to her mouth.
"I'm afraid so." Rowan showed zero remorse. In fact…was that a twitch to her mouth?
"Can you at least heat it up?" Lachlyn demanded.
Greyson opened his mouth to rebuke her rude tone, but Rowan beat him to it.
"Arrive to dinner late, eat cold food. You chose to be late. Next time, maybe you'll arrive on time." Rowan nodded as though that closed the discussion, and all three girls, in various stages of anger and shock, shut their mouths and accepted their plates without further debate. Greyson had never seen them so subdued. Then, again, no other nanny had handled today as Rowan had, either.
After a quiet, and rather strained, rest of dinner, Rowan wiped her mouth with her napkin and stood. "Girls, you may clear the table and clean up the kitchen before you go to bed."
"What?–" Chloe screeched. She turned to him. "Dad, we never clean the kitchen."
"Then it's about time you start." Rowan's quiet words held steel, and he found himself hoping he never landed on her bad side. Of course, if she used that husky voice in that bossy way with him, he might have to do something about it. Something that involved–
What in the seven hells is wrong with me?
Greyson gave himself a mental shake. Instead, he tried to focus on the scene before him and had to hold in a laugh at the three identical expressions of disgruntled acceptance. He should've called Delilah sooner, because Rowan McAuliffe was exactly the person his family needed.
"I'll check on you in about an hour." Rowan turned to leave but paused in the doorway. "I want to thank all of you."
Greyson sat back and waited.
Rowan smiled warmly. "Each household takes time to settle into and become part of the routine. I can't tell you how much I appreciate your efforts to make my day so warm and welcoming and…special."
Did she just Sound of Music his family? It worked. Guilt settled like a granite boulder in his gut. Based on their wide-eyed exchange of glances, the girls were dealing with similar reactions.
Rowan's smile didn't alter exactly, but suddenly a mischievous glint sparkled from those amazing eyes. "I look forward to repaying your kindness."
He didn't remember Julie Andrews saying anything like that in the movie. With a cheerful nod, Rowan turned and quietly left the room. A whisper would've sounded like a shout in the silence she left in her wake.
"Do you think she meant she'd get even?" Lachlyn asked, breaking the hush that had fallen over them.
He dropped his napkin onto his plate. "I suspect so."
Related Posts