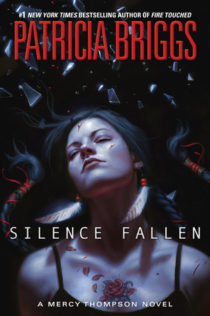 Silence Fallen (Mercy Thompson, #10)
by
Patricia Briggs

Series:
Mercy Thompson #10
Published by
Ace Books
on March 7th 2017
Genres:
Paranormal/Urban Fantasy
Pages:
352
Format:
eBook



I received this book for free from in exchange for an honest review. This does not affect my opinion of the book or the content of my review.
This post contains affiliate links you can use to purchase the book. If you buy the book using that link, I will receive a small commission from the sale.
In the #1 New York Times bestselling Mercy Thompson novels, the coyote shapeshifter has found her voice in the werewolf pack. But when Mercy's bond with the pack and her mate is broken, she'll learn what it truly means to be alone...

Attacked and abducted in her home territory, Mercy finds herself in the clutches of the most powerful vampire in the world, taken as a weapon to use against alpha werewolf Adam and the ruler of the Tri-Cities vampires. In coyote form, Mercy escapes only to find herself without money, without clothing, and alone in the heart of Europe...

Unable to contact Adam and the rest of the pack, Mercy has allies to find and enemies to fight, and she needs to figure out which is which. Ancient powers stir, and Mercy must be her agile best to avoid causing a war between vampires and werewolves, and between werewolves and werewolves. And in the heart of the ancient city of Prague, old ghosts rise...
---




Patricia Briggs' Mercy Thompson is at the top of my list of Urban Fantasy series, but this story stands out. I loved that we finally had some Adam time, as well as the fact that everyone came out to rescue Mercy from her captors.
Mercy is kidnapped and Adam needs the help of the vampires, the witches and the fae to get her back.
The recent declaration of the Columbia Basin Pack to protect their territory has caused all types of supernaturals to move into the neighborhood and make themselves at home. Even the humans are flocking into town to check it out.
It is also making several parties a little nervous and they want to poke the sleeping werewolf to see if they can truly keep the territory protected. They were told the most powerful supernatural in the area is one Mercedes Thompson-Hauptman.
This is the first time that a significant portion of the story was told by Adam. I think it was great to give Adam a voice and while he did get a small part is Frost Burned when he and the pack go missing, this was much larger and important in this story. Splitting the narrative in this story also worked to increase tension. Not only are we worried about what Mercy is going through, but Adam has to fly to Europe to confront the old vampire behind the abduction. He has to play a delicate game of politics with a being whose rule book has been around for centuries. He needs the help of Mercilia and Stefan to get it right.
I thought it was interesting that several old friends could not assist Adam and Mercy because when you are a long lived creature, such as Zee, you have had plenty of time to make enemies, and changing the background of this story to Europe, we are dealing with many older creatures who have long, long memories and using someone like Charles or Zee would work against them and be seen as a threat.   So we are introduced to new friends, both through Adam's story and Mercy's story, who come in quite handy.
The story was great and the way it was written took the most advantage of the story plot.  There are several twists,  turns and surprises so that I had to do a quick re-read when I was finished to see if I could catch what I missed the first time.  I love this series and hate that I will have to wait another year for more.
---
Favorite Scene:
The vampire who took Mercy tried to break her bond with Stefan and make her his slave. Like with the pack bonds, Mercy is looking for her bond to Stefan.
But I wasn't looking for the pack, either. I stood in as neutral a position as I could: feet apart, knees bent, arms at my side, closed my dream-self's eyes, and thought Stefan. I pictured him in my head, a moderately tall man with dark hair and eyes, very Italian, I'd always thought him. Him smile was warm , and his posture varied–when he paid attention, he slumped a little and stomped a little. When he didn't, he had the same sort of ramrod-straight posture that Adam had–they'd both been soldiers as young men. He was a dangerous man who was able to put it aside and joke and laugh as he helped me repair his van. A powerful vampire who knew ASL and unself-consciously watched Scooby-Doo.
When I was done, I opened my eyes, and he stood in front of me–a statue without life.
I walked all the way around him, looking for something, anything that tied us together. A sparkle teased at my senses, but I couldn't find it–and was afraid I was making it up.
I closed my eyes again and ran my hands over my neck. After a few minutes, my fingers tangled in a necklace. It was gossamer fine and cool against my fingers. I searched for a clasp and found, instead, a small circle of metal that gathered the strands of necklace together, and attached to it was another chain.
I opened my eyes as my fingers followed the chain out far enough from under my chin that I could see it. A fine silver chain lay in my hands–and once I saw it, I could see that it led to the hands of the version of Stefan I had on my stage.
It looked so fragile–I tried to break it, but it wouldn't break or bend, not with anything I could bring to bear on it in my mind. I fought and fought, pulling frantically on the necklace collar around my neck until blood stained the chain, running down it from my neck and from my fingers.
Shhh, said a cool voice. Shhh, you're breaking my heart, cara.
I froze. Then looked up from the now-heavy chain to my image of Stefan, which crouched next to me on the stage.
I promised, he told me. I promised not to tug on the leash. I promised. Don't hurt yourself, so. I keep my promises, Mercy.
His voice flowed over me–a friend's voice. I was so alone. His voice was like a warm blanket over my nakedness. It gave me strength to allow my fingers to release the chain. I sat up.
My intention was to find the bond, I remembered, not to fight it. I took my terror, the atavistic fear of a trapped animal, and stuffed it back, so I could think.
Related Posts