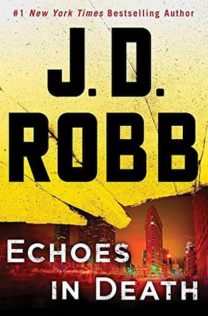 Echoes in Death (In Death, #44)
by
J.D. Robb

Series:
In Death #44
Published by
St. Martin's Press
on February 7th 2017
Genres:
Crime Drama
Pages:
371
Format:
Hardcover



I received this book for free from in exchange for an honest review. This does not affect my opinion of the book or the content of my review.
This post contains affiliate links you can use to purchase the book. If you buy the book using that link, I will receive a small commission from the sale.
As NY Lt. Eve Dallas and her billionaire husband Roarke are driving home, a young woman—dazed, naked, and bloody—suddenly stumbles out in front of their car. Roarke slams on the brakes and Eve springs into action.

Daphne Strazza is rushed to the ER, but it's too late for her husband Dr. Anthony Strazza. A brilliant orthopedic surgeon, he now lies dead amid the wreckage of his obsessively organized town house, his three safes opened and emptied. Daphne would be a valuable witness, but in her terror and shock the only description of the perp she can offer is repeatedly calling him "the devil"...

While it emerges that Dr. Strazza was cold, controlling, and widely disliked, this is one case where the evidence doesn't point to the spouse. So Eve and her team must get started on the legwork, interviewing everyone from dinner-party guests to professional colleagues to caterers, in a desperate race to answer some crucial questions: What does the devil look like? And where will he show up next?
---



[box style="rounded" border="full"]Eve Dallas is one of my favorite characters. Even after 44 novels, I am still hooked. These characters feel like old friends and the investigations are always intriguing and sometime even disturbing. I can't wait to read more.[/box]
Since there is always someone dying in these novels and some more than others are quite twisted, I can never say how excited I am about the next story without feeling a little twisted myself. But as much as the stories are captivating, it is the main characters themselves and the evolution of the relationships which keep me coming back time and time again.
We have seen over the last 44 books the emotional growth of Eve Dallas and the growing relationship between Eve and Roarke.  This is somewhat reflected in the fact that recently they have redesigned their bedroom into a mutually reflective space as well as Eve's home office into a more functional space that adds extra workstations for when Roarke assists or she and Peabody are working from the house.  Eve's home office used to be an exact copy of her old apartment and this change reflected the changes in Eve from the loner she was to the team player she is, whether with a task force put together for her cases or just herself and Roarke.
Echoes in Death was suppose to indicate an echo of Eve's violent past and the pain suffered at the hands of her father, but I didn't feel that imagery here as much as I have in prior books.  I didn't feel this case and the violence against the wife's was anymore reflective of Eve's past than we have seen before.
Eve and Roarke are dragged into a series of home robberies because one of the victims literally collapses in the street in front of their car.  They get her to the hospital and after IDing her, they go back to her house and find her husband's body.  A search of like crimes eventually brings up a few other home invasions with similar circumstances which gives Eve a start on her investigation.  The do indicate that three is the magic number for a pattern to be found in the crimes which is why most of her investigations will have at least three victims or attacks.
These couples were attacked and robbed in their homes.  The husband was tied up and beaten and the wives were violently raped and beaten.  Each case became increasingly violent until the attacker finally kills with the last victims and that increased his desire to kill his next victims.
Maybe I have just read enough J.D. Robb books or thrillers in general, but I thought that in this book, Eve wasn't focusing where she should and while elimination of all possible suspects is necessary, I thought the obvious choice was being ignored.    The case was interesting but the investigation seemed a bit pointless in that Eve appeared to be chasing her tail with all of this investigation and nothing seemed to be standing out…until it simply did at the end. It was like she was investigating the correct suspect in her head the whole time and not letting anyone else know.  I just kept wondering why this one stood out for me more than for her.   The investigation itself was lackluster and not exciting.
In a series that now contains 44 books, this will not stand out.
I am not done with Eve and Roarke and may never be.  I will be waiting excitedly for the next book to come out this Fall.
---
Favorite Scene:
"Did you get any sleep?"
"I'd say we both got a bit more than an hour. Or rather the three of us did."
"That's good. And it's one checked off?"
"Checked off?"
"We slept in the fancy new bed."
"On more like, but check."
She brushed back his hair. "How about we check off number two?"
He smiled at her. "I'm always in favor of finishing off a checklist."
He continued to smile when she pressed her lips to his, as he stroked a hand over her. "You're still armed, Lieutenant."
She slid her own hand down, found him. "You, too."
He laughed as she rolled over, straddling him. Studying his face, she pulled off her jacket, hit the release on her weapon harness. "You know, the first time I walked in here and saw the bed–the other one–it was: Wow. This one's an even bigger wow," she continued as she tossed the jacket aside, draped the harness over the footboard. "But I liked that bed."
"It's still in the house."
"Is it?"
"In one of the guest rooms. I have very fond memories of that bed as well," he reminded her. "We can visit it whenever you like."
"Huh." Considering, she pulled off her sweater, tossed it after the jacket. "You know how they have those pub crawls?"
"I do, yes. Have participated more than once in my time."
"I've always been more find a bar, stay there, and do the drinking you came to do in one spot. But…One of these days we should have a bed crawl through this house. We'll see how you hold up, ace."
He laughed again. "Challenge accepted."
Related Posts