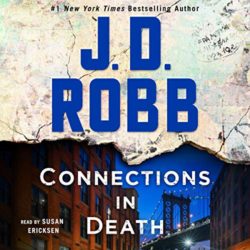 Connections in Death (In Death, #48)
by
J.D. Robb
Series:
In Death #48
Published by
Macmillan Audio
on February 5, 2019
Genres:
Crime Drama
,
SciFi
Format:
Audiobook
Narrator:
Susan Erikson
Length:
12 hrs 18 min



This post contains affiliate links you can use to purchase the book. If you buy the book using that link, I will receive a small commission from the sale.
In this gritty and gripping new audiobook in the #1 New York Times bestselling series, Eve Dallas fights to save the innocent—and serve justice to the guilty—on the streets of New York.Homicide cop Eve Dallas and her billionaire husband, Roarke, are building a brand-new school and youth shelter. They know that the hard life can lead kids toward dangerous crossroads—and with this new project, they hope to nudge a few more of them onto the right path. For expert help, they hire child psychologist Dr. Rochelle Pickering—whose own brother pulled himself out of a spiral of addiction and crime with Rochelle's support.

Lyle is living with Rochelle while he gets his life together, and he's thrilled to hear about his sister's new job offer. But within hours, triumph is followed by tragedy. Returning from a celebratory dinner with her boyfriend, she finds Lyle dead with a syringe in his lap, and Eve's investigation confirms that this wasn't just another OD. After all his work to get clean, Lyle's been pumped full of poison—and a neighbor with a peephole reports seeing a scruffy, pink-haired girl fleeing the scene.

Now Eve and Roarke must venture into the gang territory where Lyle used to run, and the ugly underground world of tattoo parlors and strip joints where everyone has taken a wrong turn somewhere. They both believe in giving people a second chance. Maybe even a third or fourth. But as far as they're concerned, whoever gave the order on Lyle Pickering's murder has run out of chances…
---
Just when I was ready to lament the downfall of my favorite character, Dallas is back on her game and kicking ass once again.
Dallas is back!! After the utter disappointment which was Leverage in Death, I was very concerned that we were getting to the dregs of the In Death series. With almost 50 novels in the series and several short stories, it is understandable that not all of them can be winners and there have been duds amongst the nail-biting excitement. Leverage really shook my faith in the awesomeness that was Lt. Eve Dallas and brain behind her stories.
When I started Connections in Death, I first thought it was going to be another encounter with disappointment and another story simply recounting Dallas-esque moments. The first chapter begins with Dallas's internal monologue of who invented high heels and dinner parties and small talk and finger food and how they should be locked up wearing the torturous shoes. It went on and on even before Roarke asked what was going on in her brain and then she talked about it some more.
They are going to Nadine's housewarming party.  Really, why couldn't she have worn a nice pantsuit and stylish boots?  That would have stopped the fancy dress/killer shoes complaint from the start.  Next, she goes into a whole "why is he naked?" and "that can be used as a weapon" when she sees the Nadine's Oscar statue. And why is it that Nadine's housewarming party is full of Dallas's friends and co-workers, rather than Nadine's friends and co-workers? Yes, she meets cops and Morris and knows Mavis, but other than Nadine's boss, Eve is comfortably surrounded by all her friends.    We also have Eve conveniently meeting the women who will head the youth shelter that Eve and Roarke have been building since Book 38, Concealed in Death. She happens to arrive at the party with Crack, the owner of the semi-sleezy bar, and while yes, Nadine met Crack during Eve's bachelorette party, would he really be invited to Nadine's housewarming? Oh, that's right it's Eve's friends at a party party. I don't think Crack was invited to any party at Eve's house, yet here he is at Nadine's.   This is all in the first chapter. I am already sighing and begin running through the stages of grief over the loss of my favorite series.
After that waste of time, we meet Lyle Pickering who has gotten his life together after life as a gang-banger and drug addict. He is living with is sister Rochelle when she get the job offer from Roarke and she leaves to meet Crack for dinner to celebrate only to return and find her brother in a chair overdosed. Of course, since she is with Crack, he doesn't let her contaminate the scene and he calls in Dallas. And while I was still sighing my "of courses," Dallas arrives and…brings back her A game. Thank God!
In Connections in Death, Eve and Peabody do some serious investigating and work to connect Lyle's death with the gang that Lyle used to run with starting with the woman, Lyle's former girlfriend who set him up. But why would she do that?   This leads Eve and Roarke down to the Underground, remember that from the early books? It is the dark underground of drugs and sex clubs which exists in the sewer system of New York? I think the subway still runs so…I really haven't figure out where "the Underground" is supposed to be and if it is in the sewer system, I would say that it was a pretty impressive set up.
This investigation leaves Dallas pitted against two rival gangs, the Bangers and the Dragons (not very imaginative with names). A world where every slight is met with a promise of death and life isn't worth very much except what you can do for the gang.
Eve is pretty certain that the leader, Marcus Jones, didn't order the hit on Lyle.  Marcus seems pretty smart and everything about the murder is well thought out but sloppily executed.  Nothing makes sense, except that someone is looking to start a gang war between the Bangers and the Dragons and Eve has to figure out who has the most to gain with Lyle's death and with an all out war.
It was so rewarding to see Eve and Peabody really investigating again and trying to figure out why someone would kill Lyle, put so much thought into making it look like an overdose rather than just a gang retaliation for abandoning the gang and yet be so sloppy with details that they left the murder scene with stolen items.
Dallas, Peabody and their teams take on the gangs and once she throws them in a box, a good time is had watching Dallas break those killers.
I was very happy with the investigation and the story and from the sound of the next book, Vendetta In Death we will keep enjoying our time with Dallas, Roarke and the gang for some time to come.
---
Favorite Scene:
When they got out of the car, he skirted the hood, took both her hands. "I wish I didn't know absolutely you sign papers of ours without the reading of them."
"I give them a scan. Sometimes. If you fuck me over, I'm a cop. I know how to make you pay without letting it show. Like the one where I tranq your wine, dress you in a diaper and pasties, get you in your office and transmit the image globally."
"You've given this some thought."
"Just in my free time." She gave his hands a squeeze before drawing hers away and laying them on his cheeks. "Bottom line, she wasn't wrong to trust a man she loves, because it has to be love, he's not rich, or good looking or powerful. She just loves the wrong man. I don't."
"Well, now," he murmured. Then leaned in to take her mouth in a soft, slow, sweet kiss.
"There's the one where I coat the inside of all your boxes with a biological that causes your works to develop festering boils."
It made him wince. "Christ Jesus. You obviously have far too much free time."
"I've got a whole list," she said as he opened the front door. "For him too," she added, shooting a finger at Summerset.
Summerset merely cocked his eyebrows. "No visible injuries once again. We appear to be on a streak."
"For him, I have the stick up his ass surgically removed and without it, his whole body collapses into a puddle of ghoul." She tossed her coat over the newel post. "You'll be too busy with festering boils to have him reanimated."
"Don't ask." Roarke told Summerset as Eve headed upstairs with the cat on her heals.
Related Posts