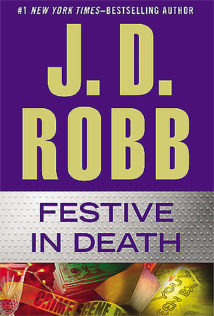 Festive in Death (In Death, #39)
by
J.D. Robb

Series:
In Death #39
Published by
Berkley
on September 9th 2014
Genres:
Crime Drama
Pages:
389
Format:
Hardcover



I received this book for free from in exchange for an honest review. This does not affect my opinion of the book or the content of my review.
This post contains affiliate links you can use to purchase the book. If you buy the book using that link, I will receive a small commission from the sale.
---
Personal trainer Trey Ziegler was in peak physical condition. If you didn't count the kitchen knife in his well-toned chest.

Lieutenant Eve Dallas soon discovers a lineup of women who'd been loved and left by the narcissistic gym rat. While Dallas sorts through the list of Ziegler's enemies, she's also dealing with her Christmas shopping list—plus the guest list for her and her billionaire husband's upcoming holiday bash.

Feeling less than festive, Dallas tries to put aside her distaste for the victim and solve the mystery of his death. There are just a few investigating days left before Christmas, and as New Year's 2061 approaches, this homicide cop is resolved to stop a cold-blooded killer.
---
This year Eve and Roarke are celebrating the holidays as they do each year with a party, good friends and murder.
Trina and her friend Sima are going to play a prank on Sima's ex. The dirty bastard used her to pay his rent and his bills for months before he tossed her out for a new bimbo. But they're just a little too late. Someone has already given Trey Zeigler his Christmas present early, a knife to the chest and a "Ho, Ho, Ho!" Trey Zeigler was an award-winning personal trainer. He was also a user, a blackmailer and a rapist. Eve would rather have put Trey in a cage, but since he's on his way to the morgue, it is up to Eve to figure out who killed him. Unfortunately, the list of suspects includes his award competition for this year, all the woman Trey used or raped and their respective boyfriends and/or husbands.
With barely any time to holiday shop between interviews, Eve makes a deal with the devil, or some people call him Summerset. If he wraps her presents, she'll help with the party preparation. Maybe she'll get lucky and catch her killer and be too busy with interviews to help. It's a long shot, but a cop can hope.
In between sifting through the life of the dirtbag known as Trey, and avoiding getting vomited on by Drunk Santa, Eve is trying to make time for just her and Roarke to enjoy the holidays and the life that they have created for each other.
THOUGHTS:
I can't rate an In Death book at less the 5 stars. Even a bad In Death book is better than most books out there. I love the characters that she has developed and how they have grown and bonded over the years.
This story had nice balance between the investigation and the personal. As we know, after 39 books, there are some stories more focused on either the murder or Eve's personal life. I generally enjoy the personal in these stories more than the investigation and this was no exception. We have the big holiday party which brings together people who we haven't seen in a while like Louise and Charles. We also have a few touching moments with Peabody and even Summerset. The relationship between Eve and Roarke continues to expand and bond them closer.
The murder of Trey Zeigler wasn't the most exciting story she has written, but with so many suspects it did keep you guessing throughout the entire story.
I am looking forward to Book #40 which comes out in February. It sounds like she is going all out for the next chapter as we step into 2061.
Received an ARC from the publisher in exchange for an honest review.
---
Favorite Scene:
"So I can open it now? I love when I can open it now. The paper's so pretty."
She picked at it delicately, carefully breaking seals.
"Jesus, Peabody, rip the damn thing open. I don't have all night."
"I can use it again. I haven't wrapped everything yet."
She slid the box free, carefully folded the paper, preserved the ribbon and bow. And finally opened the box.
"Oh!" She pulled out the gift, stared at it, eyes and mouth wide. "It's a magic coat. It's my own magic coat. It's pink! It's a pink magic coat. Holy shit! Holy pink magic shit, Dallas."
"The pink was Roarke's doing. You can't hang that on me. I said brown."
"I have to sit down. No, I have to try it on, then I have to sit down. Holy shit, you got me a pink magic coat."
"Don't blubber! Why is there so much blubbering today?"
"Thank God I used all waterproof, sweatproof, smudge-proof face enhancers, because I'm going to blubber. Dallas, wow. Just wow, it's leather. It's pink leather."
"The pink's not on me. Ever."
"Holy, holy, holy shit. I can't stop saying it." She swung the coat on over the frothy dress. It looked silly with it, Eve thought, the military style of it over the party dress. But apparently Peabody didn't think so. She twirled in it so the knee-length pink leather billowed and swirled.
"Oh my God, it's beyond. Just beyond. It feels like leather. It is leather. It has pockets and pretty buttons. And it's magic and it's pink."
"I can't go around wearing coats with internal body armor when my partner's not."
Peabody stopped twirling. She didn't blubber, but a couple tears trickled down. "It means so much to me, that you'd have it made for me. For my safety. That all by itself means everything. But the rest? It didn't have to be leather, it didn't have to be pink. But you did that because you knew it would make me happy."
"You get stunned or stuck or blasted, it's pretty damned inconvenient for me." On Peabody's water laugh, Eve sighed. "You're…family. That's it."
Peabody grabbed her, squeezed. "Okay, okay." Eve tapped her on the back. "Okay, okay."
"I love you. People don't say that to people enough, so I'm saying it. I really love you, and I'm going to let go in a second because I know it weirds you. But thanks. Thank you so much."
"Okay."
"I have to go thank Roarke." Peabody pulled back. "And show McNab. Then I need to put it away safe. Is there someplace I can put it?"
"Give it to Summerset. He'll stow it."
"Right. Oh, wow. Just wow. I'm thanking you again right now by not hugging you again and kissing you on the lips."
"And I'm saying you're welcome by not putting my boot up your ass."
Related Posts