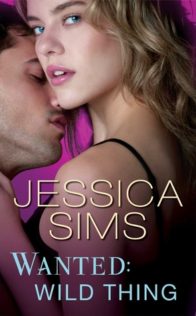 Wanted: Wild Thing (Midnight Liaisons, #4)
by
Jessica Sims

Published by
Pocket Books
on August 26th 2014
Genres:
Paranormal/Urban Fantasy
Pages:
354
Format:
Paperback



I received this book for free from in exchange for an honest review. This does not affect my opinion of the book or the content of my review.
This post contains affiliate links you can use to purchase the book. If you buy the book using that link, I will receive a small commission from the sale.
---
The final book in a romance series set in a "fun, sexy world" (USA TODAY), where paranormals seek love through a dating service called Midnight Liaisons.

Ryder is hiding a dark secret from her coworkers at Midnight Liaisons. Every time she's sexually attracted to a man, her dragon side breaks through. Not exactly man-bait! But she needs to lose her virginity before her twenty-fifth birthday, or she'll become a dragon forever.

Her solution? Big, hunky Hugh, the appointed guardian of her chastity. He's clearly hot for her, but he has powerful reasons to resist Ryder. Can temptation—and love—possibly find a way?
---
Ryder Sinclair has a wardrobe like Baby Spice and flirts with anything in pants. She is a human working nights at Midnight Liaison, the paranormal dating service, or at least she lets everyone think she's your average, everyday human. Ryder is actually a changeling and if a man touches her skin with sexual intent, he triggers her changeling side. She has had to pretend food poisoning and run out the back door on more dates than she can remember.
When she was a teen, a half-Fae fortune teller once told her that if she finds The One she can keep the change at bay, but she must do it before she reaches her twenty-fifth birthday. If she remains a virgin at her twenty-fifth birthday, she will change into her changeling form permanently. So Ryder has become a flirting-machine trying to find that one man who can touch her without triggering her changeling side. With only a month to her twenty-fifth birthday, she is getting pretty desperate to remain human.
Ryder doesn't realize that life can get so much worse than growing scales and sprouting horns until the night a Fae prince shows up in her office with his brutish bodyguard and let's her know that he is the one who brought her to the human realm to be raised in safety after replacing her for her parents's human child. He is excited that her change is almost complete and his investment will soon come to fruition. Ryder is a very rare and valuable changeling in the Fae realm and he plans to use her for breeding litters of valuable baby changelings that he will sell to rebuild his family's fortunes.
Becoming a full-time monster isn't enough of a horrific future to worry about, and now a Fae prince wants to turn her into a brood mare. He has also sent a bruiser to insure that she doesn't loose her virginity before her transformation is complete. Since she can't get out from under the watchful eye of Hugh, she's going to have to give him an eyeful and convince him that taking her virginity is a better prize than whatever the Fae prince has promised him.
Hugh is holding firm to his vow, but he has never come across the Queen of Flirting who is desperate to remain human. This shifter might have a will of iron, but he doesn't know what he's up against when Ryder turns up the charm.
THOUGHTS:
This was a fun story. This was my first Jessica Sims novel but I was gifted by Pocket Books with a few of other novels in the series, and I also picked up one novella which was free the other day on Amazon, so I would like to try the rest of the series. The Goodreads info says it is the last in the series, but the author's website is declaring that as a rumor. She has a good cast of characters and this latest novel brings in a few more. I would think is it premature to walk away from such a promising series. I do want to read Marie's story, who is Ryder's BFF. She is as obnoxious and snarky as I like my heroines.
Although I haven't read the other books in the series, Ryder does work with and talk about the other characters from the series and I got the idea that this story differs a bit from the others. The other stories involve shifters and some humans and even they think changelings are a myth. This story also involves Hugh who is brought over from the Fae Realm and he calls himself a Primordial while the Fae call him a Long-Tooth. From this and Ryder's initial description, it is not hard to guess that Hugh is a saber-toothed tiger shifter. He and his men are kept in a primordial land where they don't even wear clothing. So everything here is new and dangerous to Hugh.
I was a bit stressed for Ryder since the Fae Prince was planning to use her to breed and sell her offspring like she was a puppymill. He would swing by and check her progress, make her strip down and make her change for him so he could check on his investment. But to thwart his plans, she needed to lose her virginity and if she did that, Hugh would lose his prize which was women/mates for himself and the men of his tribe who have no women there. So for Ryder to win, Hugh's men would lose out. This was a problem even Ryder struggled with.
There were some really funny part of this story where, in Ryder's attempt to seduce Hugh, she puts on porn for him which started with a pizza delivery guy showing up and getting an extra special tip. This becomes a bit of a running gag in the story, including Hugh telling his men that there are women who will have lots of sex with you if you give them food. Ooooo!
I was a little disappointed that Ryder's "dragon" form. As it is described it makes her more of a Sleestak with crumpled wings like a newly emerged butterfly than anything dragon-like. (If you got that reference, you are old like me.) As the last month progresses, her scales become more luminescent and her claws nicer, etc., but she is always very humanoid and she never becomes a dragon as they are usually described. Hugh might have thought she was beautiful, but me…not so much.
This was cleverly written and entertaining and a series I want to look into further.
Received an ARC in exchange for an honest review.
---
Favorite Scene:
"Perhaps you should leave her alone."
"My job is to remain at her side and protect her virginity." Hugh snarled in Brad's face. His big hand clamped down on my shoulder again.
Despite the fact that we were in a side room at the restaurant, several people in the next room turned to look over at us, overhearing Hugh's words.
"Oh, my God," I moaned. "You did not just say that out loud in a crowded restaurant."
"And if she doesn't want it protected?" Brad asked.
"Yeah," I said, pushing Hugh's hand off my shoulder again.
"Then I will protect it for her," Hugh said. "Against her will if I must."
"You can't make me leave," I hissed at him. "This is a public place." I was safe from him here.
Hugh leaned in to me, his face close to mine. "I am sorry for what I am about to do."
"Do? What–"
His hand moving to the back of my neck, he leaned forward and pressed his mouth to mine in a startling, fierce kiss. his lips mashed against my own, and his scent was in my nostrils, his body pressed to mine.
Then, just as quickly, he pulled away. I stared up at him, dazed.
"Now, we leave," Hugh said.
I blinked, trying to process all of this. Kiss? Leave? What?  He grabbed my hand in his and dragged me toward the doors of the restaurant.
I immediately tried to jerk away, realizing what all this was about.
He was deliberately activating my changeling side. Hugh knew that if my curse kicked in I'd have no choice but to leave with him. Anger burned inside me, but it was quickly swallowed up by the transformation spiraling through my body. My monster coiled and reared, and I felt my skin shiver with awareness. Anger at Hugh blossomed, then quickly turned to fear when others started to look at us.
Damn him! I stopped struggling and gave everyone a cheerful wave, practically running with Hugh as he stomped toward the parking lot. I had to make things seem like they were normal, or else someone was sure to follow us out due to concern for me. And that was the last thing I wanted—if someone followed us, they'd get a glimpse of my scaly side.
It was evident to me that the change was going to come whether I wanted it or not. Even now, I could feel the throb in my shoulder blades that was the onset of my wings, and my gums ached from where my fangs were about to pop.  My grip tightened in High's, and I knew the pressure I was exerting would soon be intense.
But if that didn't communicate my anxiety, nothing would.
As soon as we got to the parking lot, I bolted, dashing away from Hugh. He let me, and I continued on, racing for my car. My hand fumbled to find my keys, but claws were sprouting and my muscles were clenching, and it was impossible for me to concentrate. Pain erupted, throbbing through my body.
Too late. Before I could even open the door to my vehicle, my legs gave out. I crouched, huddling around myself as my changes tore through me.
Hugh crouched low next to me. His hand smoothed down my back, ignoring the fact that it was lumpy and muscles were seething. "I am sorry Ryder."
"You…suck…" I whispered between gasps, my hands clenched tight as my tail ripped out of my back. I gave a small cry of pain, only to have it swallowed as he pulled me to his chest, Muffling my cries as he held me close.
"It grieves me to do this to you," he murmured and his hand stroked my hair even as he cradled me tight.
I fought him for a moment, but feebly. The transformation was happening, and I couldn't stop it any more than I could stop him from holding me close.
And what was worse? With every stroke of his hand on my hair, I didn't want him to stop holding me.
Related Posts