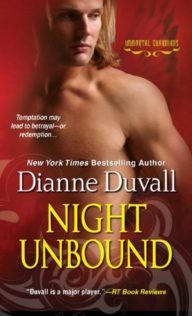 Night Unbound (Immortal Guardians, #5)
by
Dianne Duvall

Series:
Immortal Guardians #5
Published by
Zebra
on September 2nd 2014
Genres:
Paranormal/Urban Fantasy
Pages:
432
Format:
eBook



I received this book for free from in exchange for an honest review. This does not affect my opinion of the book or the content of my review.
This post contains affiliate links you can use to purchase the book. If you buy the book using that link, I will receive a small commission from the sale.
---
Things are heating up in North Carolina. The Immortal Guardians thought the threat to them was once again just the vampires who they must protect the humans from. They thought the military threat was over after they killed everyone who had knowledge of the drug used, but someone has once again gained possession of the one drug that can effect a Guardian. They are also turning military trained men into vampires. For the first time in centuries, the Immortal Guardians are in real danger, and the biggest question is — who turned on them and created this new army? Seth is certain the only one with the information and enough power to do it would be Zach.
Zach has been hanging around the Immortal Guardians for more than just the lollipops being offered by Ami. Lisette d'Alençon has caught his attention and the longer he watches her, the more he desires the type of relationship he sees the other Guardians enjoying. Zach is an outcast among his own people and he knows that Seth would kill Zach if he found out how often Zach spends watching his Guardians.
Always being an outcast, Zach can't imagine that Lisette would return his interest, but Lisette's own fantasies about Zach have been increasing the longer she catches him watching her. Lisette is also aware of Seth's dislike of Zach and knows that she risks alienating her boss and her fellow Immortal Guardians if she starts a relationship with Zach, but after centuries alone, she too would do anything to once again feel loved.
But secrets always have a cost and eventually someone always finds out. Can Zach and Lisette live with the consequences that a forbidden relationship will bring to their lives?
THOUGHTS:
I love the Immortal Guardians! Zach and Lisette are now my second favorite characters just after Bastian and Melanie. I re-read this story after I finished. I just didn't want to let them go. It was just one of those stories.  Even just writing this review, I want to pick it up again to read.
Zach is another of my tortured heroes. Literally tortured by his own people and it is his desire to be with Lisette that gives him the power to escape. He always seems unwanted and the fact that Lisette is attracted to him just floors him. He is not even used to someone willingly touching him and his strong reaction to just holding Lisette is heartbreaking.
We, of course, love Lisette so it is wonderful to see her find happiness with Zach and funny to see her brothers' reaction to the new man in her life, especially when Richart pops in at a very inopportune time. Yikes.
Now you would think that since Zach and Seth are alike, we would finally get detailed answers on what Seth is (because we know he is more than just an Immortal Guardian) and Zach has wings so it goes to follow that if Seth is like Zach, he would have wings, etc., etc., and of course, Zach would tell all to Lisette, so…ummm, nothing.  What??  Clever author that she is, Dianne has worked in the whys and wherefores that Lisette can't be told anything since any telepath amongst them, including her brother, would be able to read the information in her head, and it is too dangerous for anyone to have that information. Dammit! It all made sense in the storyline not to tell Lisette and she agreed that it was too dangerous to give her too much information. So we get Nothing!  Well played, Ms. Duvall. Well played!
If you haven't yet, you really need to try the Immortal Guardians. It is a great series with great characters. Even vampire Cliff who has been helping Melanie learn about the virus affect humans is being allowed to go outside and help. Unless they can find a cure/drug to suppress the madness, which would really change the series, I am going to be so upset when we lose Cliff.
Received an ARC from the publisher in exchange for an honest review.
---
Favorite Scene:
Go many great scenes. It was hard to choose.
"So what are you doing out here?"
"I don't know," she admitted. "Habit perhaps. I've watched over Ami for so long, it's hard to stop. Or maybe…"
He arched a brow. "Maybe?"
"Maybe I was looking for you."
Heat swept through his body. "Me?" He straightened away from the tree.
"I was worried about you." She gave him a long, thorough once-over. "The last time I saw you, you were wounded. And, I have to tell you, you still aren't looking so good. Are you okay?"
He lanced down and swore when he saw the slashes that marred his form. "Don't worry about that."
"Zach–"
"I'm all right," he interrupted before she could protest further.
After a moment, she nodded, face pensive. How she tempted him. The sight of her in black pants that hugged full hips and long, slender legs. Full breasts stretching the cotton of her long-sleeved shirt. Moonlight flirting with her pale skin and plump, pink lips. Weapons adorning her like jewelry, an ever-present reminder that she was a warrior and could kick ass.
All beckoned him, daring him to do something reckless.
He moved a step closer.
She didn't back away.
He took another step.
She held her ground.
Barely a breath separated them.
"I want to try something," he proposed.
Her heartbeat increased. "Okay."
Lowering his head, Zach pressed his lips to hers. His pulse jumped at the warm contact, racing to match hers.
Her breath caught.
Tilting his head, he increased the pressure, deepened the contact, and drew his tongue across those soft lips. She tasted incredible. Made him want to devour her. And yet…
Frowning, he broke the sweet contact. "You didn't pull away."
Her eyes now bore a faint amber glow. "What?"
"You didn't pull away."
"Why would I pull away?" she asked, voice husky.
Because I'm me, he almost said.
Disappointment seared him. The pain of his injuries increased.
Just to be sure…
"I'm going to try something else now."
Her lips quirked up as she arched a brow. "Okay."
Raising a hand, he cupped her breast.
The amber glow in her eyes flashed brighter.
Lisette's heart slammed against her ribs.
Zach molded his large, warm hand to her breast as he watched her warily. His eyes shone with a faint golden light. His fingers squeezed gently before he drew his thumb across the taut peak that strained against the cotton of her shirt.
Lust whipped through her, weakening her knees and making her fingers curl with the need to touch him, to stroke him, to explore every muscled inch of him.
Swearing, he withdrew his hand and took a step back.
"What's wrong?" she asked, embarrassed by how breathless she sounded.
"You didn't hit me."
She stared up at him. "I'm sorry, what?"
"You didn't hit me," he said, and actually sounded angry.
"I don't…"
Turning, he paced away several steps. "I thought this was a dream. I thought I had made into another of your dreams. But I touched your breast and you didn't hit me, so this must just be another fantasy of mine."
Lisette bit her lip when she saw his back. He bore no wings. An oddity. She had never seen him without them.
No, tonight his back boasted only bloody stripes that had clearly been carved by a whip.
"You fantasize about me?" she murmured.
He glanced at her over his shoulder. "I've done little else since I met you."
Just thinking about it turned her insides to mush and upped her desire another notch. "Zach, this isn't a fantasy. This is a dream. It's my dream."
He faced her, his expression uncertain. "It is?"
"Yes."
"Then why didn't you…?"
"Hit you?" she asked, amused by his confusion despite her concern for him.
He nodded.
"Because I wanted you to touch me." Emboldened by his uncertainty, she closed the distance between them. "And I fantasize about you, too." Raising a hand, she caressed his strong jaw.
He closed his eyes. Turning into her touch, he covered her hand with one of his own and held it to his cheek.
Related Posts