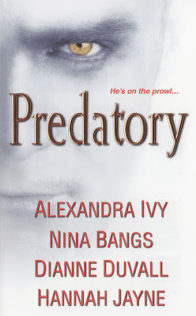 Predatory
by
Alexandra Ivy
,
Nina Bangs
,
Dianne Duvall
,
Hannah Jayne

Series:
,
Published by
Zebra
on May 7th 2013
Genres:
Paranormal/Urban Fantasy
Pages:
384
Format:
eBook



I received this book for free from in exchange for an honest review. This does not affect my opinion of the book or the content of my review.
This post contains affiliate links you can use to purchase the book. If you buy the book using that link, I will receive a small commission from the sale.
---
Four of today's most exciting paranormal authors take readers into the thrilling realm of vampires, immortals, and other supernatural beings with a thirst for illicit desire…

Out Of Control by Alexandra Ivy
Ph.D student Angela Locke has a crush on her sexy professor, Dr. Nikolo Bartrev. When she learns he's actually a Sentinel with extraordinary powers, she joins forces with him to catch a psychopath. But soon, their hottest pursuit is of each other…

Ties That Bind by Nina Bangs
Cassie Tyler agrees to sub for her friend at the funeral home where she works. But she gets more than she bargained for when a group of men attack her and a vampire comes to her rescue. . .

In Still Darkness by Dianne Duvall
Immortal Richart d'Alençon can't forget the woman who rewarded him with a sensuous kiss after he saved her from a trio of vampires. While Richart knows that loving a human can only bring trouble, the taste of forbidden lust is too great to resist. . .

High Stakes by Hannah Jayne
When vampire fashionista Nina LaShay's design contest rival is found dead, she's the prime suspect. Sexy photographer Pike is number two. He's the kind of man who makes Nina salivate. But will she have to reveal herself to have him–and to save them both? Or does Pike have a secret of his own?
---
Out of Control by Alexandra Ivy
Angela Locke is just weeks away from finishing her PhD when visiting Professor Hottie…umm, Dr. Niko Bartrev comes to the college and for the first time ever, the only biology Angela can keep her mind on is the kind involving a naked Niko. Niko isn't really a professor at the college to monitor Angela's class. He's actually a Sentinel on the trail of an escaped high-blood who wants the knowledge in Angela's brain to change her advance DNA and make her a normal human. Niko fears that when Angela learns of his deception, even if it was for her own good, he might have lost his chance with her forever.
THOUGHTS:
This short story is supposed to be the introduction to the new Sentinel series. Although there is a basic explanation of the Sentinels, who are guardians, and the high-bloods, who are mutants (some dangerous/some not), this story was really too short to build to any real understanding and interest in the new series. I would definitely have to hold off judgment of the Sentinels until after Book #1.
Rating: 3 stars – Being an Alexandra Ivy fan I will check out the next Sentinel book, but this short didn't do anything to really draw me to the series.
Ties That Bind by Nina Bangs
Cassie thought she was just going to help out her friend for a few hours answering phones while Felicity had an "emergency." The problem is Cassie is at the wrong place/wrong time and some men show up to remove her from the job permanently. When she ends up killing one of them in self-defense, she releases the vampire they had captured and now he has taken Cassie under his wing for her own protection, but how can she be safer in the arms of a hot, sexy vampire?
THOUGHTS:
Nina Bangs in one of those authors on my I want to read list, where I hope that someone offers me a review copy and give me an excuse to pop her on my TBR list. This story was just ok. There are some things that I don't understand why she wrote them in, but again, I haven't read anything of hers yet so I don't know what's part of her series and why she added them.
Rating: 3 stars – This story should have intrigued me enough to grab Book #1 of the series, but the characters just didn't interest me.
In Still Darkness by Dianne Duvall
Richart d'Alençon has been an Immortal Guardian for about 240 years now but the night he saves Jenna McBride from a group of vampires, is the night that truly changes his life. Guardians are not supposed to date humans, but he is so drawn to the lively Jenna that he can't think about anything else but seeing her again. He wants to take the relationship further, but not until he can confess the truth to her. When Richart is wounded and drugged by an unknown enemy, he teleports directly to Jenna's living room, carrying swords and covered in blood, just before passing out. Maybe she won't notice anything weird about that? Uh, oh. If he survives the night, he'll be in so much trouble.
THOUGHTS:
I like the Immortal Guardians series, and we got to know Richart a little more in the last book, Phantom Shadows, where we see him sneaking phone calls to his human girlfriend. I definitely enjoyed Richart and Jenna's story.
Rating: 5 stars – I like the Immortal Guardian series, and this had all the fun, excitement and great characters that I have come to expect from Dianne Duvall.
High Stakes by Hannah Jayne
When fashionista Nina LaShay goes to New York City to compete in a fashion show, she bring her best designs, her scissors, but she forgets to pack an alibi. When her fellow competitors start turning up dead, of course, who is the first one they look at…the vampire. Like she would even need to snack on those "breathers" just to win. Nina had this competition in the bag. Now she has to figure out who's killing the rest of the competitors before she ends up in jail or in a body bag.
THOUGHS:
Nina is a great character from the Urban Fantasy series, The Underworld Detection Agency. As roommate, co-worker and BFF of the main characters, Sophie Lawson, Nina is always around to add life and some fashion sense to the story. It was nice to see Nina shine in her own story, but something was missing without Sophie. Think Ethel without Lucy.
Rating: 4 stars – It was a good story, but if I didn't follow the UDA series, I don't know if this would have convinced me to try the series. Nina is playful and snarky, but without Sophie, you are missing the star of the series.
---
Favorite Scene:
From In Still Darkness By Dianne Duvall:
"I was attacked by vampires?"
"Yes."
"Why didn't you tell me?" How could he keep something like that from her?
"Jenna—"
"I was attacked, Richart! You should have told me!"
"How?" he asked helplessly.
"Easy. You should have said, Jenna, I know this is going to sound strange, but you were attacked by vampires and I rescued–okay, I see your point. I would have thought you were off your rocker." She rubbed a shaking hand over her face. "I can't believe this. Did they…? What did they do to me?"
"Other than the bite, you were unharmed. They must have just taken you when I came upon you."
"Am I infected?" If all Richart had said was true, she would turn into a psychotic vampire if she transformed. She didn't have the special DNA need to make her immortal. She couldn't read minds or teleport or see the future or whatever else they could do.
"No. A single brief bite won't turn you. You would either have to be bitten fairly often over a stretch of time or have your blood drained until you were on the brink of death, then infused wholly with infected blood."
And the vampire had only bitten her once. Briefly.
Richart covered the hand she had braced on the mattress with on of his. "Are you all right?"
She met his concerned gaze. "I'm freaked out over being attacked and having no memory of it. That's really scary."
"I know."
"So you—what—killed them Blade-style?"
He smiled. "All but one, who got away, yes."
"One got away?" Panic shrieked through her. "What if he came back? What if he bit me again and I just can't remember it?"
"He didn't."
"How do you know?"
"Have you experienced missing time again? Have there been any blank spots you couldn't recall?"
She thought hard, trying to think of any other instances. "I don't think so. But how can I be sure?"
"I've been guarding you," he admitted, seeming almost ashamed.
"Guarding me?"
"I used speed and stealth to obtain your work schedule and have been at the store every night when you arrived and departed in case he returned and tried to harm you."
She stared at him. "Every night?"
"Yes."
"Is he likely to return?"
"No. He would have done so before now."
"Yet you continued to watch over me."
He shrugged. "At least you said watched. Sheldon kept accusing me of stalking you."
Related Posts